I love everything about this place.
Even though I've eaten at Bahama Breeze like a thousand times (seriously, I used to work as a waitress at the Kissimmee, Fl location), I am still obsessed with the food. Each time I eat at BB, I have a hard time deciding what to order, because I know how good everything is. I know, I know not a bad problem to have, eh?
With plenty to choose from foodwise, like the Jerk Chicken Pasta (one of my personal faves), Layered Tostones, and some of the best Pina Coladas and Mojitos that I've ever had, it's easy to come back to this restaurant over and over again and always be surprised at finding new favorites. Plus, it's hard to beat the atmosphere – especially given that the entire place is decked out with tropical flair; from palm trees, to live Caribbean music on the patio daily, to rum soaked pineapple and sugar cane garnishes pressed fresh at the bar. (Did I mention that the patio also has a fire pit???)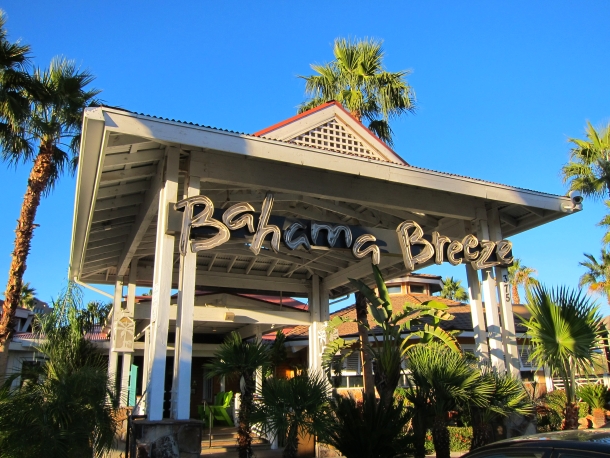 During my last trip to Las Vegas, JC and I decided to step off the Strip and have lunch at the Bahama Breeze located on the corner of Paradise and Flamingo Rd. Below is my recap from our experience.
Photo below: The waiting area for busy nights and to-go orders. I love the fun colors and bamboo furniture!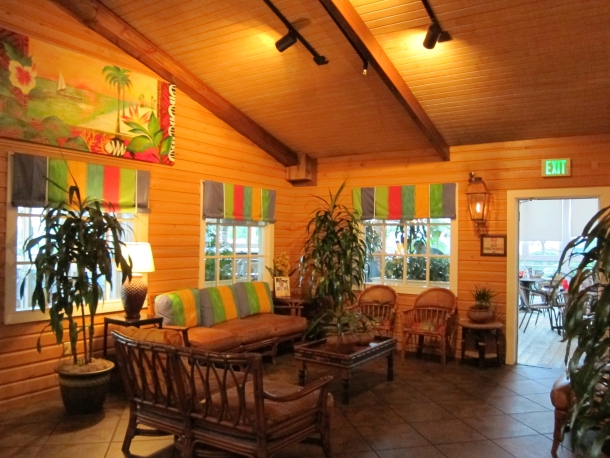 Photo below: Stage out on the patio.
#PersonalNote: Although this acoustic guitar segment was pretty good, my favorite type of music at Bahama Breeze is the steel drums (live)! During my time as a waitress there, not only did an upbeat performance on the steel drums (literally) always put guests in a great mood, but it also made my job a whole lot easier. Waitressing really isn't so bad when it's 85 degrees outside, there is a warm wind blowing, the pina coladas are flowing, great food is being served, and your party is dancing…I mean actually… dancing on the dance floor. Not bad at all. It's also not bad when you go back as a guest and actually get to drink those pina coladas! (One of the biggest reasons a lot of the employees were also guests on their days off).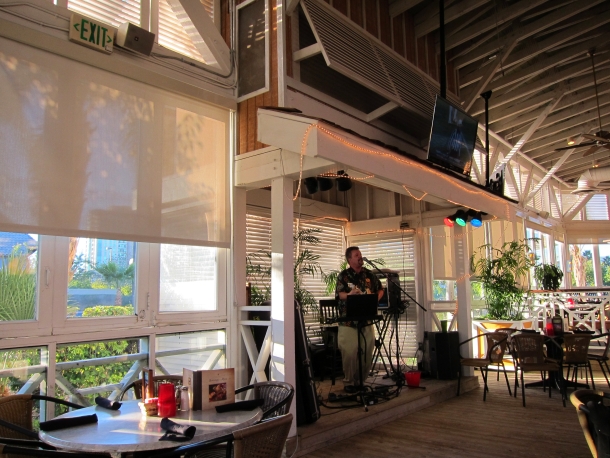 Bahama Breeze has an extensive list of specialty drinks, but I highly recommend the Mojitos which are made with fresh sugar cane juice (pressed right in the kitchen), or the strawberry Pina Coladas made with real fruit, fresh shredded coconut, and then topped with Meyers dark rum. If you're a beer drinker, then you should definitely try the Aruba Red.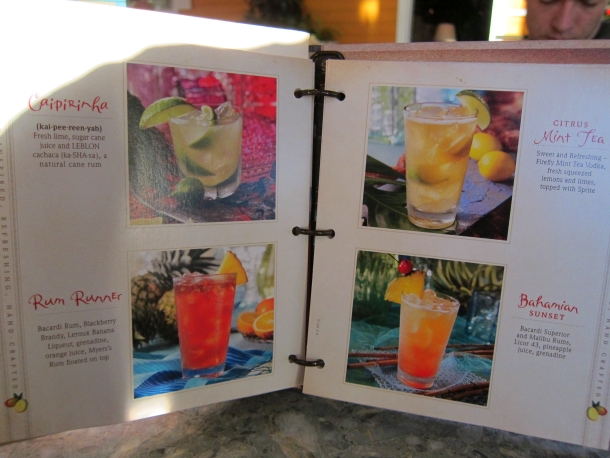 Photo below: Strawberry Pina Colada with dark rum and fresh coconut! Yum!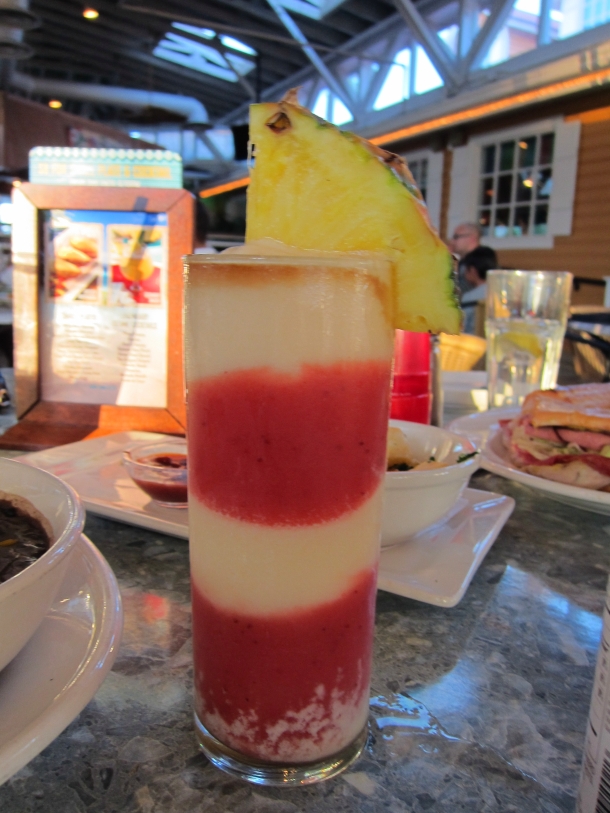 Photo below: JC ordered the Pineapple Coconut Martini made with Captain Morgan Rum, Parrot Bay Coconut Rum, pineapple juice, grenadine, and then topped with a rum-infused pineapple garnish…which he already ate so is not in the photo. This drink is good, but in my opinion, it's not as unique as some of the other options on the menu.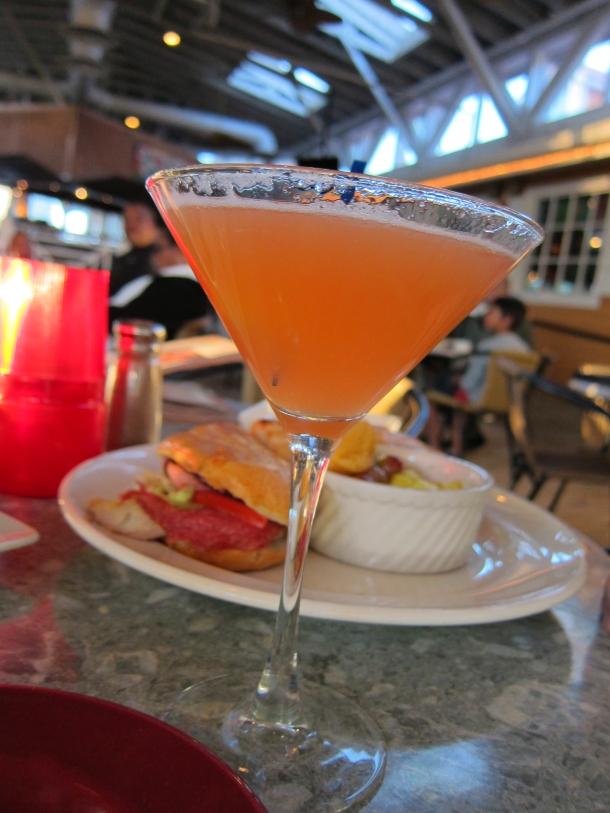 Photo below: This appetizer was so ridiculously good – Ahi Tuna Stack made with Yellowfin tuna marinated in Ponzu sauce with pickled cucumber, and stacked between crispy wontons. Served with a tasty pineapple salsa.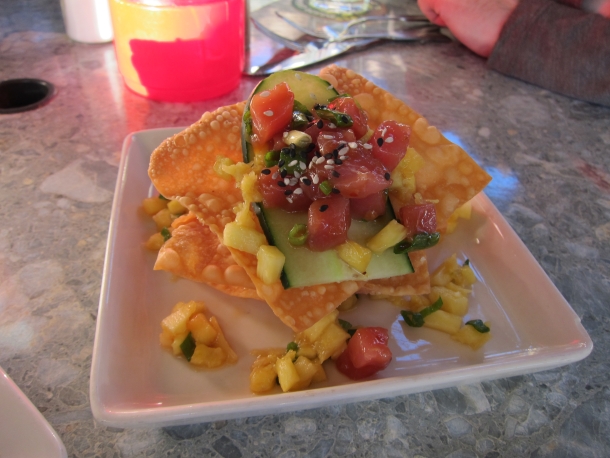 Below: Fried Yucca drizzled with truffle oil and a chipotle dipping sauce.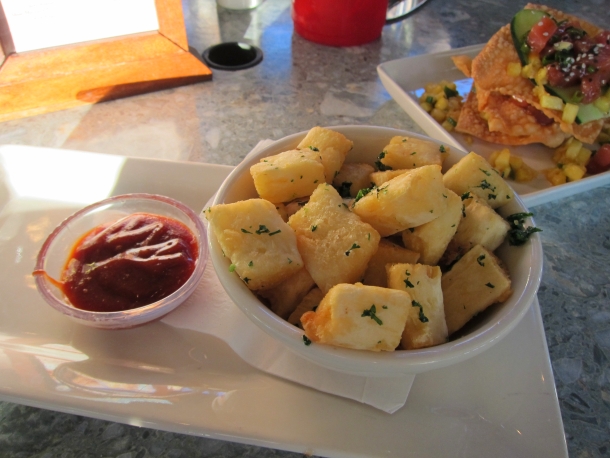 Below: For this visit I went with the mahi-mahi tacos and black bean soup, which was part of a lunch combo deal.Two flour tortillas filled with sautéed fish, fresh avocados, and served with ancho-chili sour cream on the side. Since I ordered the lunch combo I was able to choose a soup as well. There are some great soups on the menu; I opted for the slowly simmered black bean with yellow rice and cilantro. So good!!!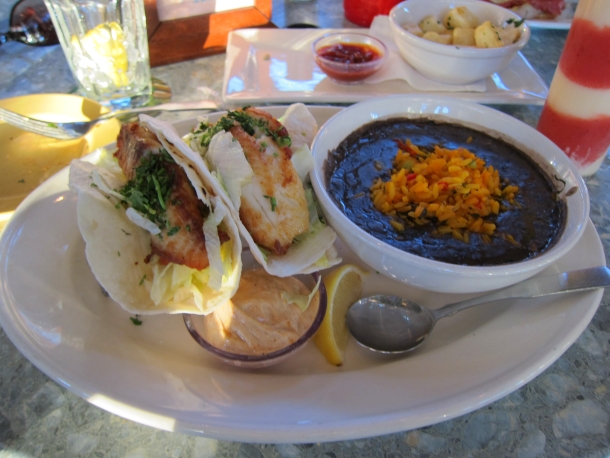 Below: The Cuban Sandwich. While the sandwich was very good, I especially liked the scoop of orange sorbet that came in the fruit salad.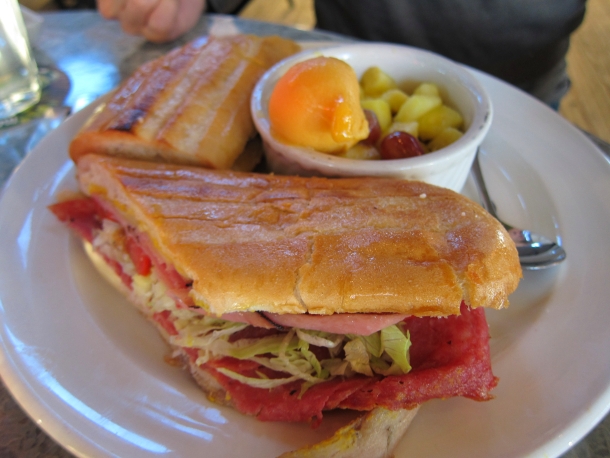 Although there was no room left over for dessert, the banana supreme is definitely one of my favorites on the menu. Bahama Breeze also makes a really great Key Lime Pie!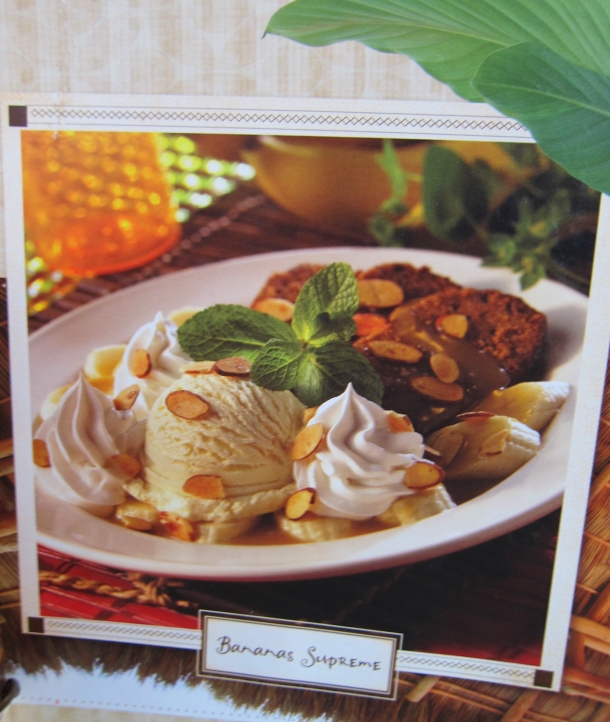 Photos below: Some indoor shots. The main bar is located next to an indoor waterfall.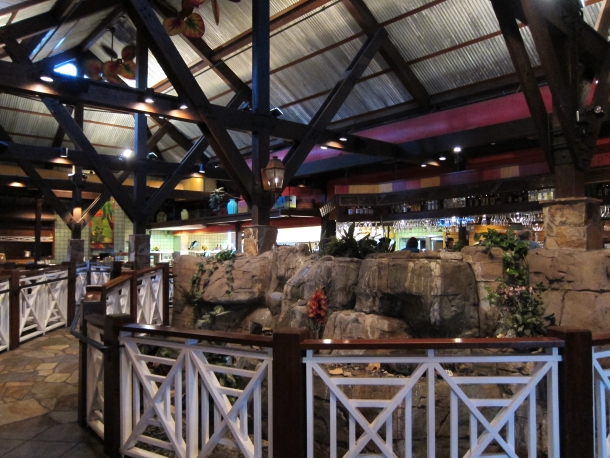 Below: One of the (few) dining rooms.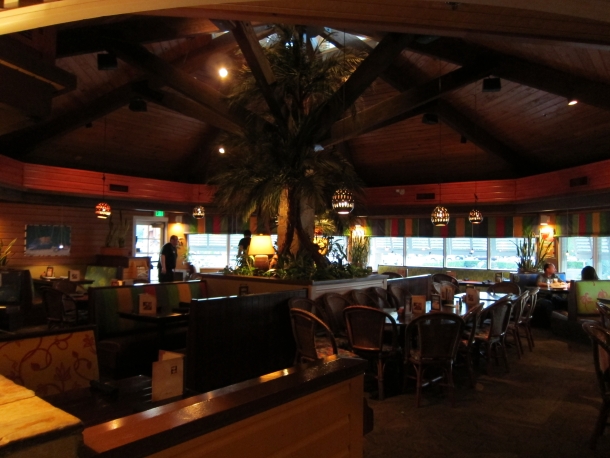 Our bill came to about $60 with the tip, which is definitely not bad (at all) for some really great food and a super fun atmosphere. When you consider the prices of some of the restaurants on the Las Vegas Strip, Bahama Breeze is definitely a really good deal!
During my time working at Bahama Breeze, and then on quite a few follow up visits, I've had the chance to try most of the menu items. Many of them I've eaten (way) more than once. Some of my favorites are as follows:
For appetizers, I highly recommend the following:
If you're a fan of chicken wings, then DEFINITELY order one of the following: The Jamaican Chicken Wings, marinated in authentic jerk seasonings and then baked (yes, baked, not fried – but the skin is still crispy with lots of flavor), or the Habanero Chicken Wings served in a spicy habanero-barbecue sauce. The habanero wings are super spicy, so be warned, but there is also a layer  of sweetness to balance it out.
Want something a little different? Then definitely try the Tostones with Chicken – Made with twice fried plantains direct from San Juan, Puerto Rico, and then topped with chicken, sweet peppers, mushrooms, melted cheese and tomato salsa. This is so good, but way too much food for just one person, so plan to share.
The Crispy Onion Rings. OK, I know what you're thinking…onion rings? How is that anything special? Well, let me tell you. The onion rings at Bahama Breeze are an over-sized, tropical version, hand-made with panko breading and shredded coconut flakes. I mean, wow, they are so good!
Skillet Simmered Jerk Shrimp. Unfortunately, since I have a garlic allergy now (developed years after my time working at BB) I can't really eat too much of this dish, but boy do I want to. Imagine large, succulent shrimp in a garlic-thyme butter sauce with warm, toasty Cuban bread for dunking.This is one of my all time favorites to eat at night, by the fire pit. I'm literally salivating at the memory!
Conch Fritters. Not too many restaurants offer this on their menu, so it's a fun choice, for sure! It's basically a hush puppy with conch, served with an orange peel dipping sauce – very good. This dish is pretty small though, so if you plan to share, then you should probably order more than one.
Beef Empanadas. Again, so freakin' good. I don't remember exactly what they are seasoned with, but these made-in-house, fried pastries are filled with with a savory beef and a whole lot of flavor! There is a sweet taste mixed in with the minced meat – maybe cinnamon? Either way – delish!
Coconut Shrimp. Large crispy shrimp with citrus-mustard sauce. Enough said.
You should also try…
An absolute must is the House Salad which is a mix of fresh greens, roma tomatoes, cucumber ribbons and pumpkin seeds, drizzled with vinaigrette dressing. I have probably had this salad a hundred times and yet I still enjoy the unique mix of pumpkin seeds and a sweet (house made) vinaigrette. I also really like how the cucumbers are cut super thin which makes them a better fit for the salad somehow – in my opinion, it's the perfect mix of texture and flavor!
OK now, so for an entree, here are my top picks:
Jerk Chicken Pasta – Sliced jerk chicken breast, fresh asparagus and mushrooms tossed in a Parmesan cream sauce with bow-tie pasta.
Jamaican Jerk Chicken –  Half chicken marinated in authentic jerk seasonings and roasted, served with yellow rice, black beans and ripe plantains.
Fresh Pan-Seared Salmon Pasta –  Savory cream sauce with fresh spinach, basil, tomatoes and mushrooms on bow-tie pasta.
Mojo-Marinated Pulled Pork – Slow-roasted, served over sweet plantains with a sweet and smoky barbecue sauce.
Carnitas – Slow roasted pork, sauteed with chorizo sausage, roasted corn, sweet plantains and garbanzo beans in a cummin-citrus sauce served over rice.
Seafood Paella – A Caribbean classic, (pie-ay-ah) sauteed scallops, shrimp, fish, mussels, chicken and sausage with yellow rice.
There is also a daily selection of seafood that is pretty amazing.
Tilapia

Delicate and Flaky

Salmon

Rich and Flavorful
Select any preparation with your choice of fresh fish.

Wood-Grilled

Mandarin Orange Salsa
Simply Grilled
–
–
with fresh mint
with lemon-garlic-herb butter

Fresh Sauteed

  Pan-seared – with creamy mango butter sauce
Almond Crusted – with a lemon butter sauce
Shrimp Saute – with shrimp & lemon cream sauce
(additional charge)
Anyway, that's all for now – if you decide to go then I truly hope you enjoy it as much as I do!
Happy traveling…
For more info and recipes, visit the Bahama Breeze Website.