Shortly after checking into our room at John Ascuaga's Nugget Casino Resort in Reno, Nevada, we decided to grab some tapas and tequila at the Mediterranean Restaurant located near the lobby. Named Orozko after the owner's personal love for Orozko, a town located in Northern Spain, this lovely restaurant transports diners to a unique Basque setting with fireside dining, live music, and traditional dishes.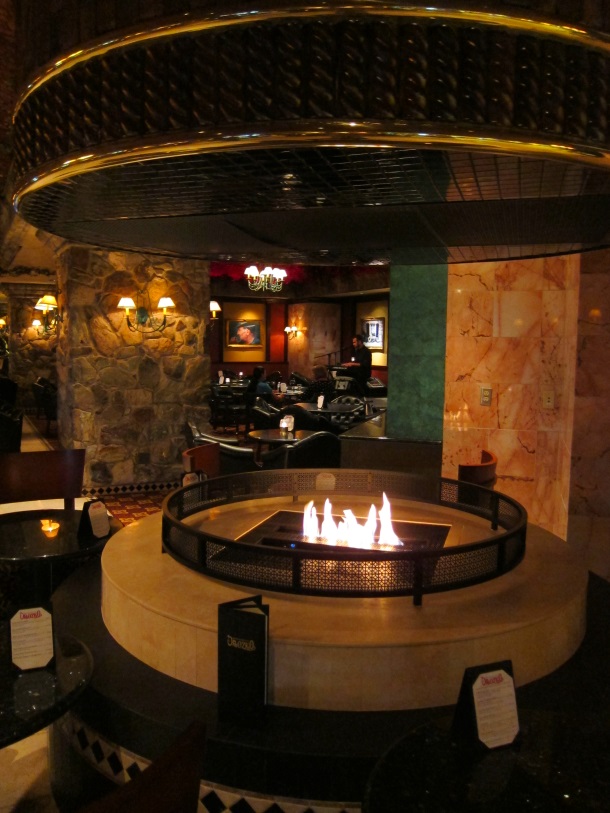 While there, we sat next to the fire pit, enjoyed some tequila and indulged on tapas. After a while, we started chatting to the table next to us, who turned out to be long time employees that are not only super friendly, but who were incredibly helpful with giving us a run down of the company and tips on local attractions that aren't really touristy, but fun nonetheless. (One of the tips was that there is a drive-in-theater just down the road – a local hot spot).
Our conversation covered topics ranging from food to travel to everything in between – all to the backdrop of a musician playing piano including some of my favorite songs by Bruce Hornsby like That's Just The Way It Is. Continued after the jump.
After having such an incredible evening chatting with these lovely folks (and a firm agreement that we MUST visit the drive in the following night), JC and I decided that we would stay an additional night. Plus, there were some rather tempting options on the menu that we absolutely had no room for and wanted to try!
The following night, we went back to Orozko for dinner – steaks and lobster. Although we missed our companions from the night before, we were happy to have the same server, who welcomed us by name and asked how our stay was going.
Shortly after ordering water and after the bread was on the table, we had a little mishap. JC accidentally bumped the table in a way that caused everything to fall off and crash onto the floor. Within seconds, there were four people, who seemingly came out of nowhere, cleaned up the mess, replaced our water and bread and apologized several times. Afterward, our server told us that one of the gentleman who came to clean up the mess was one of the resort's owners! In a property as big as JA Nugget, the fact that one of the owners was there helping  with a big smile, really drove home how amazing the people who work here are. (JA Nugget is a family owned and operated business.)
Photo below: The entrance to Orozko.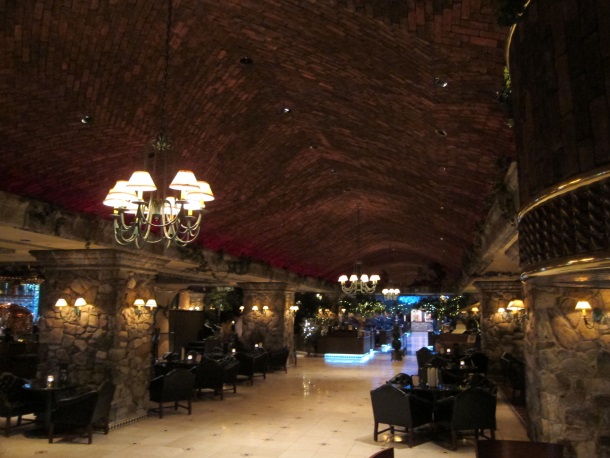 Photo below: Anejo tequila with orange slices and cinnamon.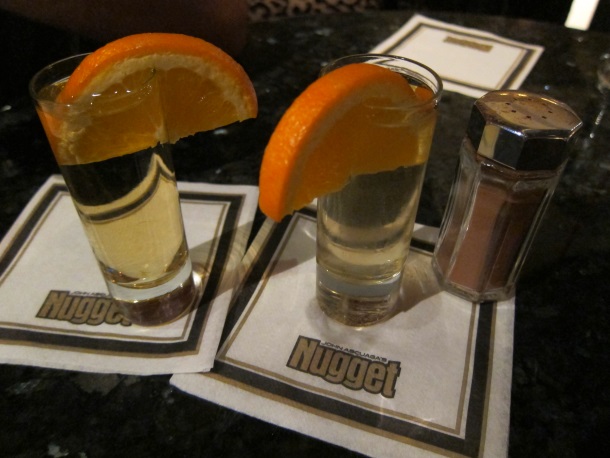 Photo below: Some of the best bruschetta I've ever tasted! Pan seared pork medallions with brie cheese, topped with caramelized onions and fresh herbs – yum!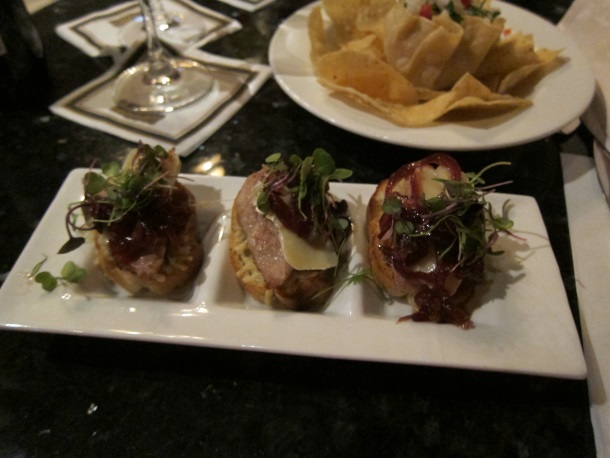 Photo below: Black Sesame Ahi Pan seared, Green Horseradish Sauce, Red Onion Compote.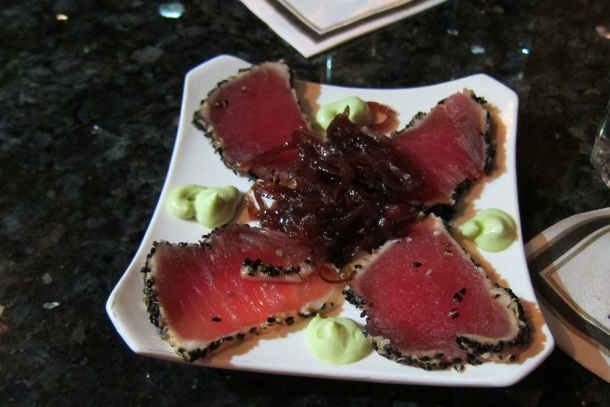 Photo below: Seared Diver Scallops with Serrano Ham and Saffron Cream Sauce.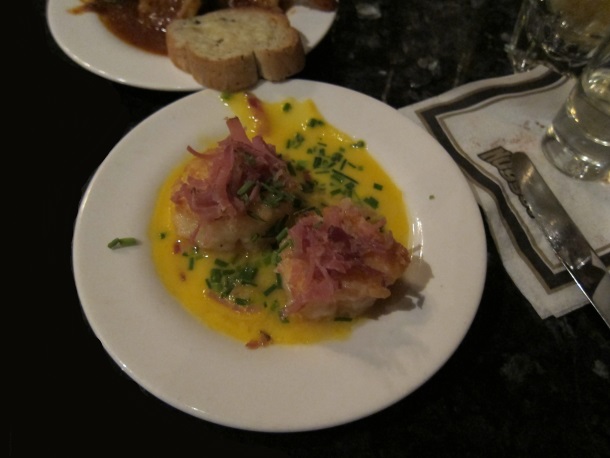 Photo below: Crab Imperial Crab stuffed Mushrooms, Creamy Three Cheese Sauce, and Angel Fries (aka mini cheese crisps).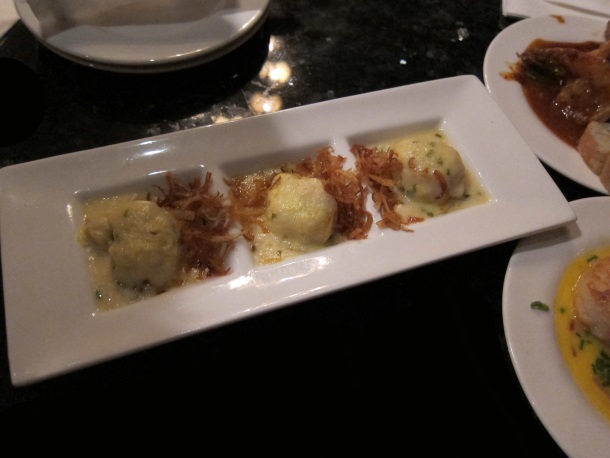 Photo below: Pan Fried Garlic Prawns in a Spicy Garlic Sauce.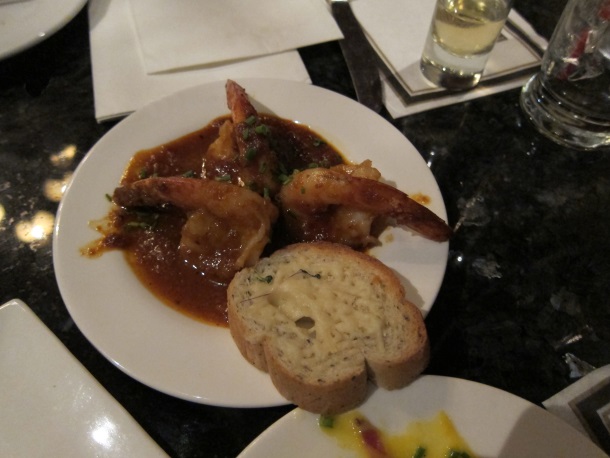 Photo below: Fruit, Cheese, and assorted meats platter.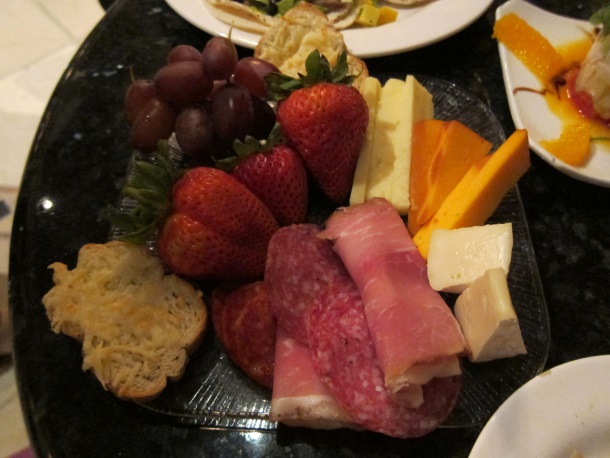 Photo below: Crab & Avocado Tower Salad Dungeness Crab, Cucumber, Hearts of Palm, Tomato, with Orange Dijon Oil.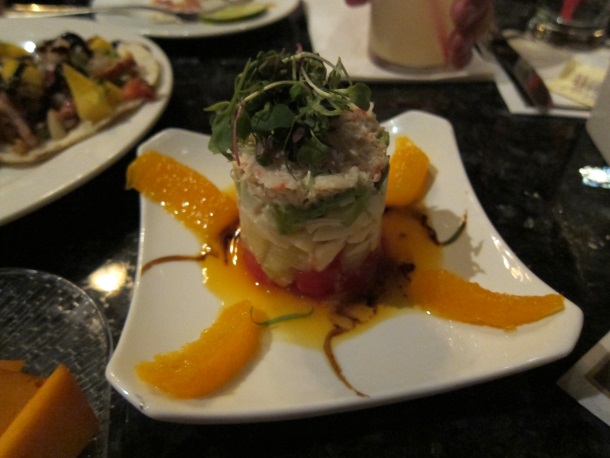 Photo below: Crispy Duck Tacos (3) shredded Lettuce, Duck Cracklings, Mango Salsa in Soft Tacos.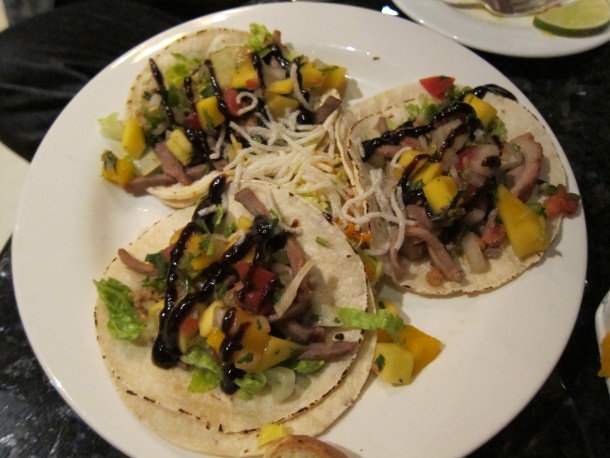 Photo below: Shrimp Ceviche Marinated in citrus juices and served with Tomatoes, Green Onions and Garlic.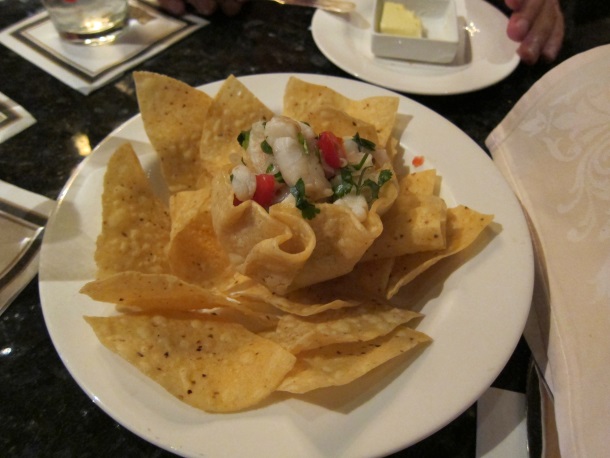 Day 2:
Photo below: 2006 Marques de Riscal, Reserva – Tempranillo.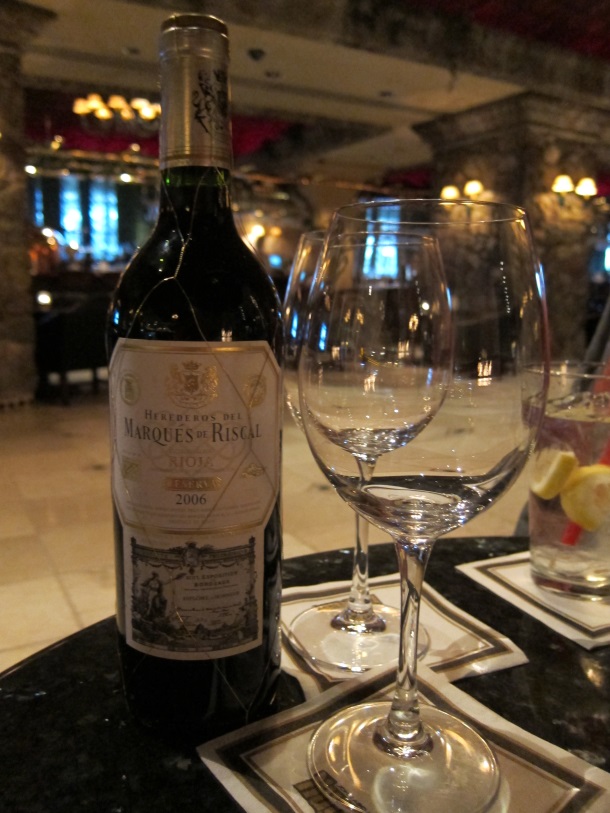 Photo below: Fresh bread with herbed butter.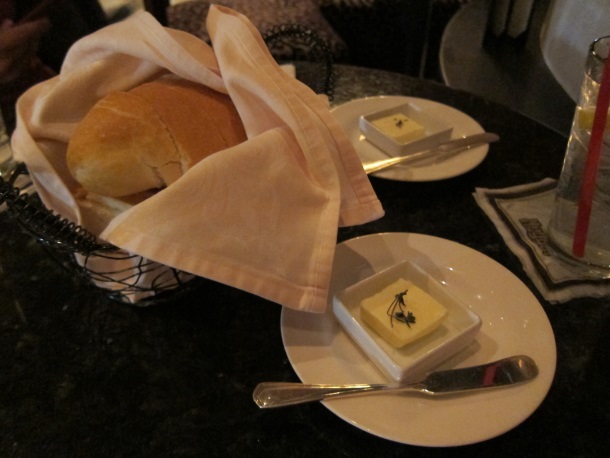 Photo below: Signature Basque Creamy Garlic Soup with Oven Roasted Garlic, Fresh Herbs with Fresh Cream and Sherry Wine.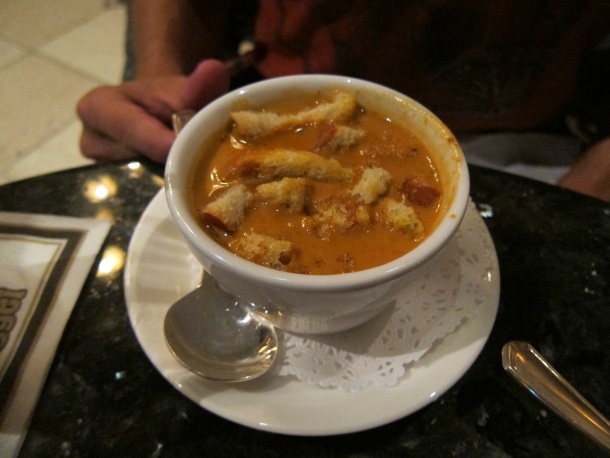 Photo below: House salad with Gorgonzola dressing on the side.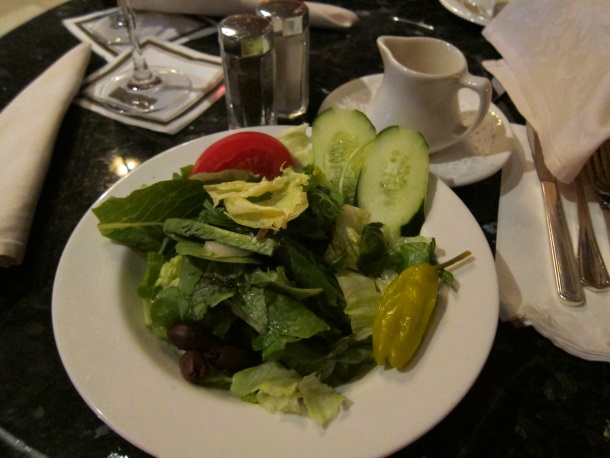 Photo below: Marinated Rib Eye Steak With Roasted Shallots, Olive Oil, Fresh Herbs, Sprinkled with Rosemary Butter. Served with soup or salad and choice of side.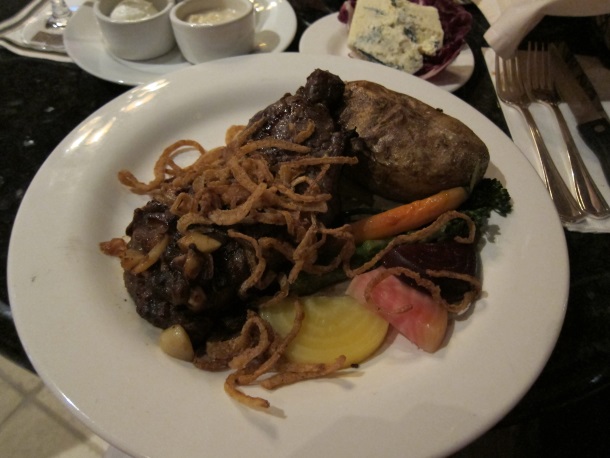 Photo below: I requested a side of Gorgonzola to go with my steak – I wasn't expecting such a generous portion! Delicious!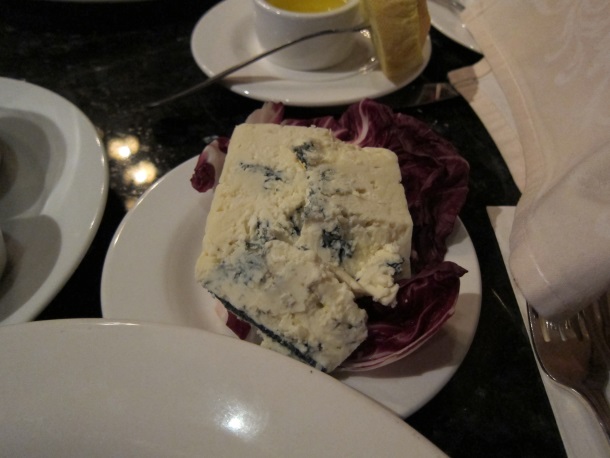 Photo below: An on going special – the $29 filet and lobster!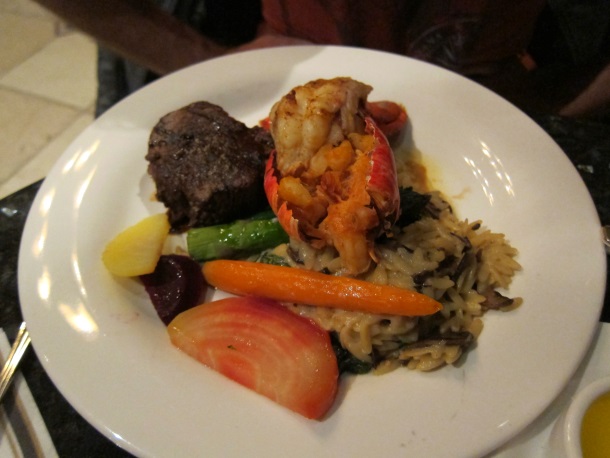 Photo below: After another incredible evening/meal, we packed up our left overs and headed to the local drive in per recommendation, for a viewing of the Great Gatsby!
For more information, please visit Restaurant Orozko.