Pre-hike Anxiety
Having been awhile since my last backpacking trip, I would definitely say that I had some anxieties about my upcoming hike to Arizona Hot Spring.
Everything from getting bit by a rattlesnake, to getting caught in a flash flood crossed my mind. I spent a good portion of the night before, dreaming about such catastrophes, and then researching their likelihood on the internet.
Not to mention, my packing skills felt a little dusty.
Am I bringing enough water? Will my sleeping bag be sufficient for the desert temperatures at night? Would I even be able to carry my 42 pound pack through the canyon, scrambling up and over giant boulders and at times, while walking waste deep in water?
I had so many doubts.
But with doubt, comes a desire to prove to myself that "I CAN DO THIS", and so I packed, and then re-packed, and then re-packed again, before setting out to meet my hiking buddies.
Too Much Stuff!
I definitely felt a little silly walking through the building/lobby with this giant pack on, but at this point some excitement for the trip started to kick in. It was kind of like: ok, this is it – I'm either going to have what I need, or I will improvise – but I'm sure I have everything I need because I packed like three times… Yeah, your neighbors and the doormen probably think your crazy, but whatever – at least your interesting, I mean hiking is cool – yeah, see they don't think your crazy, they think your cool. 
Anyway, you get the idea. We'll never know if my neighbors thought I was crazy or cool and ultimately, it doesn't even matter, but this is the kind of feedback that is playing in my head.
Also, I know that I have a tendency to over pack. All I can say is that I'm working on it, and I try to improve my weight a little more with each backpacking trip. In fact, the last time I did an overnight hike, my pack weighed in at over 50 pounds. So, this was already an improvement at 42.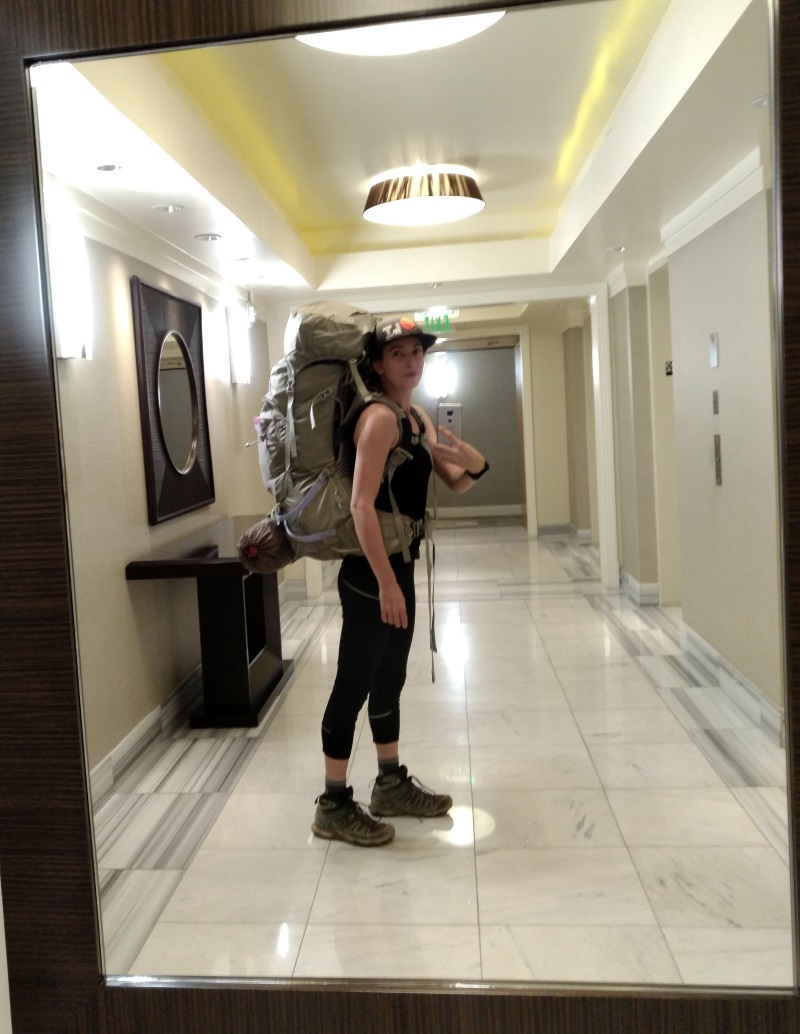 "Mommy look, that backpack has arms and legs!"
Ok, no one really said that, but that's what popped into my head when I saw this picture of me wearing that giant pack – you cant even see my head from behind!
All in all though, it ended up being a really good trip and I'm glad that I didn't let my anxiety stop me from going.