Good food comes in many packages. Sometimes a pricey meal at a fancy restaurant will bring you to culinary heaven, thanks to a talented chef with years of training. Other times, it's as simple as a roadside stand where the food is cooked over an open fire that leaves your taste buds wanting more, even long after your stomach screams "no more room, please stop!"
Not too far from our apartment in Puerto Rico, there is a little stretch of road that runs along the ocean in a town called Loiza. Here you'll find a large selection of food kiosks where the smell of meat roasting on an open flame will start to make your tummy rumble before you can say pionono. There is nothing fancy about these small wooden shacks; wild chickens and dogs roam freely looking for handouts and I've literally seen the cooks collect leaves from nearby trees to wrap the arepas in before roasting. (See the pics below…) You might even have to swat a few flies or birds away from your outdoor table, or agree to share your meal with them.
But…if you can deal with that, then you're in for a treat because the food is good. I mean really, really good. Not in the $50/plate, fancy shmancy, waiter scrapes the breadcrumbs off your table way, but in a greasy, meaty, smoky, sweet and savory way that explores a side of dining that dates back to the earliest of times. This is the kind of meal that deeply satisfies something that is profoundly primal.
And, the view is pretty awesome too – miles of beautiful, Caribbean blue ocean.
While there are many options to choose from, it seems like everyone has their favorite kiosk. Ours is Kiosco el Gariquten. If you go, be sure to try the alcapurrias and the piononos. Together, these will cost you less than 5 bucks and for a couple dollars more, you can also enjoy an ice cold Medalla (the local beer), or some coco frio, straight out of the coconut (shot of rum optional). I'll go into more detail below…
The drive there from Isla Verde…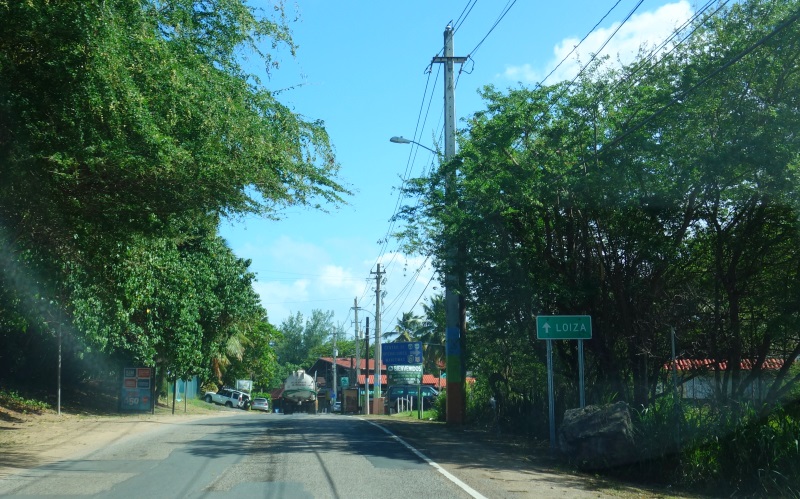 The section of road where our favorite kiosk is…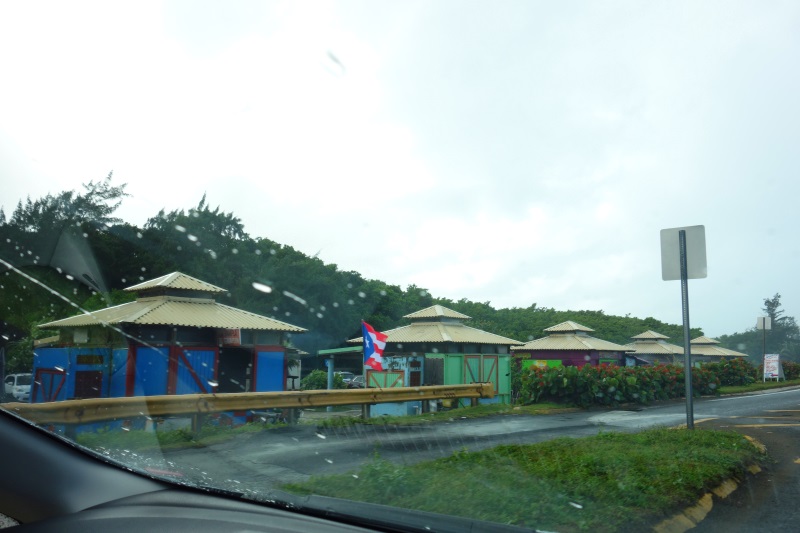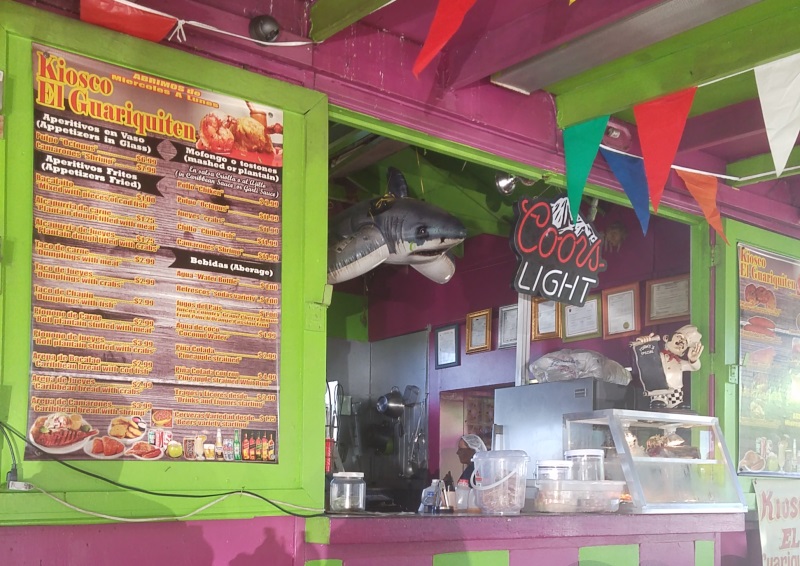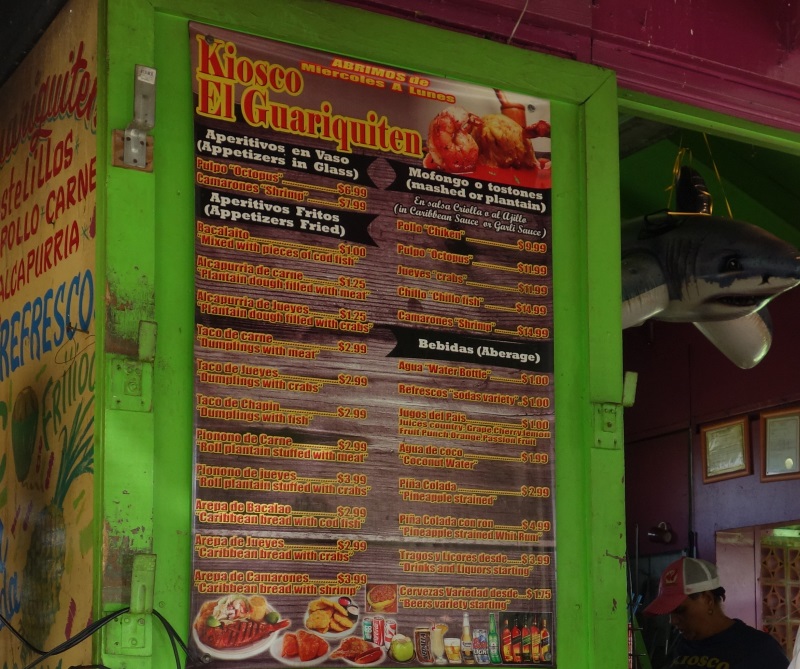 One of my absolute favorite foods on the island – the pionono! Piononos are prepared by wrapping sweet plantains around savory meat, that is then dipped in a batter and deep-fried. Pure culinary bliss if you enjoy sweet and savory combinations.
The little piece of heaven you see below might not look like much, but it is oh so good! It is second on my 'favorites' list due to the lovely combination of meat (in this case crab, though I also really like the beef) and fried dough made from ground plantains. Although it is made from the same basic ingredients as the pionono, it is not as sweet and has an entirely different consistency. It is a melt in your mouth, grease dripping down your chin while your eyes roll back in your head, delicacy. In other words, give it a try. It cost $1.25 so no love lost if you don't share my same enthusiasm for this tasty treat. Don't forget to ask for a side of hot sauce to dip it in and I'd definitely recommend a Medalla to wash it down.
Shrimp served on top of an arepa…very good, but not as good as the pionono!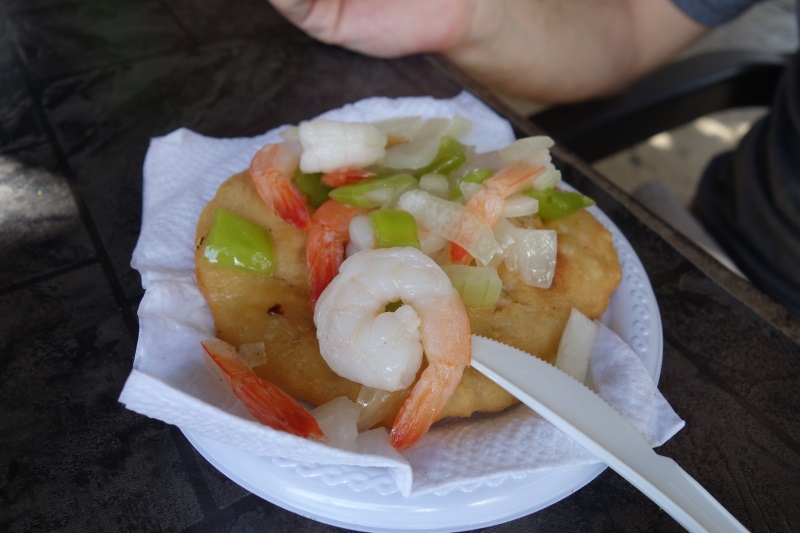 Shrimp with tostones and a spicy dipping sauce…one of the 'healthier' options on the menu. Very similar to the shrimp arepa, but a larger portion with lettuce and tomato. Also, the tostones are a different texture and flavor since they are made from mashed plantains that have been fried, while the arepa patty is corn meal based and softer.
Gathering leaves for the cooking process…
The beer cup tree…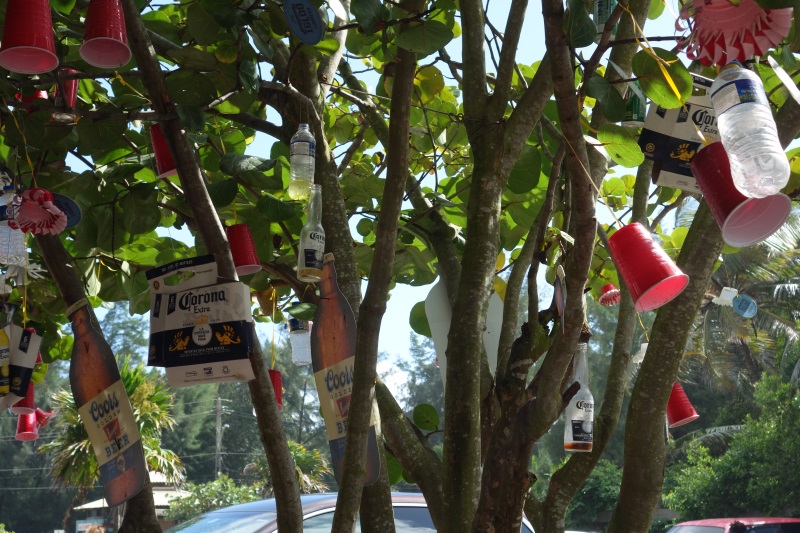 The view across the street..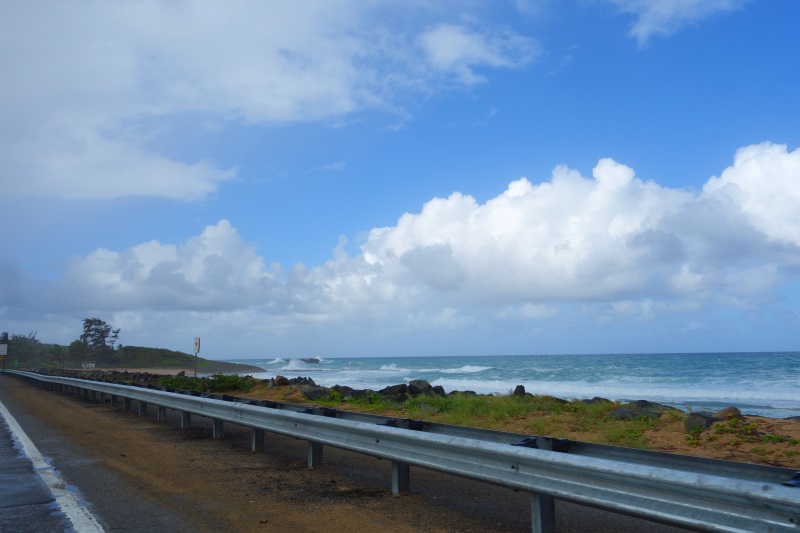 How to get there:
From Isla Verde or San Juan, follow route 187 towards Loiza. You will pass plenty of road side stands, but eventually you will see a cluster of brightly colored kiosks that are adjacent to each other and share a large parking lot. They are across from the photo above where the ocean runs along the road.
Map: