Picture this: it's pitch black, the coqui frogs are chirping at full cacophonous volume, and you and your partner are navigating a kayak through a narrow channel, with low hanging branches, on your way to one of Puerto Rico's famous bio bays. Ahead of you, a tour guide is leading a group of about twenty through the water; their kayaks illuminated by blue glow-stick bracelets that seem to be floating in the darkness.
As you paddle, the tour guides are very good at screaming out…"watch out for low branches", which is inevitably followed by an "ouch!" from someone who is not paying close enough attention, or couldn't figure out how to steer away from their impending crash. (Seriously, some of these poor folks have never been in a kayak before and are going around in circles like a cat chasing it's tail).
As you turn the final corner of the narrow water way, the path opens up to a huge lake. For a few minutes, you're on your own to explore the night, watch the stars, or just relax and enjoy the moment.
After a while, you re-group and in order to better see the tiny dinoflagellates that make the shimmery blue light, the guides bring out a giant tarp, which is passed from one kayaker to another, until both ends are covering the kayaks. Unfortunately, even with the tarp blocking out any light from the moon and stars, there is still only a small blue shimmer when you disturb the water. Lack of blue glow aside, it feels kind of cool to be out on the lake, in such a beautiful environment with a group of comrades.
The three guys in the front are tour guides. They know a lot about the area, but like to have fun and be goofy. They made a lot of jokes (both good and bad) throughout the tour. Overall, they did a really good job of managing a large group of explorers in the dark! Their sense of humor was an added bonus!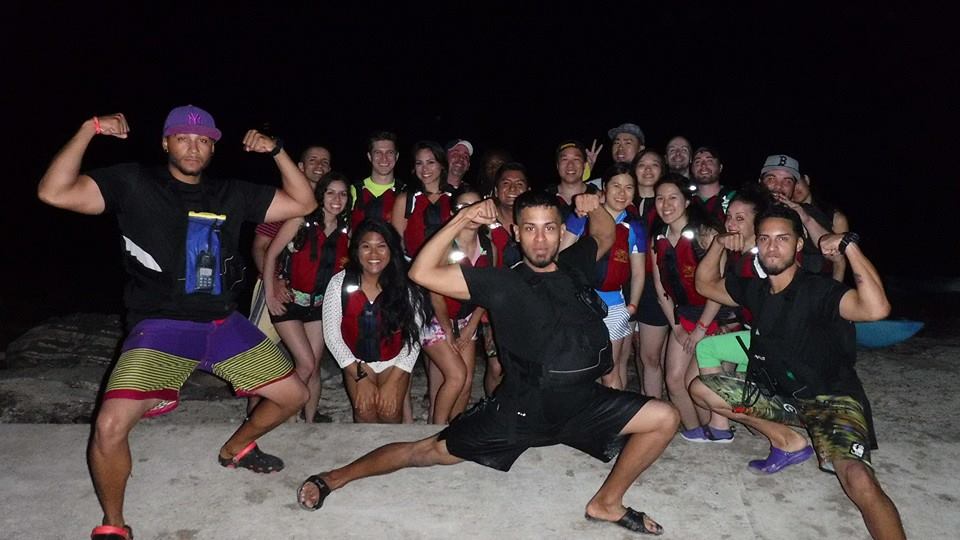 Notes:
Although Glass Bottom PR markets this particular tour as a 'bio bay tour', the bay is not very bright the way many online pictures tend to depict it to be. In fact, there is only a very small shimmer of blue when you vigorously turn the water. It's helpful to go on a night when the moon is not very bright, but even then, the lake is not going to be glowing like a scene out of Avatar.
You will get wet! In fact, plan to walk at least knee-high deep in the water to get in and out of the kayak. I'd recommend wearing water shoes, otherwise you'll be leaving your shoes at the excursion booth and kayaking barefoot. Also, dress accordingly… shorts are nice because they're less likely to get wet, but they leave your legs unprotected from bugs during the remainder of the time. Light pants that can be rolled up are good, or maybe just bring a towel to put over your legs – and bug spray.
I'd also suggest bringing a light poncho to help keep your upper body dry (you might get splashed) and also to protect against bugs. I was even more grateful to have had this foresight when it started raining on our tour.
Use bug spray. I didn't notice too many bugs, but I was also covered in a light poncho and I used bug spray. Perhaps this is a coincidence. Maybe it is not.
Leave your camera at home, or out of sight in the car. It will most likely get wet and even if it's waterproof, the flash would be super disturbing for people who are depending on using their night vision to navigate the narrow channels. Without the flash, you will be taking photos of pitch blackness. It's probably best to just focus on rowing and trying to avoid hitting any branches – you don't want to disturb a sleeping iguana, do you?
At the end of the tour, the guides will take a force flashed photo of the group and also individual pictures of any kayakers who want their photo taken. They provide these photos, free of charge, within a few days via Facebook.
Since this tour meets near a recreational park, there are some rustic bathrooms within walking distance of the departure area. There is also a food vendor selling chicken and shrimp kabobs, as well as some other tasty nibbles like empanadas.
Important Links:
Glass Bottom PR Official Website
Glass Bottom PR on TripAdvisor
*Given the nature of this tour, I did not bring my camera. All photos are from Glass Bottom PR's Facebook Page.