The Ritz Village
Prior to leaving for this trip, boo sent me a link to the hotel's website and asked me what I thought.
I clicked on the link and saw it was the Ritz.
Check.
Then, I saw that we were booked into one of the nicest rooms on the property – a two floor loft with a king size bed and a kitchenette.
Check, check.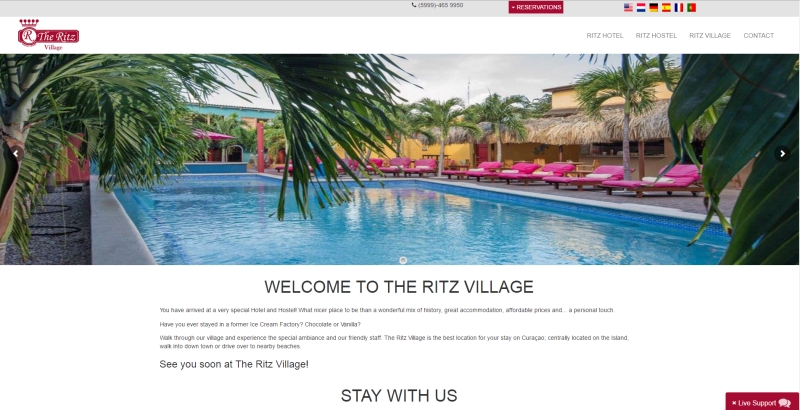 That's as far as I got and so I failed to realize that the Ritz Village is not in any way associated with the Ritz-Carlton and is in fact a remodeled ice cream factory with rooms that are unfortunately, a little dated and run down (I'm pretty sure our shower was actually installed inside of a closet – that's it in the pic below, to the left of the little kitchenette area – it was very strange).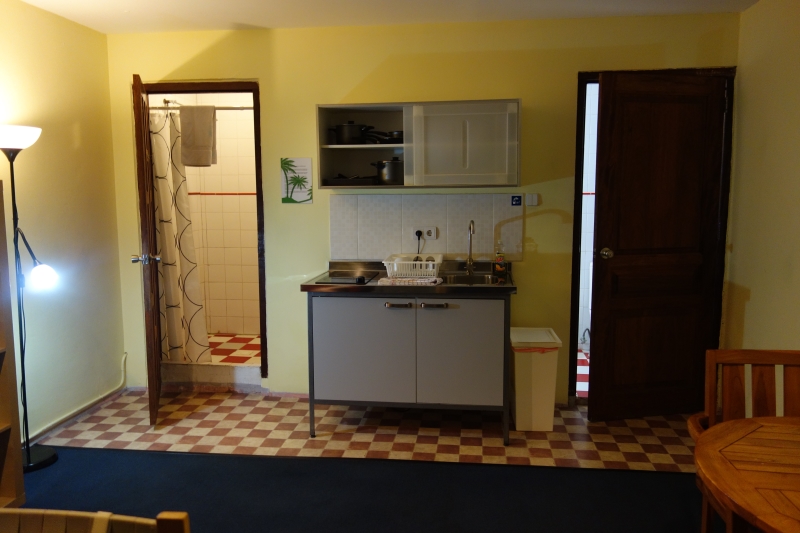 Additionally, the Ritz Village is also part hostel.
Not that I have a problem with hostels per se – I stayed in them back in college…just not exactly what I was expecting when I envisioned this experience.
No biggie.
Pulling into the Ritz Village, you pass through a wrought iron gate and drive through a narrow driveway to a communal parking area.
There are a few shops that include a small convenience store, and a dive shop that has a sign on the door that perpetually reads:
"Out diving, call #……."
The 'lobby' is more of a kiosk with a tropical vibe, complete with a coconut paperweight painted to say: "Back in five minutes"
We're definitely on island time.

We stayed in the two story room painted green, all the way in the back by the stairs…
Bitch slapped by humidity…
When the girl working the kiosk/front desk showed us to our room, I was shocked at the amount of heat/humidity that hit me when we opened the door, (especially given how dry it was outside).
I immediately began to scan the room for a cooling device of some sort.
Please let the room have an air conditioner…
The room does in fact have AC…thank God!
But…
The room also has a sign on the wall asking guests to keep use of the air conditioner to a minimum because of the high electricity costs.
The sign also states that the showers do not have hot water for the same reason.
Oh hell no.
AC on.
At least for now.
I need time to adjust.
(I'd learn later in the trip that ice cold showers do in fact make you want to leave the AC off…it's a balancing act.)
#firstworldproblems
That Night by the pool…
At some point, we wander over to the pool area and order a bucket of beer – Amstel Bright – apparently a popular light beer on the island, with a slightly higher alcohol content than the average beer.
It's no Bud Light Lime, but it does the job and is light enough to be refreshing on a hot night
We make a couple of friends who are visiting from Europe and end up talking with them for a while, mostly about scuba diving.
Later that night…
On the way down from the loft, I manage to not hurt myself using the stairs, which are slippery as hell…especially when wearing socks.
Not to mention steep, with minimum amount of guard rail.
I find that it's best to climb up ladder style.
Going down, I just hold on tight and hope for the best.
Boo comments that a hole in the floor with a firemen's pole would probably be safer.
I agree.
Definitely not kid friendly.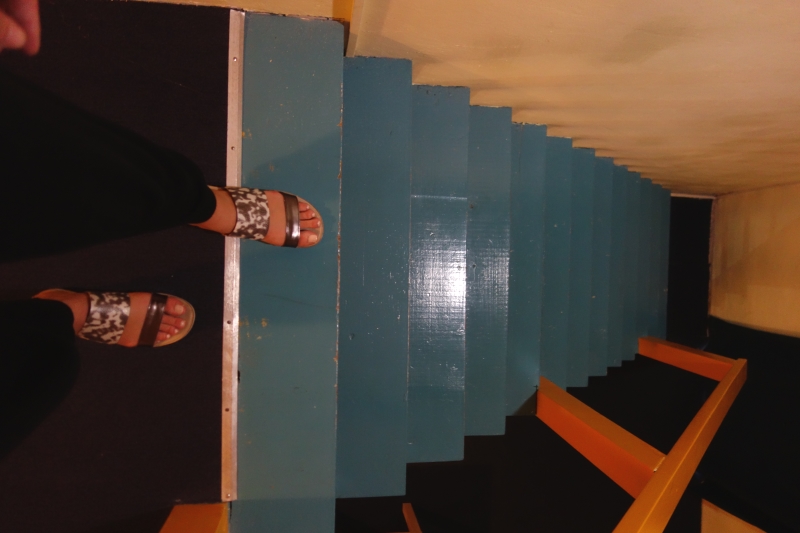 Next Day…
We surprisingly wake up early and head out to explore the hotel's property for a bit.
With a fresh set of eyes, it's actually really pretty…
Scattered throughout the property are lots of outdoor nooks for public gathering (hotel guests only).
These areas have comfortable seating as well as community board games, books, a game of chess, etc.
There is even a PokémonGo gym in one of the bigger sized seating areas (…more on that later)!
I won my very first PokemonGo Gym at this table…with a 741 pidgeot. Bam.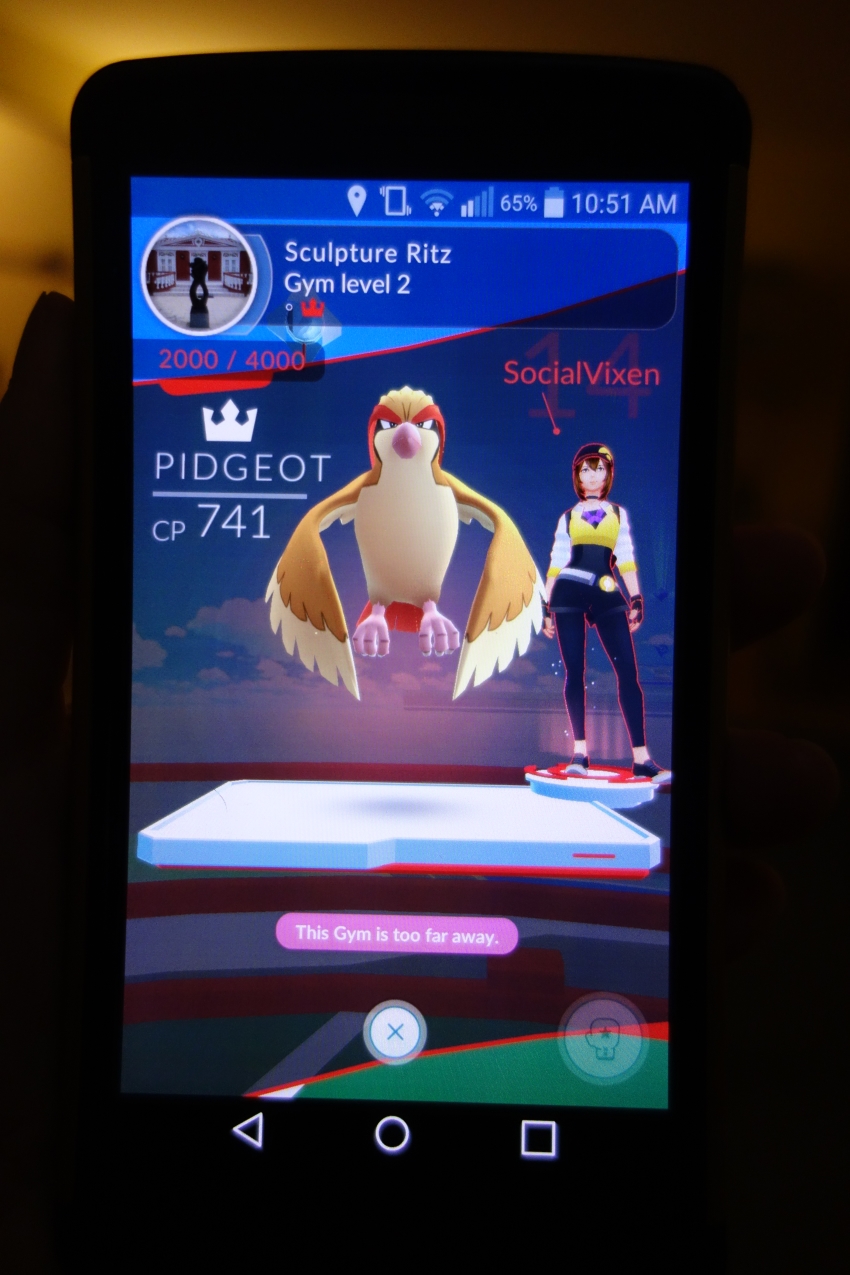 After a relatively good night's rest, this place is growing on me.
Still not a fan of the cold water only situation in the showers, but overall it's a decent property.
Although, I feel obligated to mention that the neighborhood is pretty much falling apart within at least a two block radius…
Seriously, check out this post on all the Urban Decay surrounding the Ritz Village.