New Mill Inn, in Plantsville, is quickly becoming one of my favorite restaurants in Connecticut.
I love places that have a little rustic charm and New Mill Inn is very charming with a wood burning fireplace, raw wooden beams extending across the ceiling and large windows overlooking a small pond with an old water mill.
Plus, the food is delicious!
Although I've only eaten at New Mill twice, I've sampled quite a few of the items on the menu (I love going out to eat with people who share small bites of their meal).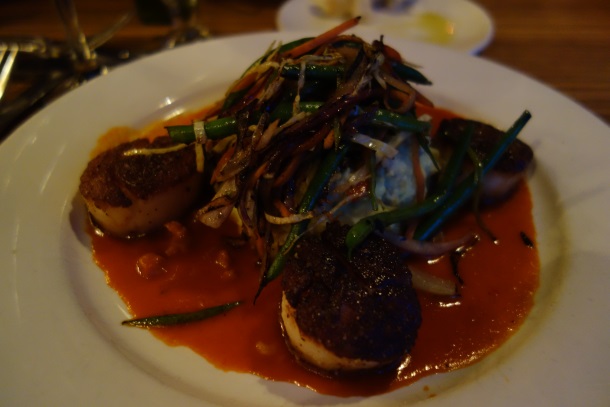 During my most recent trip, I ordered the pan seared scallops served with thinly cut vegetables for my meal. Those are them in the pic – don't they look delicious? I was originally planning to order the Maple Glazed Pork Chops, which I had the last time I was here, but then the server talked me into the Scallops – one of the specials for the night.
I also got to sample a fish special that JC ordered and two different cuts of steak – the filet mignon and the NY strip. Although I was completely happy with the scallops dish that I ordered, I also really liked the bone-in New York Strip that I sampled – it was like literally, the steak of my dreams with melt-in -your-mouth seasonings from the grill and cooked to a perfect medium – rare.
For dessert, the table shared the creme brulee cheesecake and a chocolate cake with hot ganache inside and served with fresh strawberries…
So…point of the post is… I Highly Recommend Eating Here.
Official website: http://www.newmillrestaurant.net/
What people are saying on TripAdvisor.