I should start off by saying that although Purdy's Farmer & The Fish is in New York, it is not in the City. In fact, it is closer to my friends in Connecticut than in Manhattan. (Note: clicking on the link above will bring you to traveler reviews on TripAdvisor). If you want to visit the restaurant's website, click here.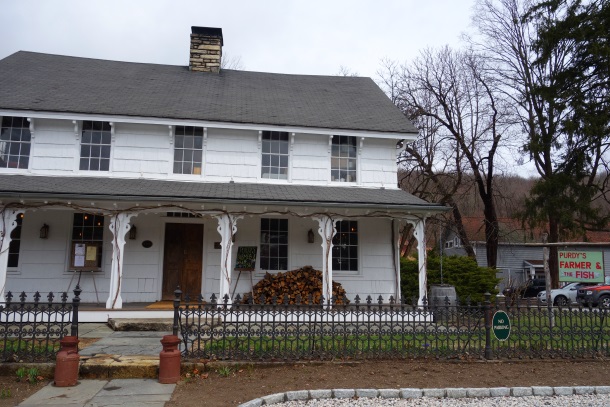 I had been hearing great reviews about this place for awhile and so I was excited when a friend suggested we go there for lunch and check it out. We decided to sit at the bar since it was pretty close to the fireplace. Even though the weather was finally starting to warm up on the East Coast, the fire still felt pretty good. Plus we heard that the main dining area fills up during lunchtime and we figured we could go at a slower pace if we sat at the bar. This seemed to be an accurate assessment as the restaurant was pretty full by the time we left.
We started off with some oysters and a few other lite bites off the menu like the lobster roll, which was OMG delicious – it came with a side of fried polenta, which I had never had before, but was equally amazing! (I've had polenta before, just not fried polenta) The fresh herbs in the lobster roll were so good (I'm thinking fresh Dill?) and the lobster was tender and perfectly textured.
My friend had a fish dish, which he also really enjoyed. I took a photo, but it came out really blurry so Ididn't end up posting. Even though we had oysters to start, we decided that we wanted to try a few of the different varieties that were being offered and so we ordered a second round. For dessert, we had a raspberry and mango cheesecake – #Drool.