Driving back to Connecticut, from Baltimore was pretty much smooth sailing… until we hit traffic around Danbury. 
No worries.
Instead of sitting in a parking lot, also known as Interstate 84, we got off the exit and found this little gem!
Ibiza Tapas offers a great selection of small plates that are well thought out in both flavor and presentation. The chefs clearly take their craft seriously and it's a delight to dine in a restaurant that is not pretentious, but offers the same quality of food that you'd find, let's say at the top floor of the Ritz Carlton in White Plains. I forget the name of the restaurant at the top of The Ritz, but I remember having Panceta there so it's a good example of white linen dining with similar menu options as what we found at Ibiza Tapas.
The menu here is pretty great and even offers plenty of options for vegetarians, which is nice. Of course, we ordered almost all meat and seafood…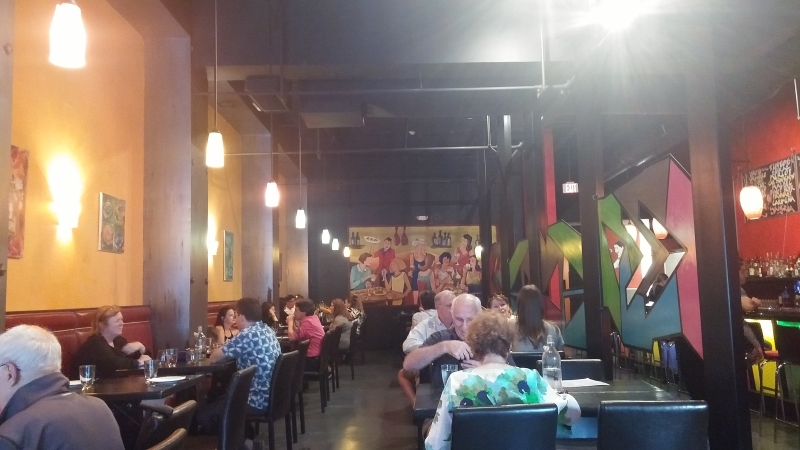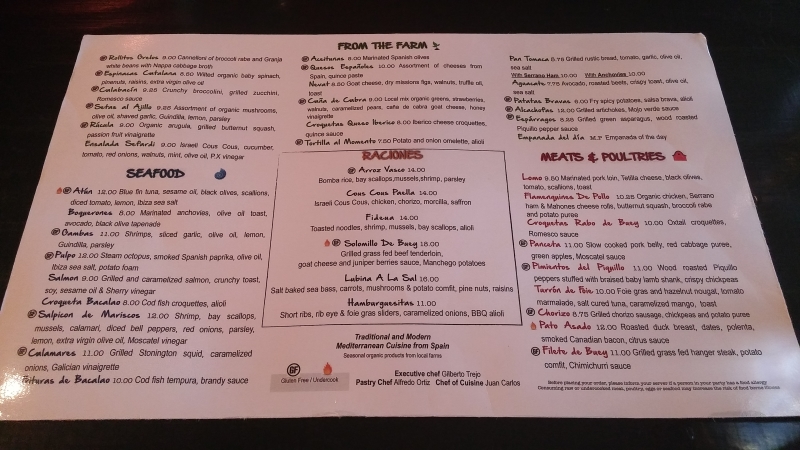 We started with the shrimp and scallop ceviche, which was marinated in a tomato and mango sauce with red onion. We requested some bread to scoop the ceviche onto, but it was originally served solo.
The seafood tasted fresh and the tomato based marinade had a subtle sweetness to it from the mango. Not the absolute best ceviche that I've ever had, but it was really good and I can see ordering it again on future visits.
*(In case you're wondering, my favorite ceviche is currently the Shrimp and Scallop Ceviche from Sirena in Puerto Rico. The coconut lime marinade is to die for and to make it even more amazing, its topped with a Grand Marnier Sauce and served with crisp yucca chips for dipping!)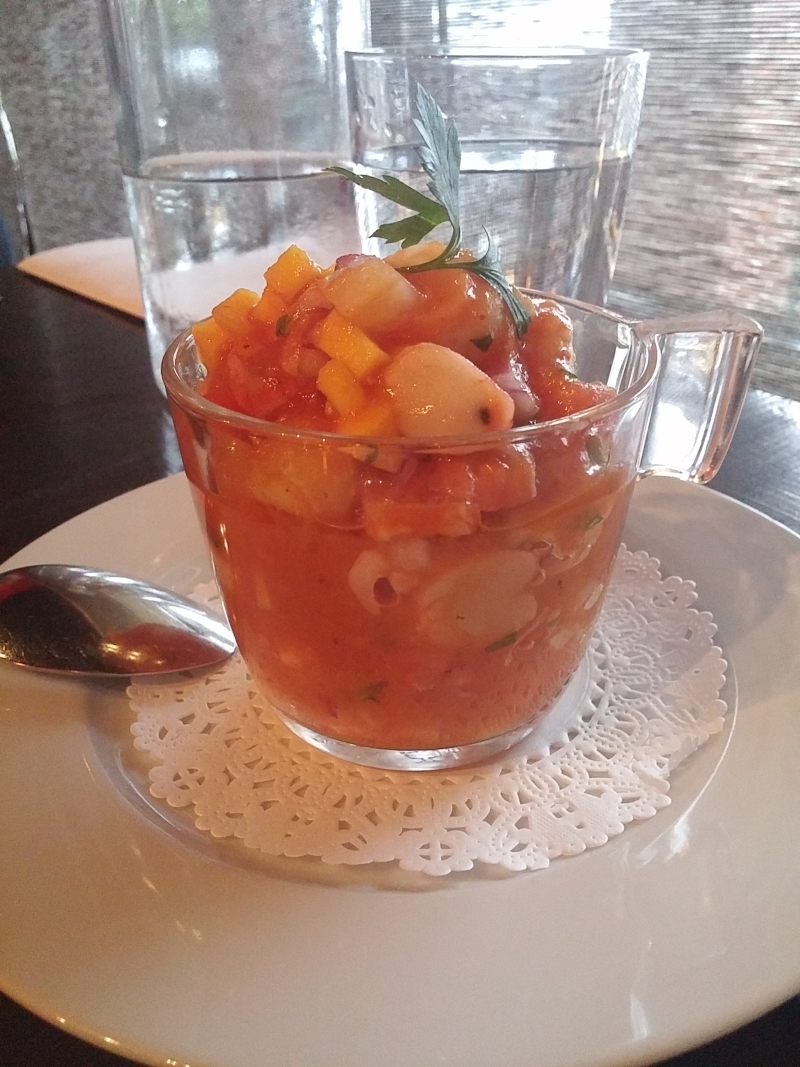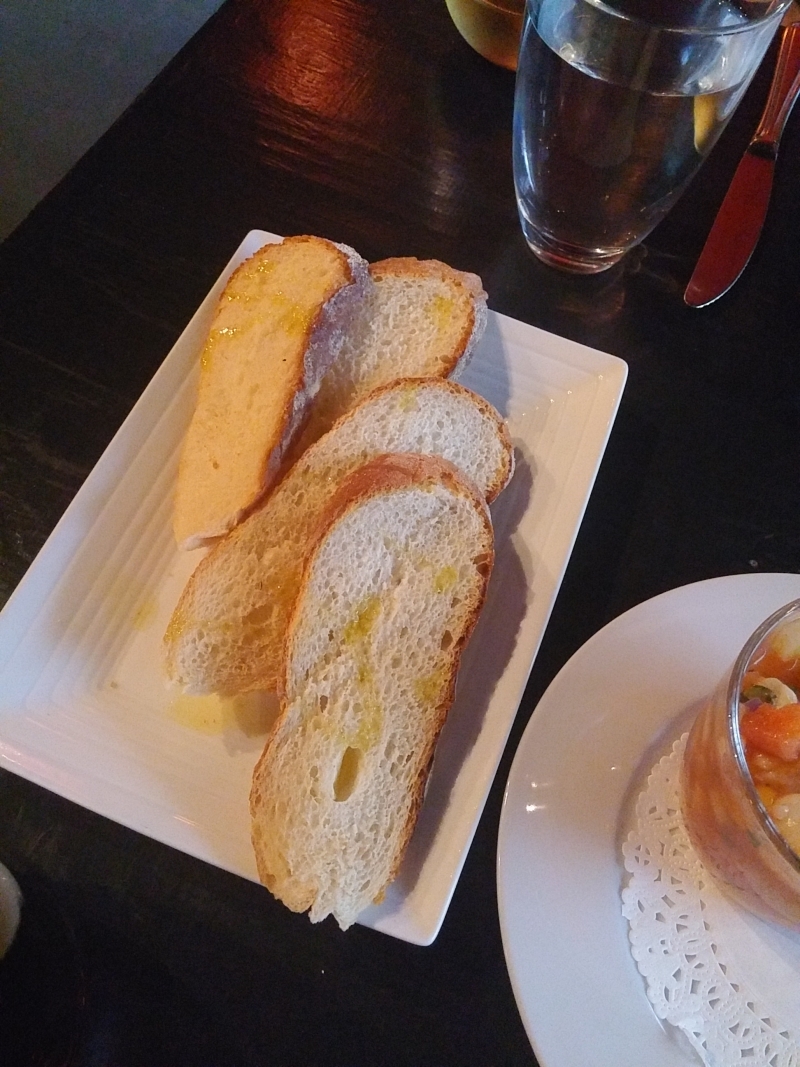 Next, we had the Panceta, which consisted of a grilled pork belly on top of a potato puree with mustard, apples, onions, and topped with a Moscatel sauce. The meat was cooked to perfection.
The thing I love about pork belly is how crispy it is on the outside and then you can just cut through it like butter with a fork. It literally melts in your mouth… I enjoyed the sweetness from the apples.
The Moscatel sauce had a little tang to it, maybe from the mustard? The potato puree added a nice texture and was good for scooping up the sauce with each bite. I would order this dish again.
The Turroón de Foie was my absolute favorite of the night!
I swear that I've been daydreaming about this tasty concoction for days since experiencing its amazing-ness.
It's basically a Fois Gras and pistachio nougat, topped with marmalade, placed on toast and then topped with caramelized mango.
O.M.G. It is so good!
It is the perfect combination of textures (soft with crispy) and sweet and savory notes from the foie gras and the mango. Wow.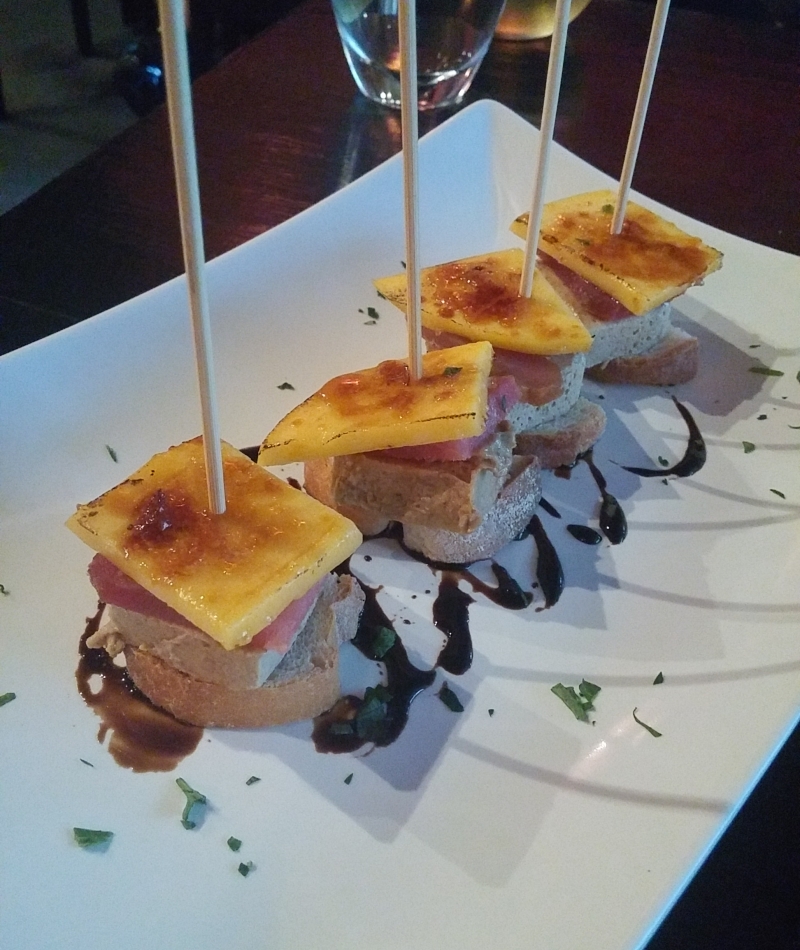 Next up is the Flamenquines, made with organic chicken, Serrano ham, and Mahones cheese all rolled up together and then fried; Served with a side of butternut squash, and a broccoli rabe and potato puree.
I liked how the cheese kind of oozed out when I sliced the chicken.
It was deliciously crispy on the outside and then all melted and gooey on the inside.
The butternut squash added an element of sweetness and the broccoli rabe and potato puree was good on its own, or combined with the cheese.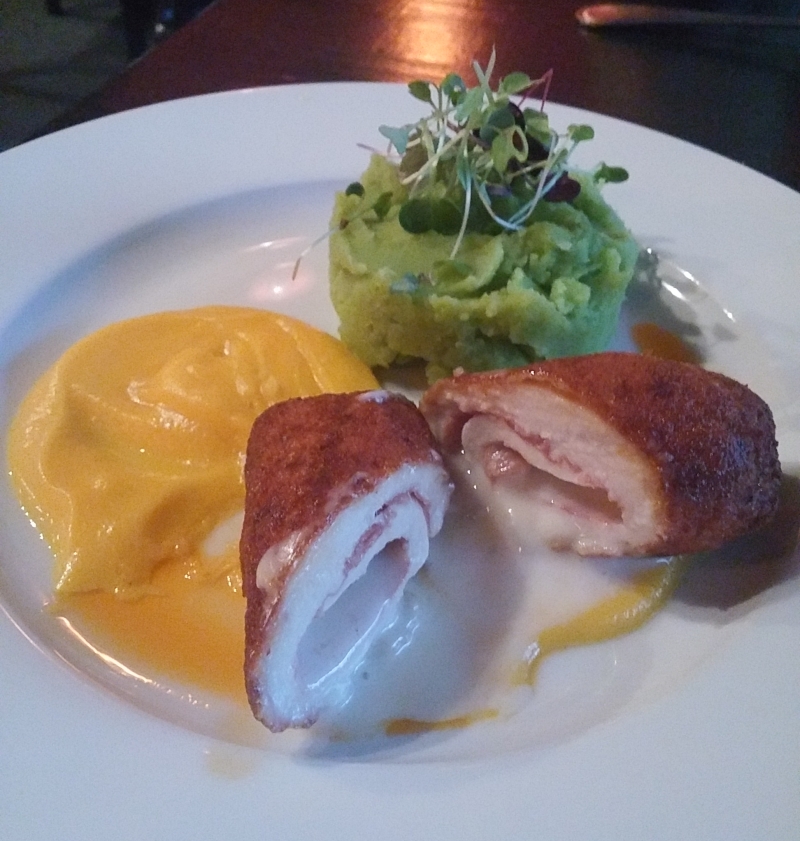 Last we had the Pato Asado.
I'm not sure if it's because I was already full by this point, but this was my least favorite dish out of everything that we ordered.
It sounds good on paper: roasted duck breast, dates, polenta, smoked Canadian bacon, citrus sauce, etc…, but for some reason, I just wasn't in to it.
The flavors didn't jump out at me like the other dishes did, but again, it's quite possible that it was just because I was full.
The boo really liked this dish and listed it in his top two dishes for the night (his first favorite was also the Turroón de Foie – same as mine!)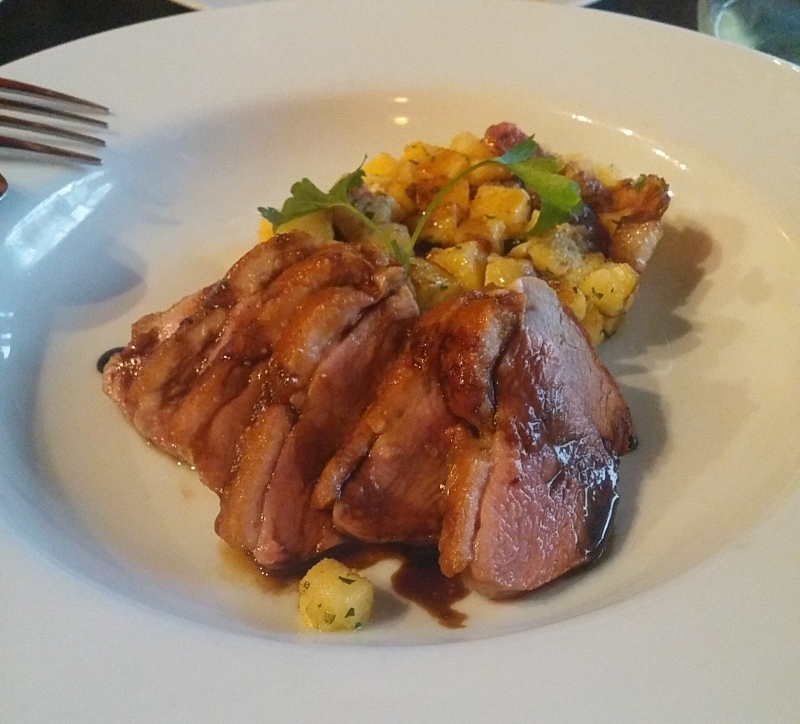 Break for wine (Tempranillo).
For dessert, we ordered the Gin and Tonic special, which was amazing!
It's extremely light and refreshing, so I was able to partake despite being full from dinner.
Like the name implies, it was a fun take on the drink; consisting of a gin and tonic gelatin, a scoop of lemon ice, juniper berry sauce, a thin cookie and a mint sprig.
So unexpected, but so delicious!
I forget what was in the two dessert wine glasses, but the waiter brought them out with dessert. I think that they were lemony. I do remember liking whatever it was. Lol…I'll have to ask next time I go back!