"Leave your report cards and school books at home. From the chefs on the line with silver-studded ears and tomahawk hair, to the inked-up, decked-out bar staff mixologists shaking and stirring some of the most creative cocktails, we're all dropouts here."
That's the description you'll find in the 'about' section of Culinary Dropout's website.
Located inside the Hard Rock Hotel & Casino in Las Vegas, this restaurant offers unique gastro-pub fare that induces sensory overload. From pretzel bites with fondue to bourbon ganache pie, Culinary Dropout is a must do  – especially if you're staying at Hard Rock.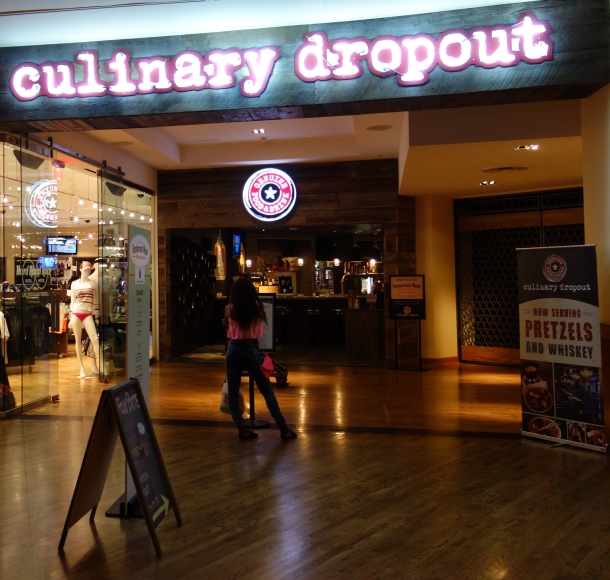 During our visit, JC and I ordered some smaller bites to share tapas style and devoured every last bite. Revisiting the menu/photos for this post has me drooling in anticipation for my next visit!
With four and a half stars, out of over 200 reviews on TripAdvisor, I know I'm not the only person impressed by the menu! Pics below…
The drink menu is titled 'vices' and offers tasty concoctions like the 'After School Special' made with  raspberry-infused jose cuervo silver, ginger agave, lime, and modelo especial, or not so classic twist of the Bloody Mary, made with bacon-infused smirnoff vodka, worcestershire sauce, cracked pepper, and spiced tomato!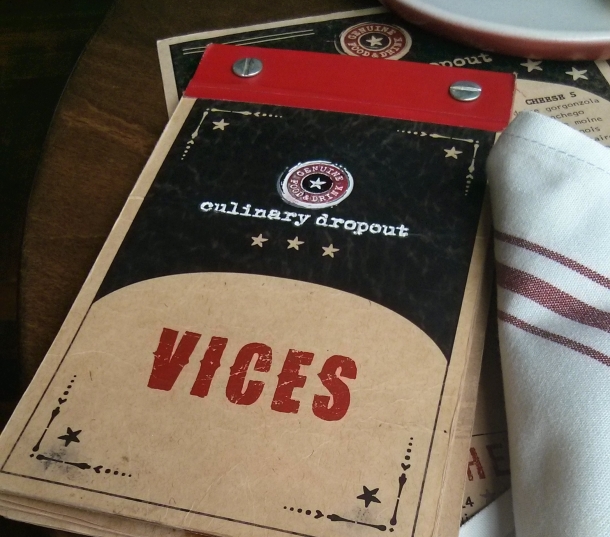 Below: We ordered the "My Suffering Bastard", made with plymouth gin, black peach brandy, fresh lime, and ginger beer. Even though JC and I split this drink, we were both feeling the alcohol by the time it was finished! I definitely recommend you take it slow unless you plan on passing out afterwards!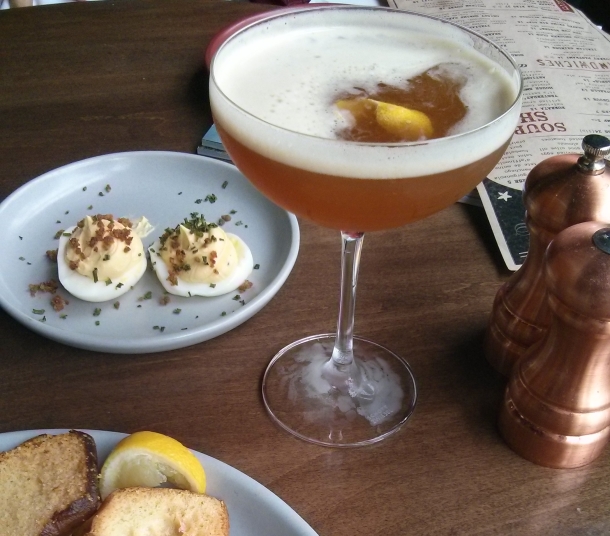 Below: From the antipasti menu (small bites) – grilled asparagus. OK, I know this doesn't sound like anything special, but let me tell you that it was literally the best asparagus I've ever had in my life! Topped with rock salt and a sweet balsamic drizzle, this dish was so good, we ended up ordering a second as soon as it was finished!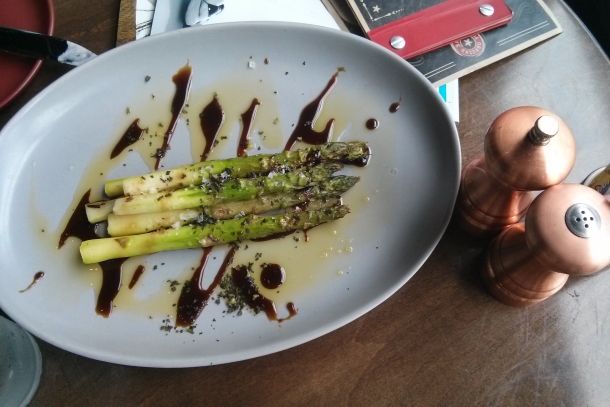 Deviled eggs – again not such an extraordinary sounding dish, but tasty nonetheless. Topped with crispy prosciutto, these were a nice starter to snack on.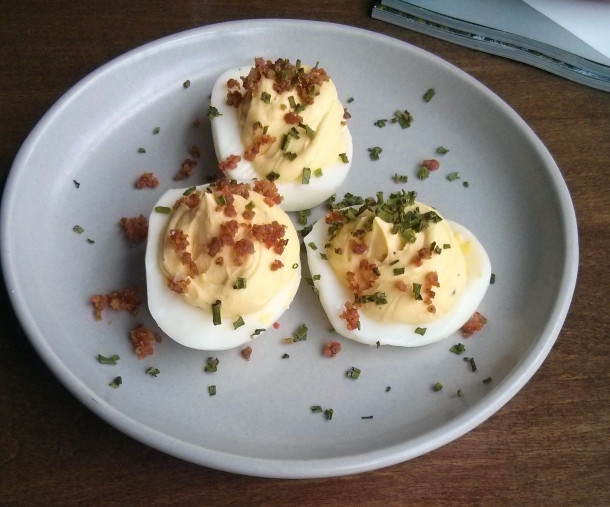 I should note that we were some of the first people to arrive at the restaurant and that we were there for breakfast (hence all the egg dishes) – Culinary Dropout opens at 10AM/weekends and 11AM/weekdays. Few people are awake that early – especially if they spent the previous day at Rehab, the hotel's daytime pool party!
Below: House smoked salmon with pickled onions, truffled crème fraiche, a poached egg, and pretzel chips – yum!!!!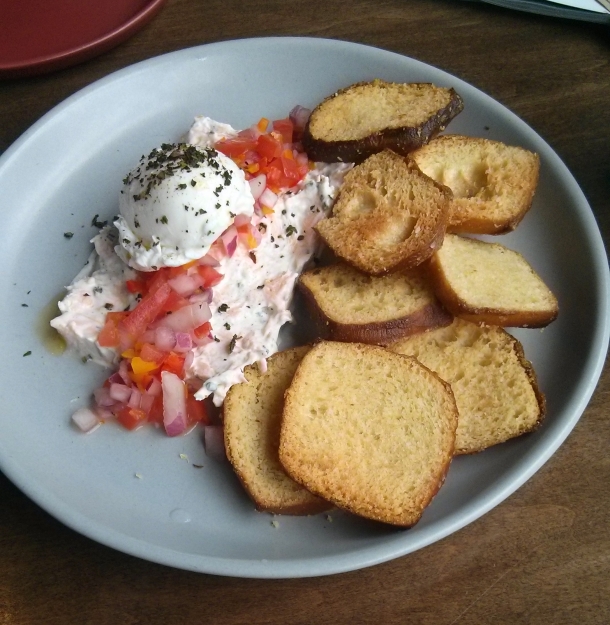 If you like, you can sit outdoors facing the pool area…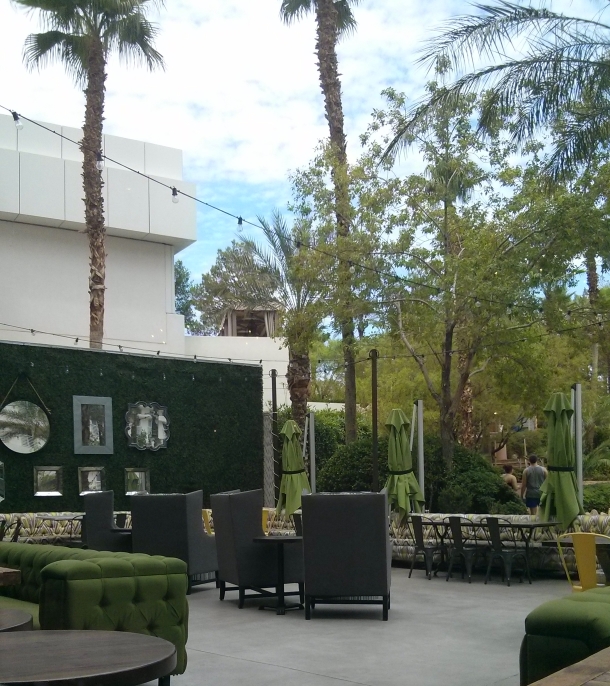 Or indoors….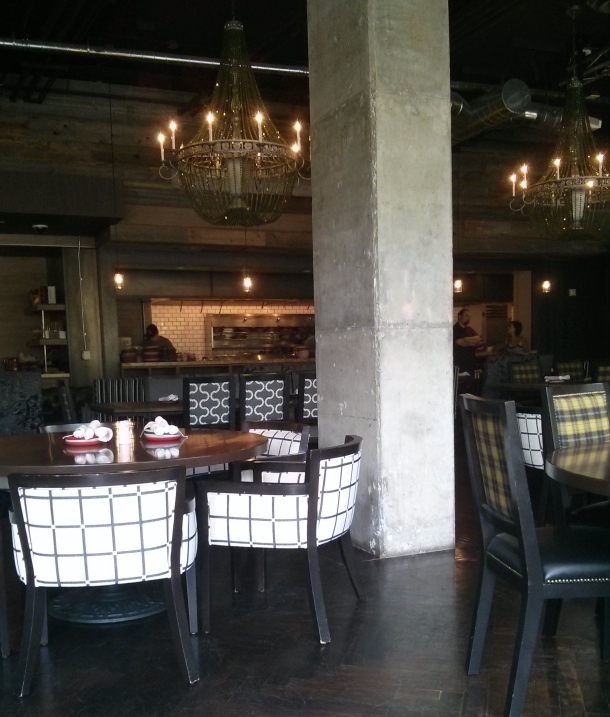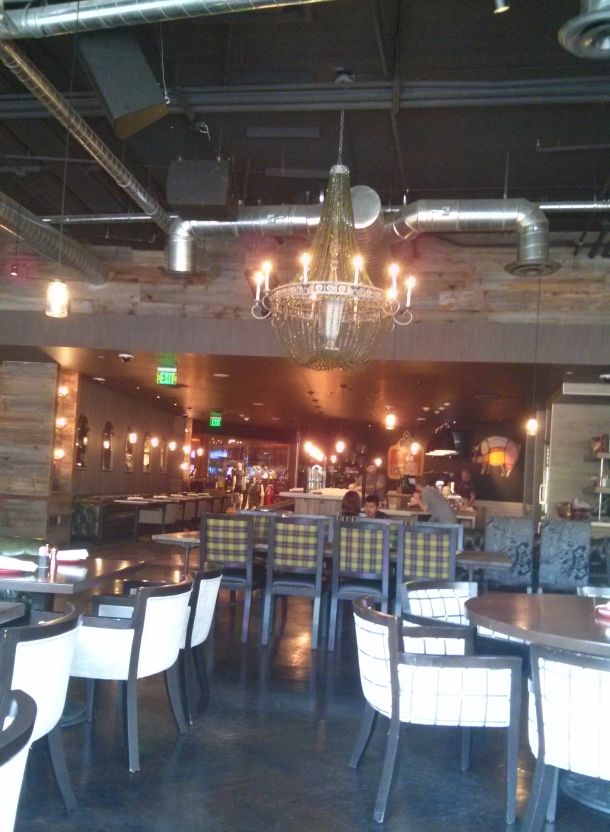 Or at the bar…