Total length of trail (based on smart watch): .5 miles to the bottom of the falls. An additional .2 miles from there to hike up to the top, where the trail connects with the Mattatuck Trail. There are some more, smaller falls in this area as well. This is an in and out hike, so about 1 – 1.4 miles total to go to the falls and back.
Last week, while hiking  the Mattatuck Trail from Peterson Park with some of my girlfriends, I learned about a red blazed trail that brings you to Connecticut's longest free falling waterfall. At a little over 80 feet, Roaring Brook Falls in Cheshire, is an impressive sight! At least it was this afternoon, when boo and I decided to go and check it out…there was so much water flowing that the falls definitely lived up to their name!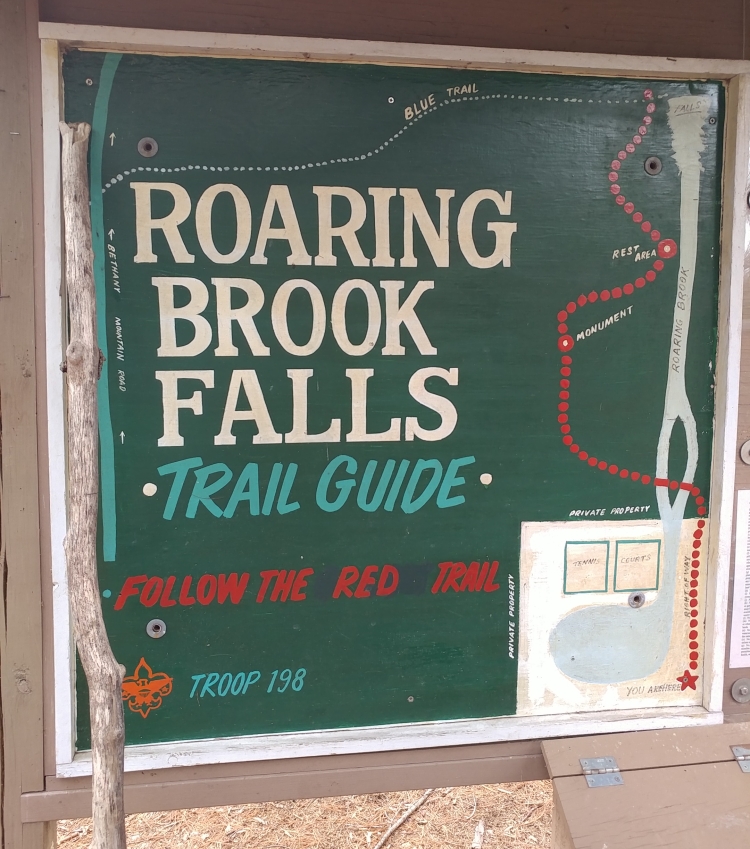 Hiking the Red blaze from Roaring Brook Falls to the Mattatuck Trail Intersection (Blue Blaze).
The hike starts off easy enough, winding by a privately owned tennis court as well as a lake. After passing the lake, it gets a little marshy as you can see in the pics with budding skunk cabbage and pools of water. Thankfully, boardwalks are set up to keep your feet dry, but I can see this part of the trail getting super buggy soon. We were lucky today in that the bugs weren't out yet and so we were able to hike in comfort. If I were to come here again though in the summer, I would definitely layer on the bug spray and might even wear a netting suit I picked up on clearance at the end of last season.
Before getting to any real inclines, you also pass a large stone fire pit as well as a memorial stone for Thomas Pool, the man responsible for creating this trail as a way to encourage people to enjoy nature.
The bottom of the waterfall is about .5 miles in and requires scrambling a short, but somewhat challenging incline. From there, you can enjoy the view, or continue on another .2 miles, which brings you up another steep incline to the top of the falls. This is where the trail connects with the blue blazed, Mattatuck Trail – incidentally, the same trail I did with the girls last week, although, we didn't quite make it to this point that hike. (Since the Mattatuck Trail is really long, you can pretty much hike all day, or even camp overnight if you wanted to. There are designated camping areas set up along the trail.)
Or, you can just hike to the falls and back, which is what we did.
I feel like I should note that this is not a kid friendly hike. There are lots of spots that entice you with good views of the waterfall, while bringing you cautiously close to a slippery edge (from loose leaves, twigs, pine cones, branches, unstable rocks, etc.).Unless your child, or pet for that matter, is used to hiking and naturally inclined to not go near edges, then I would at a minimum, do this hike first before bringing them to hike here.
For this reason, I can sort of see how this hidden gem slipped under my radar for all of these years. While being a short and lovely hike, with areas to work your leg muscles and cardio, Roaring Brook Falls simply doesn't have the accessibility of let's say Kent Falls, which not only has a collective 250 feet of waterfalls spilling into different pools, but also a mostly paved trail, with guardrails and viewing points to offer a safe vantage point. Kent Falls also has a large and well maintained field, where you can see the beginning of the falls without having to hike at all, which is great for people of all ages. There are also picnic tables and bathrooms.
None of that. And that's OK too.
Part of the reason I like this trail so much is because of it's rustic nature!