Located in Wallingford, Connecticut, Gouveia Vineyards is a modern day drinking hall built on the idea of getting people together for the art of conversation. In the warmer months, there are picnic tables to sit at while enjoying views of the vineyard. On colder days, a double sided fireplace keeps the interior warm and cozy. Floor to ceiling windows proudly display 140 acres of rolling hills along with some of the best sunsets that Connecticut has to offer. (I took the picture in the header of this post there last Friday!)
As for food, you are encouraged to bring your own snacks and eat picnic style. I always enjoy bringing fruit, bread, cheese, olives, and some kind of a dessert – either chocolate, or cookies. It always turns into a giant feast! While you're encouraged to bring food, outside beverages are not allowed, including bottled water. They say it has something to do with permits? I think it costs about $2/bottle to buy there and I'm not sure if they'll give you tap water – I did't ask.
Wine tastings are done at the bar and are a fun thing to do with a group. It cost about 12 bucks for 5 mini pours and you get to keep the glass with an etched logo. You're also allowed one free sample, but only before you partake in the wine tasting. For some reason, once you pay for the tasting you're no longer allowed to have a free sample… so, if you want to try an extra wine selection make sure to do so first. My friend and I learned this the hard way after trying two reds, two whites, and a dessert wine. We knew we wanted a red for the table, but couldn't decide between the two we had tried. When we asked for a sample of a third that caught our eye on the menu, we were refused. Seemed silly, but oh well.
Once everyone tries each of the wines, you can decide on a couple of bottles to buy for the table, or to bring home. You don't have to worry about finishing the entire bottle once it's opened, since they will re-cork the bottles for you before you leave. Just make sure you have them do this in case you get pulled over on your drive home. They have to cork the bottle, put it in a paper bag, and staple it shut in order for you to be able to legally drive with an already opened bottle in your car.
On this trip we ended up buying a bottle of Cabernet Franc and also a bottle of white – I think it was a Muscat? I'm not sure since I was drinking the Cabernet. The notes of the Cabernet had black cherries, plum and hints of vanilla with a smoky finish. Delish! 
As we sat there drinking our wine, enjoying an abundance of good food and catching up on some much needed together time, nature treated us to one of the most spectacular sunsets…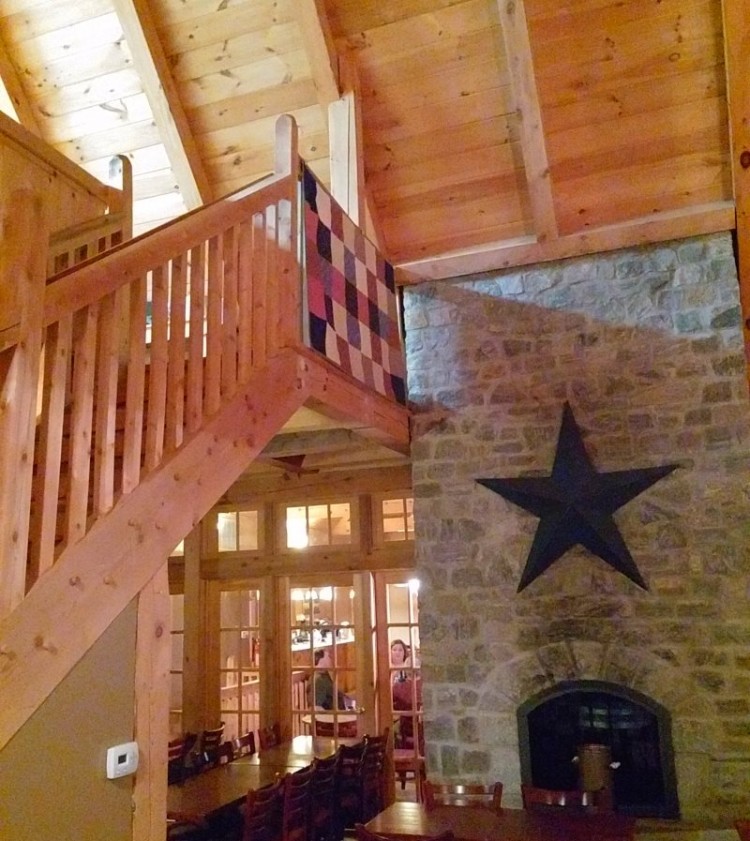 Long tables line the main room and are great for big parties, or for bringing smaller parties together…