Happy Halloween y'all!
I'm still in Florida after flight cancellations due to Hurricane Sandy, but am making the most of my time here by exploring some of my old stomping grounds.
After driving by my old house to reminisce, JC and I decided it would be fun to go on an air boat ride at Black Hammock Adventures. (I used to come here quite often when I lived down the street in my 20's.)
Black Hammock is a hidden gem in the jungle. It's a total dive bar/restaurant, that still relies on a juke box most nights, and live music on the weekends, but that's exactly why I love it!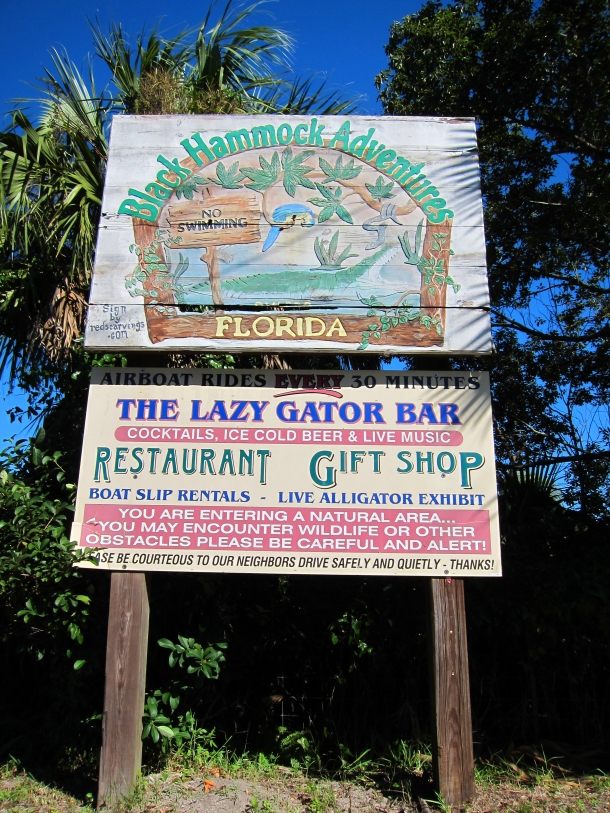 Black Hammock Adventure is located at the end of a remote road, filled mainly with horses and orange groves. It sits on the shore of Lake Jesup, which is home to one of Florida's densest alligator populations, as well as plenty of other wildlife like Osprey and Bald Eagles.
On a warm and sunny day, it's not unusual to see alligators swimming around, or lounging on the grassy banks. And, on warm nights you can see their eyes reflecting in the moonlight (they look like Pepsi cans floating in the lake).
For some reason, this fact never deterred me, or some of the other locals, from jet skiing here. Sometimes at night, and sometimes we fell off the jet skis. (cringe) This time of my life was a lot of fun, but I definitely shake my head when thinking about how dumb we were at the time!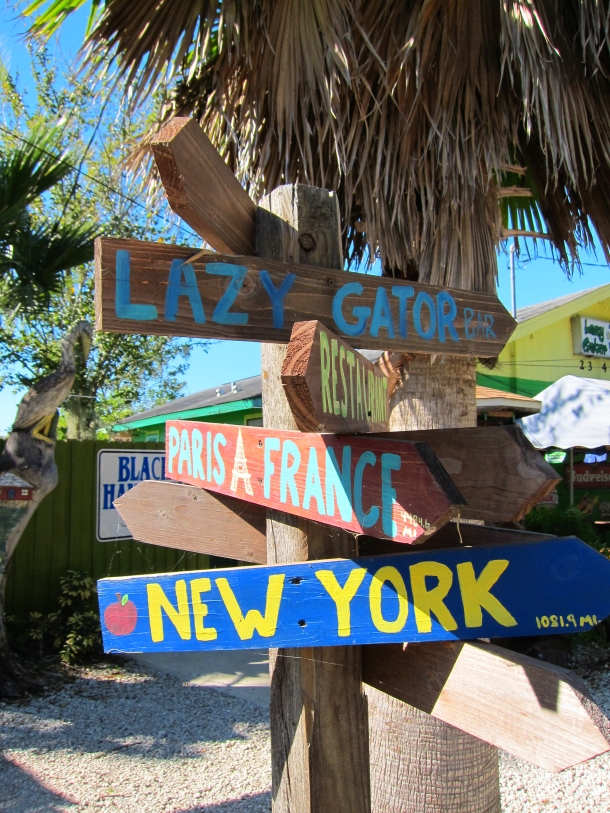 Think Jet skiing in the alligator infested water at night (or at all) was dumb?
I can remember one drunken night, after dancing to a live band all night, me and my friend Greg stumbled knee deep into the water – on a bet of who could catch a small alligator first. I can't remember with full clarity, but when I revisit this story in my mind, I see us each holding a bottle of beer in one hand. Neither of us were successful in that bet and thankfully, we made it out with all of our limbs in tact. What were we thinking?!? 
Even if you're not looking to wrangle in a gator, Black Hammock is a really fun place – the air boat rides are a total adrenaline rush!
The Airboat Ride
A well trained guide will take you through winding trails in the marsh and speeding over open stretches of the lake, stopping along the way to point out large gators and other wildlife. The guides are very knowledgeable and offer up fun facts about the area and are great at spotting and naming the lake's inhabitants.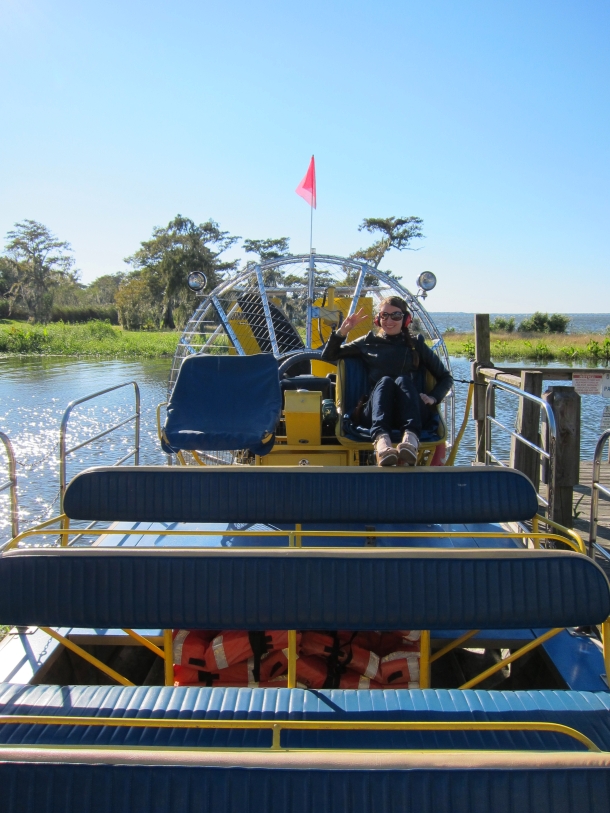 Photo below: Entering the marsh.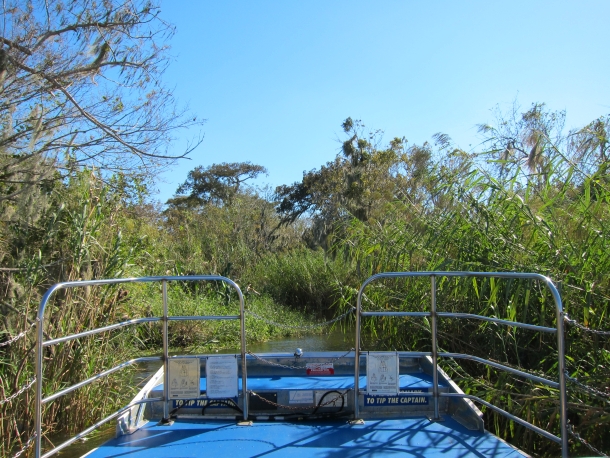 Photo below: Gator spotting!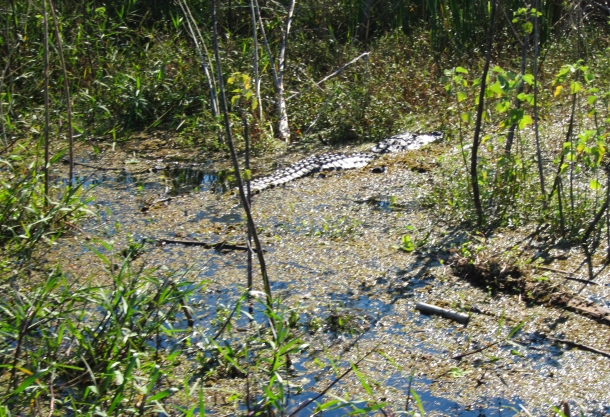 Black Hammock Restaurant
After our boat ride, we grabbed a bite to eat. Anyone who buys a ticket for the air boat ride receives a %10 discount at Black Hammock's restaurant. The menu has fun local foods like gator bites, frog legs and catfish. My favorite though, are the corn fritters – so delicious!
For the less adventurous eaters, there is totally normal food too.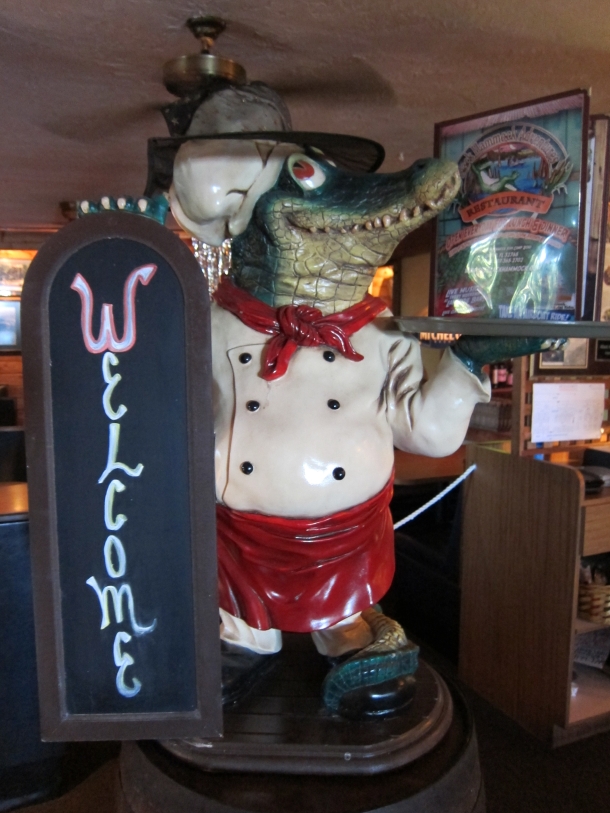 Photo below: Black Hammock's menu includes gator tacos and frog legs!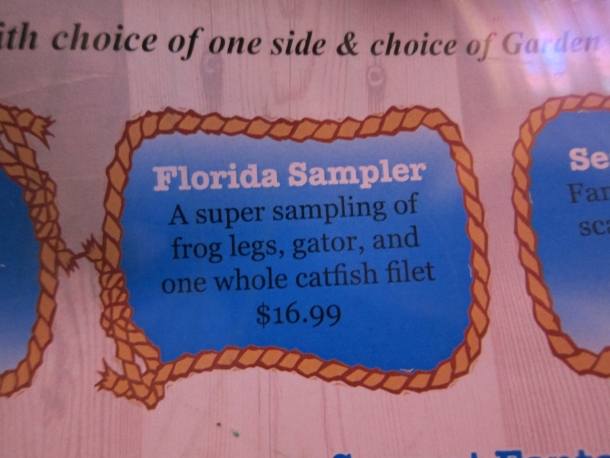 Photo below: We ordered the gator tacos, which are pretty good! The meat was not as chewy as I remembered from my last time eating gator and I really liked the sauce they used on top – a nice, spicy Cajun flavor.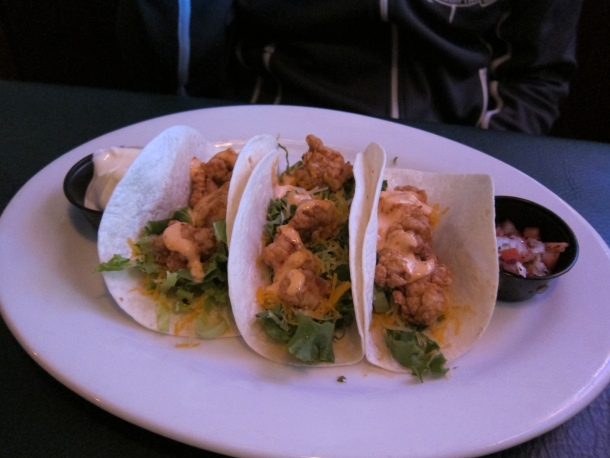 Photo below: The fries were surprisingly delicious – I liked the crispiness and the seasoning they used (not too salty, but full of flavor).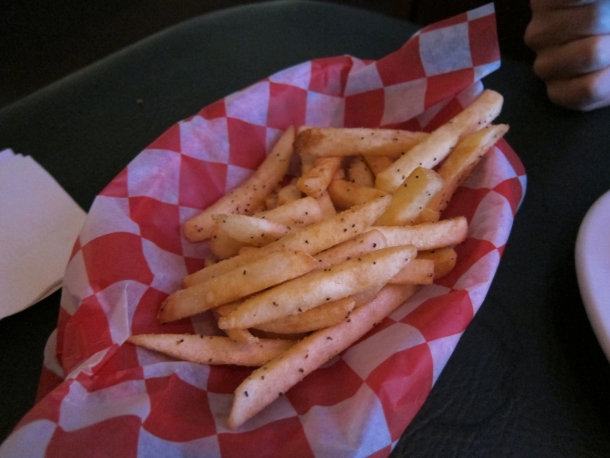 Photo below: This blackened Mahi-Mahi sandwich was incredible! Again, I loved the seasoning (different from the fries) and it was cooked perfectly. The char on the bun added a great hint of that 'great outdoors' feel that this place is all about and the cole slaw was fresh and delicious (I was told it is made in-house daily).  We also ordered some $5 Margaritas, which were tasty and for the price, seemed to have a good amount of alcohol – not overkill, but not watered down either. All in all, I thought the entire meal was perfect for the setting.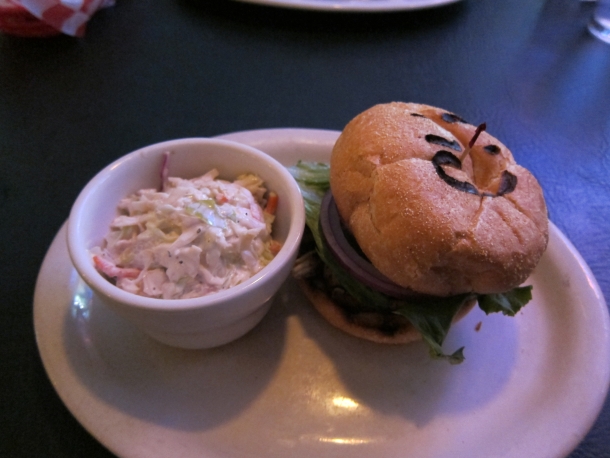 Photo below: Painting of a raccoon stealing the salt shaker – cute!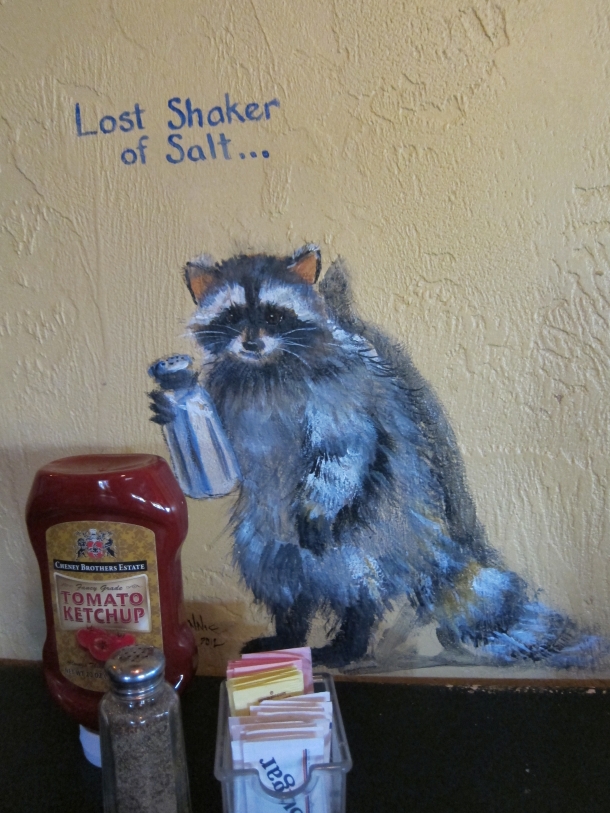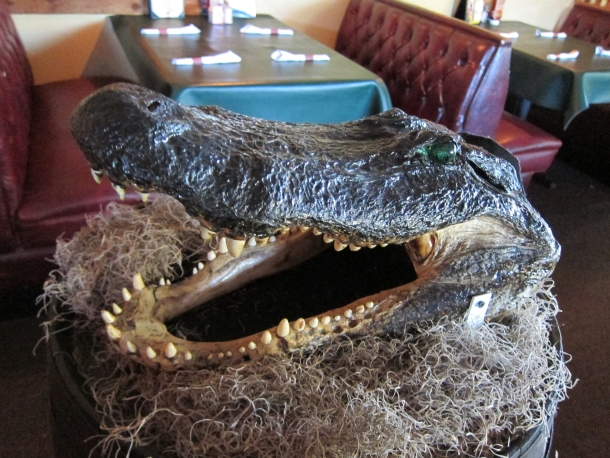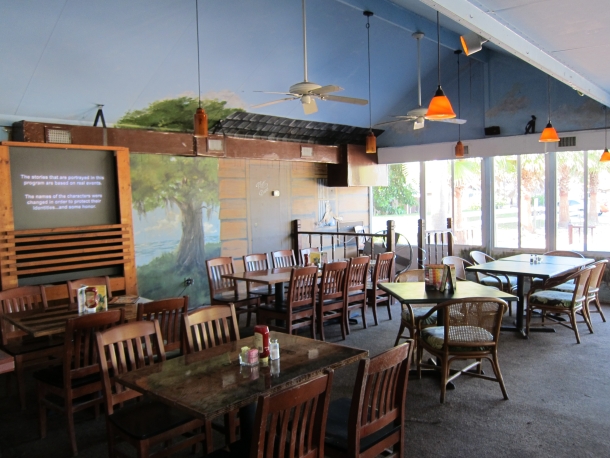 Photo below: This little gator was hanging out in a large tank by the main entrance.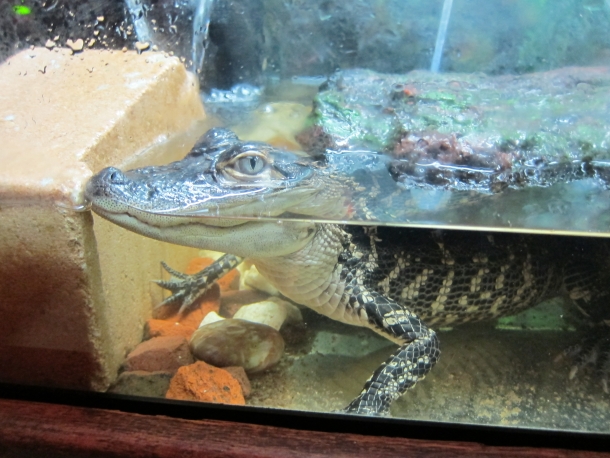 Photo below: Before leaving, we were able to hold one of the younger, resident alligators.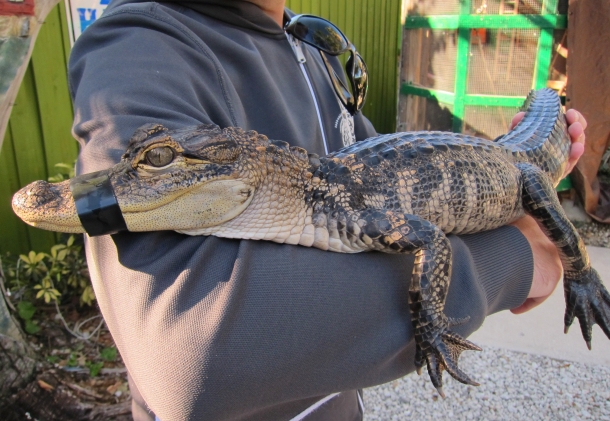 Interesting fact: When I used to live in Florida, I worked for a local zoo and had the opportunity to work with some really big gators.
Once, I had the challenge of helping to re-locate a 7 footer, with only one other person to help! While my colleague had roped the gators mouth, I was in charge of holding the back legs and tail, which was very challenging.
More than once, we were both knocked off our feet as the gator tried to free himself from our grasp!
It probably took us a good hour to move the gator to it's new location without having to sedate it first.