Amura Sushi, located in downtown Orlando, is hands down one of my favorite restaurants to go to for sushi. Their Volcano Roll is the best I've had and their Thunder Roll is a must whenever I go.
Amura is one of those places that I wish I could go to until I've tried every option on the menu, then do it all over again! This time around, I tried the Unforgettable Roll for the first time, which in my opinion is named appropriately. Made with spicy tuna, eel, and topped with a tempura crunch, this roll is definitely worth it's somewhat steep price tag of $14.98. I have to admit that the cost of eating here can run a little high, which is the main complaint on food review websites like Urban Spoon and yelp; but personally, this is a guilty pleasure that I think is worth every penny.
Other than the steep price tag, Amura has some great, redeeming qualities like a reputation for delivering unique, extremely fresh, and delicious sushi rolls (and sashimi). In fact, Amura Sushi  has been the winner of Zagat's 'Best Sushi in Orlando' award for three consecutive years proving that it is a local fan favorite!
Photo below:  The roll on the left of the plate is called 'Rock & Roll' and is made with eel, tempura shrimp, and topped with smoked salmon, avocado, scallions, sesame seeds, and eel sauce. The Unforgettable Roll is in middle, and the Thunder Roll is on the right with tempura shrimp and asparagus on the inside, and topped with smoked salmon, chives, sesame seeds, and a sweet sauce that is so delicious!!!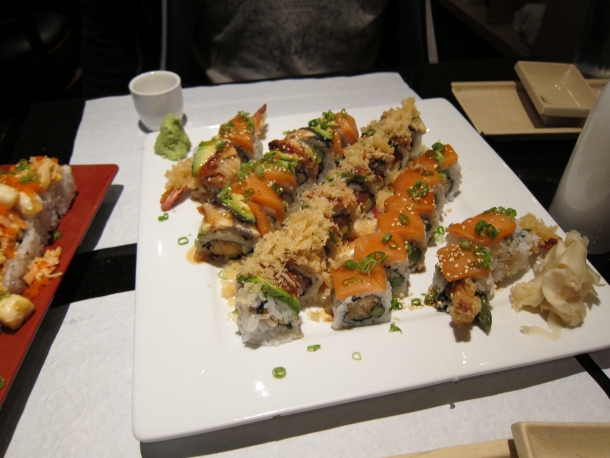 Photo below: One of my absolute favorites! This is the volcano roll made with salmon, avocado, and cream cheese on the inside, and topped with a warm mix scallop, crab, tobiko,  and scallions. This roll used to be served on a bed of jicama, which added a nice crunch. I wish they would bring that back, but regardless, still a great roll.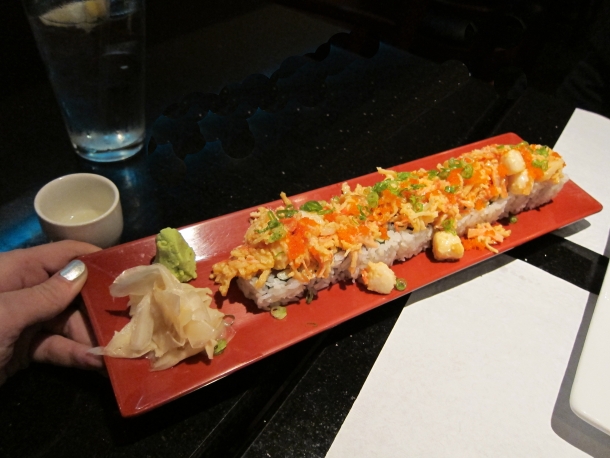 The success of Amura in downtown Orlando has led to two additional locations: one in Heathrow/Lake Mary and one in Dr. Phillips/ Sand Lake. I took the photos below at Amura's original location at Church Street Market in Orlando.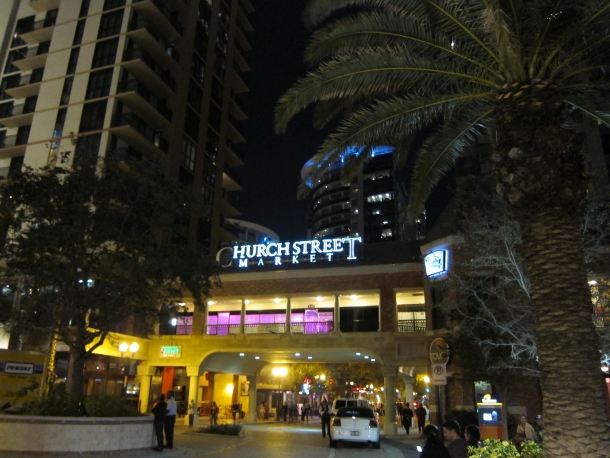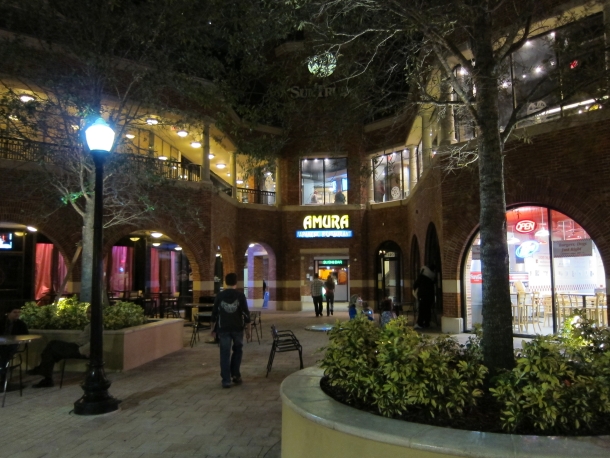 Part of the sushi menu at Amura. There is also a board with daily chef recommendations as well as specialty rolls and appetizers.