This year, JC and I decided to head down to Florida for Halloween.
We wanted to attend Halloween Horror Nights at Universal Studios and then check out some of the less touristy attractions near my old stomping grounds in Oviedo. For example, the air boat rides at Black Hammock where you can see some crazy big gators out in the wild. (I totally understand if that's not your thing, but I love it!) Then, we had to do the one thing we do every time we're in Orlando – head down town to Amura Sushi for some of the best sushi ever.
For accommodations, we stayed at the Westin Imagine in Orlando, Florida, which is close to Universal Studios and some of the other places we wanted to visit.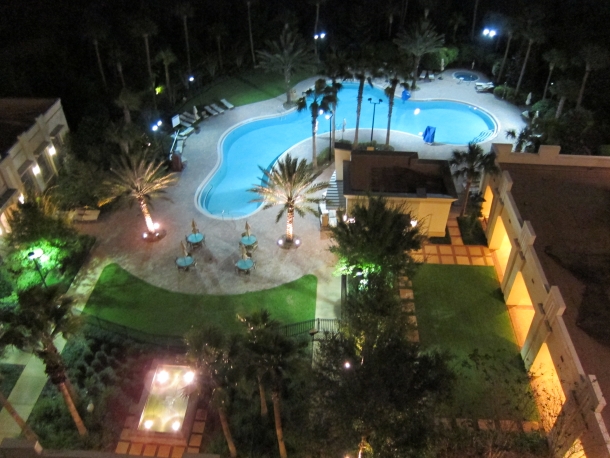 By the time we arrived it was dark and unusually cold for Florida! I saw a few people come and go in the hot tub, but the pool was pretty much empty. 
Photo below: The lobby.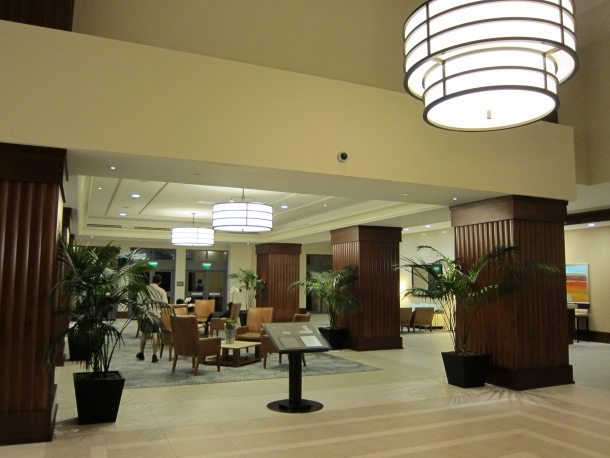 The room…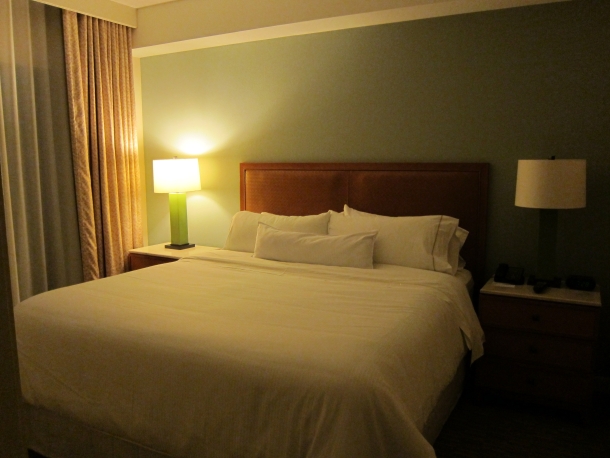 I love it when hotel rooms have kitchen areas and a fridge that isn't over-stocked with high-priced snacks & beverages. Not only were we able to fit our own drinks (aka sugar-free Red Bull) in the fridge, but bottled water was free and the alcoholic beverages were really reasonable at $4.25/beer and $2 for snacks that I've seen priced for $6 at other hotels.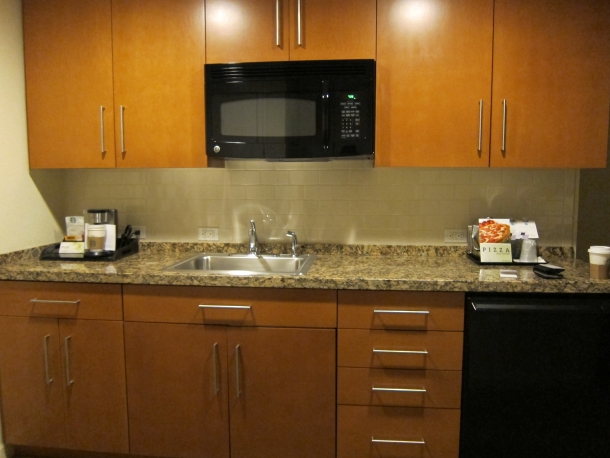 The woven seats at the dining room table remind me of a Project Runway challenge from the "Fashion That Drives You" episode where the contestants made designs out of car parts. Korto made a gorgeous kimono style evening coat out of interwoven seat belts that wowed the judges!
The door on the far right in back leads to the balcony, which extends the length of the suite and has a great view of the pool/lounge area.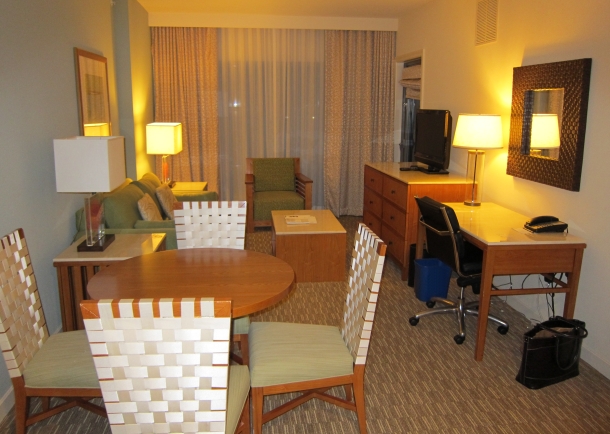 Looking out at the balcony the next morning/afternoon! The balcony also wrapped to the left and had seating space in front of the living room area.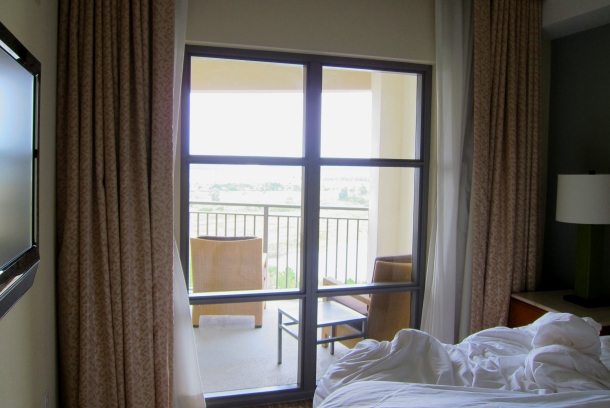 Room Service: Pizza/brunch. This is the pizza toscana, which is prosciutto, goat cheese, truffle oil, arugula, and kalamata olives (which I asked for on the side). One word: delicious! We actually ordered it again the next day.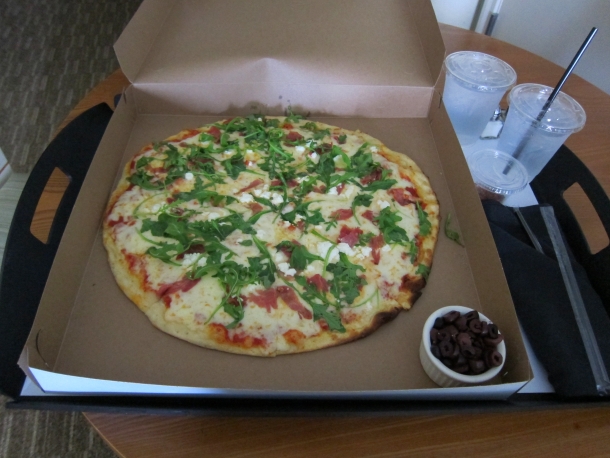 There was also another menu that had an extensive offering of tasty sounding meals, snacks, appetizers, and cocktails.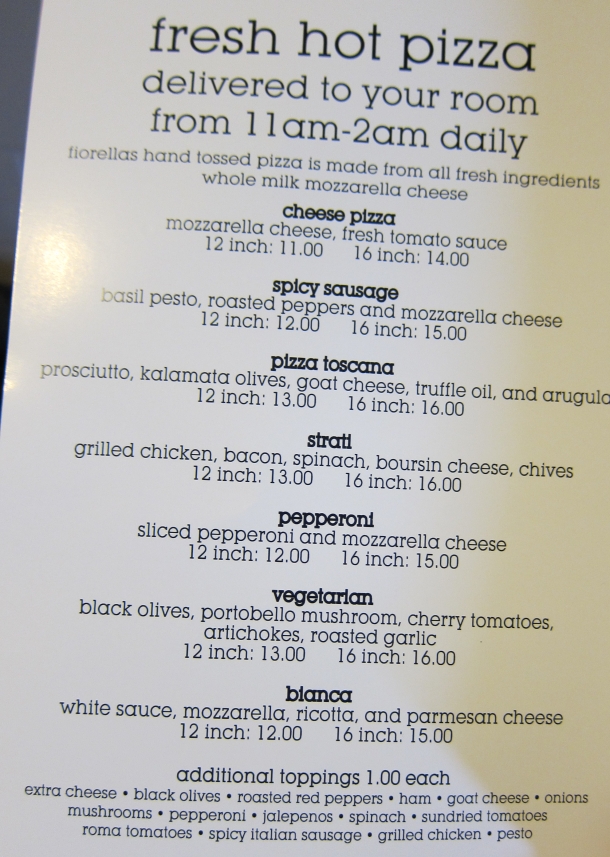 Westin offers New Balance work out gear for only $5 to use during your stay. They also offer a 3 or 5 mile jogging guide/map, in addition to their gym. How cool is that?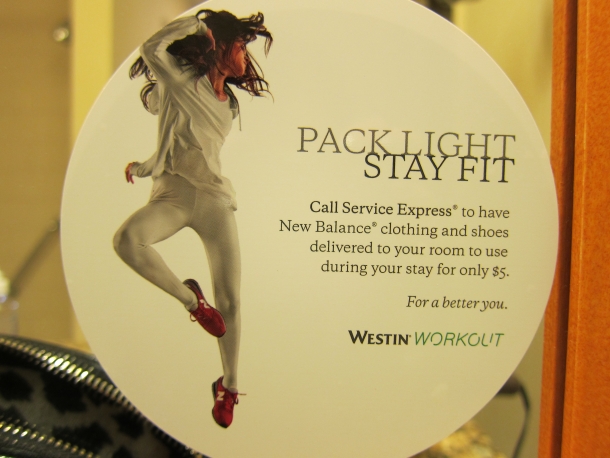 If the weather had been warmer, I definitely would have made use of this awesome pool! The music playing was top 40, but laid back like Taylor Swift, Adelle, and Maroon 5. In retrospect, I wish I had forced myself to go for a swim – I even brought my swimsuit and goggles!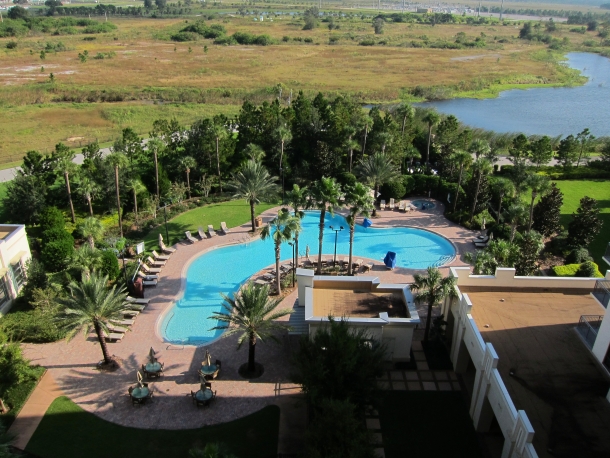 I definitely made use of this single cup coffee brewer and complimentary Starbucks coffee. Way more than once.