A couple of weeks ago, I saw a Tweet about how Amtrak was experimenting with the idea of offering a residency to writers, which I thought was a really neat idea. Well, I guess the folks at Amtrak decided it was too, because now it's official!
Amtrak just announced that they will give 24 writers the opportunity to travel for free on long-distance trains, with the hopes of "inspiring creativity and a sense of adventure".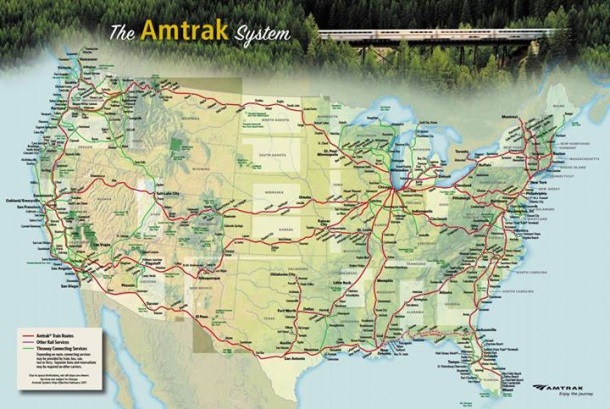 I think that this is such a smart idea – Amtrak can use unsold cabins to gain organic publicity and writers can use the experience for inspiration. Even though residents won't be obliged to write about or mention Amtrak in their work, nor will they be expected to turn in any writing to the company after their trips, you can be sure that they are going to talk about their experience to their friends and on Social Media sites. I'm absolutely sure that the word-of-mouth advertising will be worth it's weight in gold for Amtrak – case in point – I'm writing this post now and I'm not even one of the writers applying for the program! 
In my opinion, hotels and cruise lines should jump on board with this idea since they would essentially be giving away free/unused space in exchange for social media buzz – it's a total win/win. Plus, I'm sure guests will still spend money on food and other items including gratuity, which then adds an extra incentive for the waitstaff on the train as well, so I guess technically it's a win/win/win!
So how'd the idea come about? During an interview with Pen America, writer Alexander Chee said that he found trains to be an inspirational place to write and that he wished Amtrak offered residencies for writers. New York City-based journalist Jessica Gross read Chee's interview and then Tweeted about how she would also love to participate in a program like that.
Amtrak saw the Tweet and decided to give it a go, with Jessica being the first to board the train for free and travel through a snow globe version of New York, Pennsylvania and the Midwest. You can read about Jessica's experience here.
Afterward, Amtrak felt so positively about the idea that they decided to make it an official program. Each writer's round-trip journey includes accommodations on board a sleeper car equipped with a bed, a desk and outlets. They are also considering opening the program to creatives other than writers like graphic artists and illustrators.
I would definitely like to high five the team at Amtrak who saw the opportunity here and made it happen!
Want to apply? Here's a link to the official entry form!      #AmtrakResidency