As a food addict, I like to find a nice balance between eating out at fancy-shmancy, touristy hot spots and sampling local gems. Vivas Las Arepas in Las Vegas is a local find that I noticed while driving by. Having traveled to Venezuela, several years ago, I've yet to eat traditional Venezuelan cuisine since. Fresh Arepas, cachapas, and yucca are just a few of the tasty treats offered at Vivas Las Arepas that had me drooling in anticipation. The cachapas, a pancake like patty made from corn then stuffed with a melted, softer mozzarella-like cheese, instantly brought me back to my time in Venezuela – waking up to the sounds of birds in the trees as I slept outdoors in a hammock. If it weren't for wanting to eat anything else, I could have easily devoured three of these for the taste alone – they are, however, quite filling and I wanted to have room for the rest of my meal.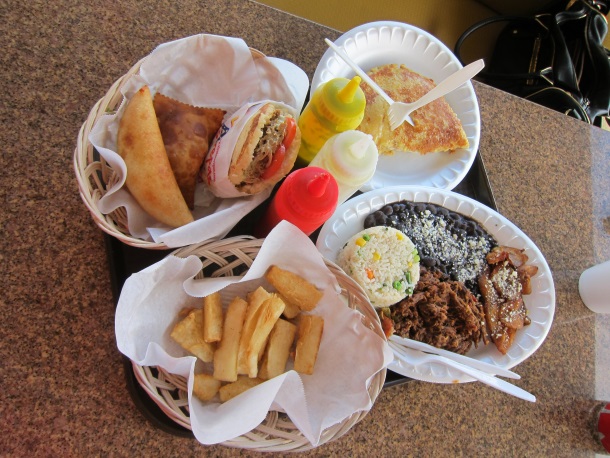 I opted to order the roasted pork butt (yes, butt) arepa, which was very tasty and very filling. As a side, I got the fried yucca, which was cooked exactly how I like it – crispy on the outside, soft on the inside, and served with a trio of tasty sauces including a jalapeno mayo, a cilantro sauce, and a jalapeno sauce. The latter was my favorite.  As an afterthought, I added the chicken empanada to my order, which was barely touched due to a full belly. I'm not sure if it's because I was completely stuffed by the time I got to the empanada, but it was my least favorite – mostly fried breading with just a small amount of meat on the inside.
Continues after the jump…
JC ordered the Pabellon meal with shredded beef, black beans, veggie rice, and fried plantains. I sampled a few bites and the entire meal was the perfect combination of salty (beef) and sweet (plantains) mixed with two delicious staples (rice and beans). For dessert, he ordered a coconut and cheese pastelito, which was tasty, but again filling. There are plenty of other options on the menu that I'd like to sample if and when I am in Vegas next. In the meantime, if you happen to be in Vegas and want to step away from the hustle and bustle of the strip and try something different, then I definitely recommend Vivas Las Arepas – so do the reviewers of Vivas Las Arepas on yelp, Urban Spoon, and Trip Advisor, where this little Venezuelan restaurant is receiving stellar reviews of four and a half stars on all three sites!
Photo below: cachapas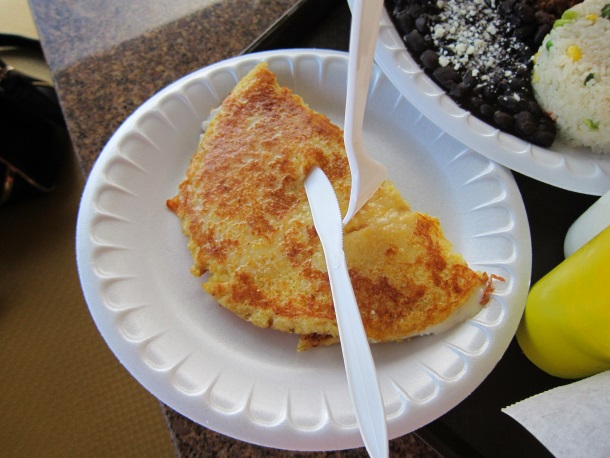 Photo below: roasted pork butt arepa with tomato, chicken empanada, coconut and cheese pastelito (the square shaped pastry in the middle)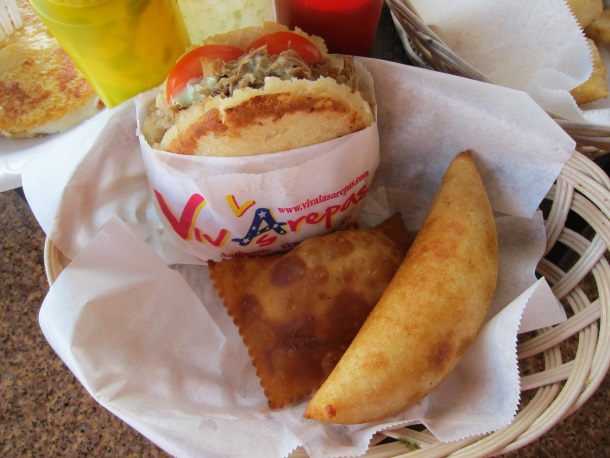 Photo below: fried yucca – yum!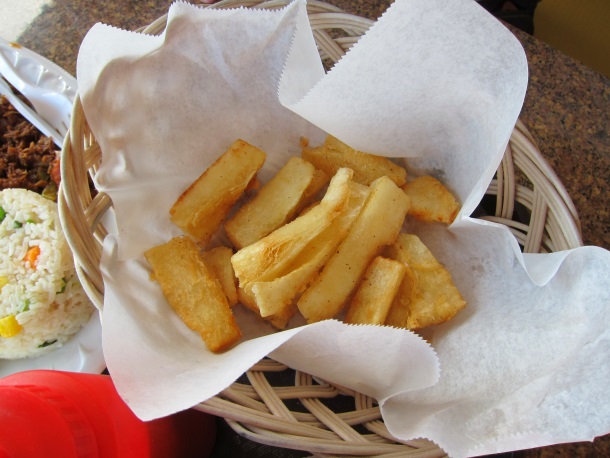 Photo below:  the Pabellon meal with shredded beef, black beans, veggie rice, and fried plantains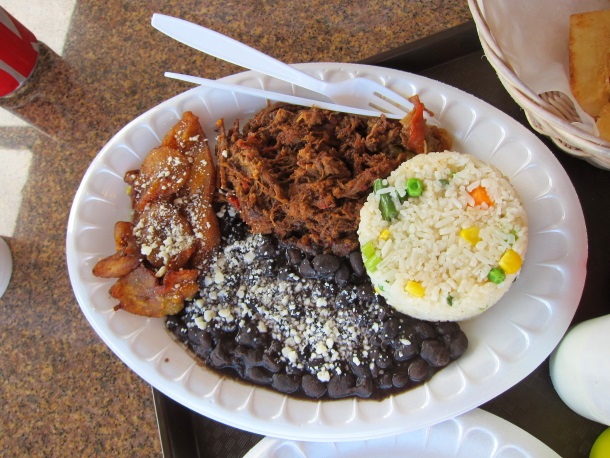 Photo below: atmosphere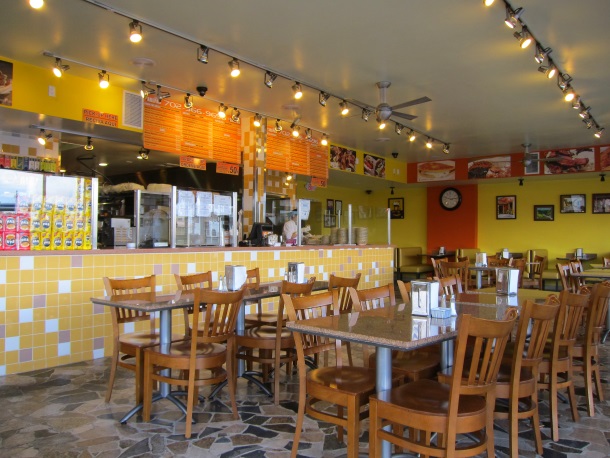 Photo below: atmosphere