Tonight, I had the great pleasure of attending Halloween Horror Nights  at Universal Studios for the second time! Each year, the theme park hosts one of the most spectacular haunted displays in the world with several haunted houses, street experiences, and more than a few shows that aim to scare the bejeezes out of pass holders who dare to walk the streets and enter the haunted attractions!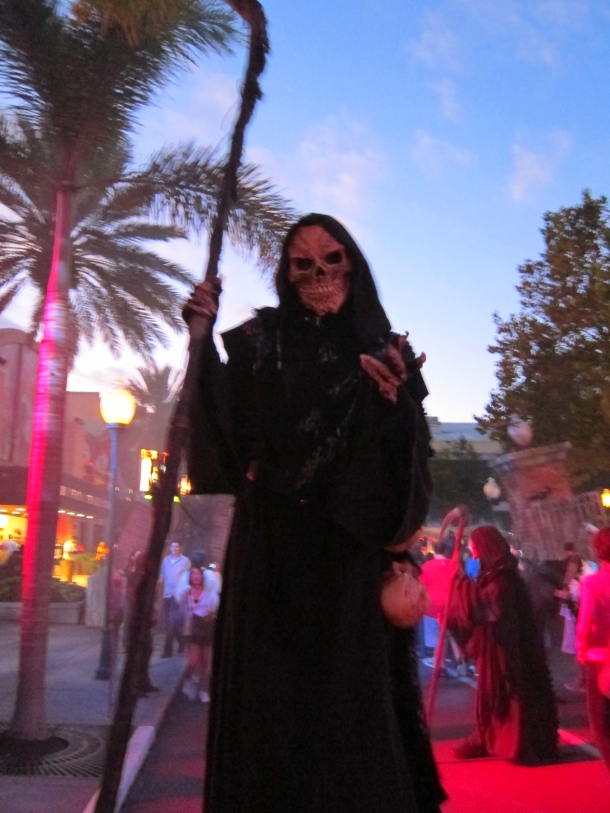 In addition to the Halloween themed experiences, many of Universal Studios' regular rides are also open, including 'The Simpsons Ride', 'Revenge of the Mummy', and one of my new favorites, 'Hollywood Rip Ride Rockit' which let's you pick the music that plays during the ride, customizing your experience! While I chose Kanye West's Stronger (possibly one of the coolest songs to listen to while twisting and turning 17 stories high and plummeting at near vertical drops), JC actually found a 'secret' soundtrack which allows you to choose from even more songs. (More below). 
Photo below: Hollywood Rip Ride Rockit. This is the only ride that does not allow you to use your express pass. The express pass is a ticket purchased in addition to your general admission pass, which allows you to bypass the lines – something, I STRONGLY recommend! Since there is a limited number of these passes available, they sell out fast and your best bet is to buy them in advance. This cuts your wait time down tremendously and makes the overall experience much more enjoyable.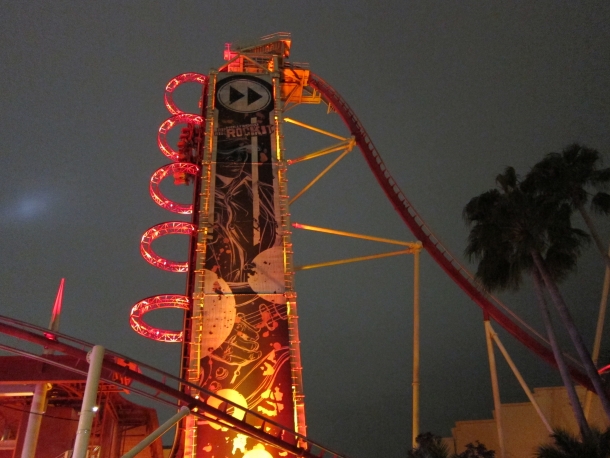 Insider tip: To access additional songs  after lowering the restraint, push and hold the logo of the ride seen on the screen for approximately 10 seconds. A new menu will pop up with extra selections!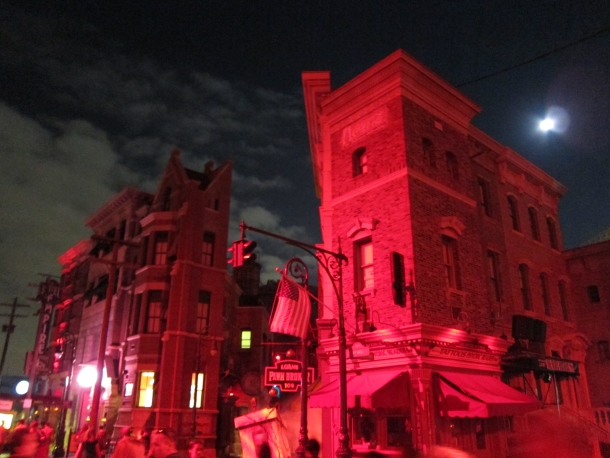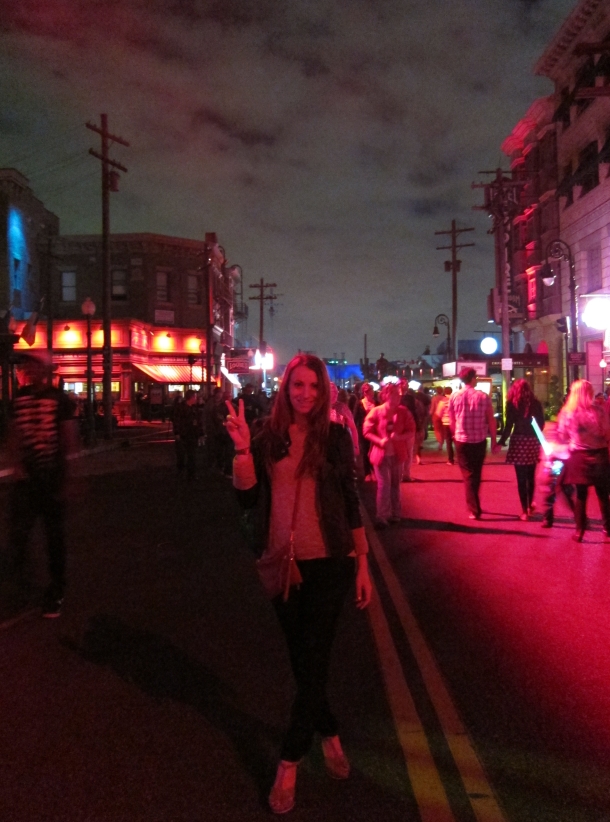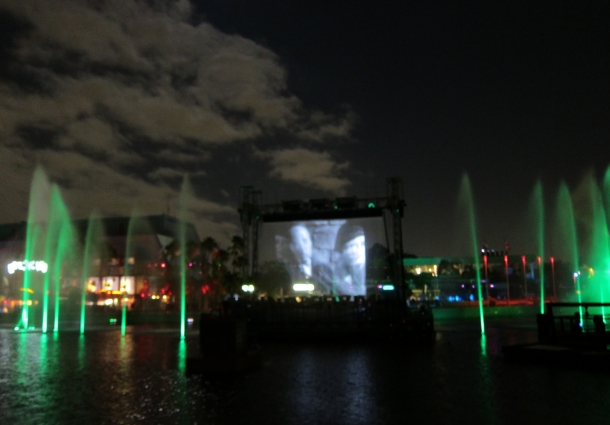 Photo below: Penn & Teller New(kd) Vegas. While all of the houses were amazing, JC and I both liked this one the best! As fans of Las Vegas, we really enjoyed the experience of walking through casinos with neon lights, demented dealers, and plenty of eye popping scares made possible by wearing 3-d glasses! While the thrill rides were a blast, the main focus is, of course, the haunted houses! There were several great houses in addition to Penn & Teller New(kd) Vegas, including Silent Hill, Gothic, Alice Cooper – Welcome to My Nightmare, AMC's The Walking Dead, and Dead End.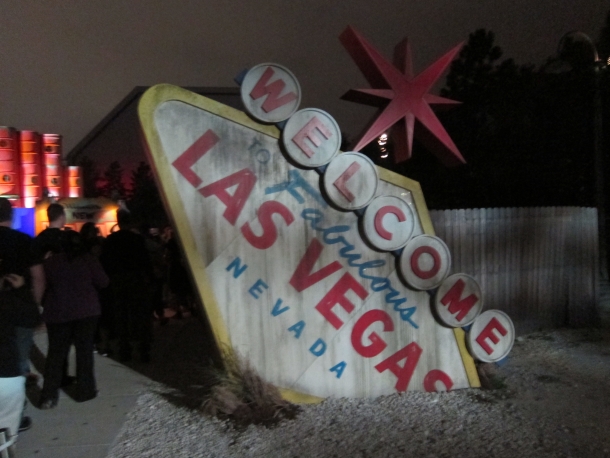 Photo below: Inside The Simpsons Ride. This thrill ride is where the old 'Back to the Future Ride' used to be. After boarding the ride, you are taken on an adventure made possible by the use of a giant screen, moving cars, and amazing state of the art digital projectors. I felt as though I was flying high above the town of Springfield and at times, falling from the sky! This ride is so much fun and a must for thrill seekers!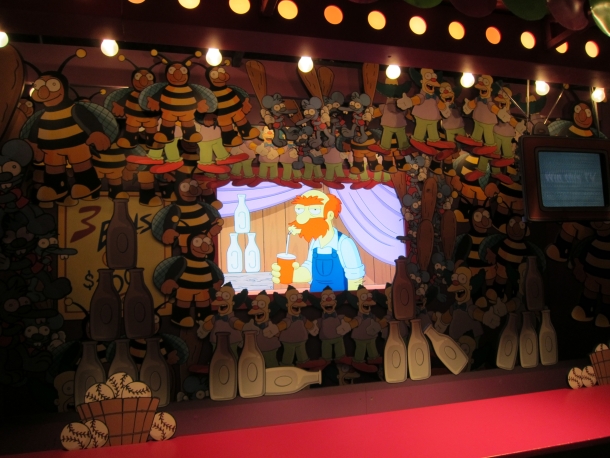 Photo below: the entrance for Alice Cooper – Welcome to My Nightmare. This house featured plenty of music by the artist, along with a myriad of decaying characters from Cooper's four decades long career! Caution – you may get sprayed from the innards of rotting bodies as they are consumed by zombies. Don't say I didn't warn you!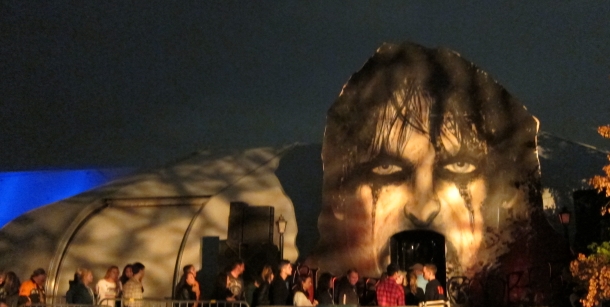 Photo below: One of the hundreds of specially trained "scareactors" walking the streets!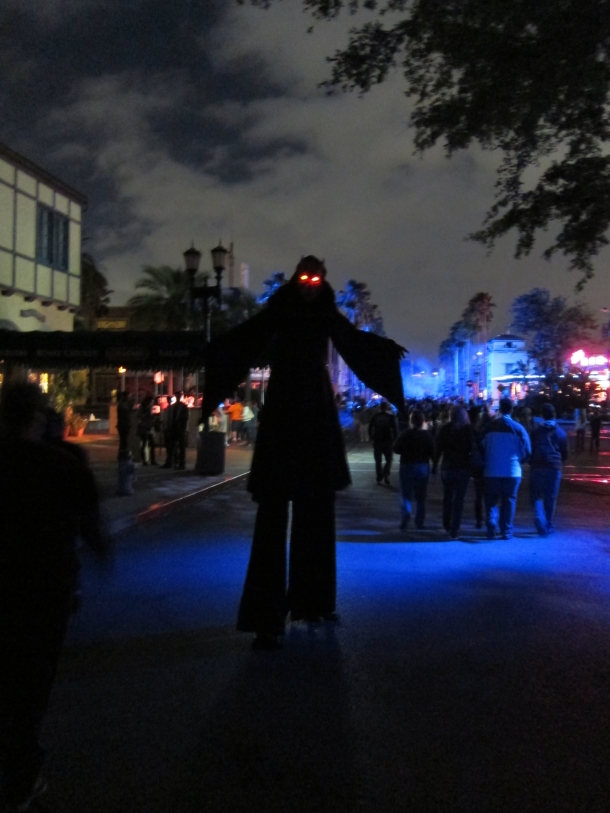 Photo below: I was caught off guard more than once by these creepy actors! I might have screamed a few time. Maybe. Ok, I definitely screamed more than a few times.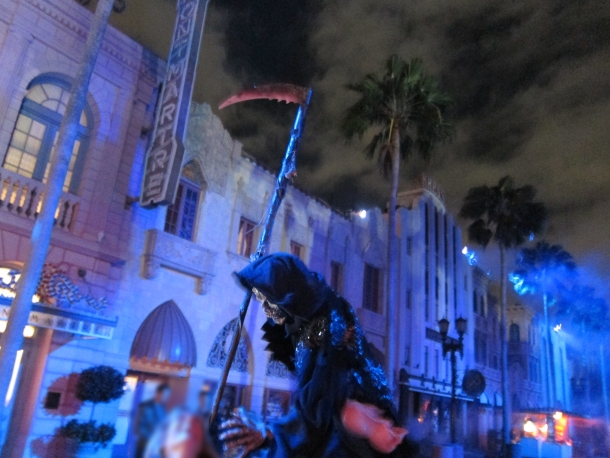 Universal's Halloween Horror Nights events have a more than 20-year history of creating incredibly entertaining, horrifying Halloween experiences that are consistently rated the nation's best.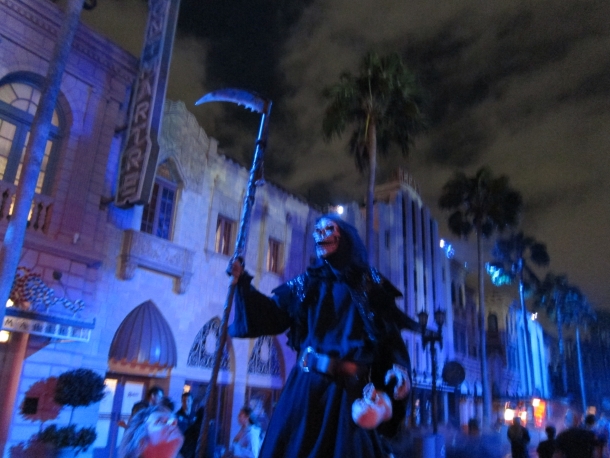 This year, Halloween Horror Nights channeled the hit TV show "The Walking Dead" in a zombie filled setting that made me feel like I had stumbled right onto the show! In this house (not pictured), you must fight off "hordes of flesh-hungry, growling "walkers," or zombies". So Cool!
Another house, not pictured was Silent Hill, where the most depraved small town residents mercilessly tormented anyone who entered into the "Silent Hill" Scare Zone corridor. There was a group of hideously disfigured Nurses as well as their victims in various stages of torture! Pretty sick, but also pretty awesome! Update: I just found this great review on each of the haunted houses and shows:
http://www.insidethemagic.net/2012/09/halloween-horror-nights-2012-house-by-house-review-and-tips-as-universal-orlando-originality-wins-over-featured-franchises/
For more information about Halloween Horror Nights at both Universal Orlando Resort and Universal Studios Hollywood, visit www.HalloweenHorrorNights.com. Advance purchase is recommended as event nights will sell out. I definitely recommend purchasing an express pass, in addition to your general admission ticket. While this is admittedly pricier, it is worth it since the lines tend to be long, with waits up to 3 hours on peak nights! Having the express pass was amazing – our longest wait was only about 15 minutes! (Not including the Hollywood Rip Ride Rockit, which does not have an express line).