Growing up, I was influenced by a bohemian era. Sure, it was the 80's and Madonna blared from every speaker in America. But, in my world, The Doors ruled and Janis Joplin was a fashion Idol. Perhaps, it was my Dad who influenced me. After all, he traveled across the country with nothing but a backpack and his motorcycle, and he knew how to play 'Stairway to Heaven' on his acoustic guitar.
Or, maybe it was my mother, who rivaled my dad in talent on the guitar and adopted a gypsy mentality. Then again, it might have been my high school boyfriend, who listened to The Dead, played hand drums better than anyone I have ever met, and convinced me to travel across the country in a renovated school bus for a year-and-a-half. Whatever, or whoever, it was that inspired the 'hippie' in me, I can definitely say that high school and most of college resulted in long maxi dresses and bohemian chic accessories.
Over the years, the 'hippie' in me began to fade and all of a sudden I found myself craving fitted, sleek silhouettes and tall, arched stilettos. Architecture became important and the desire to be 'polished' began to intrude on my raw sensibilities. Caught somewhere in the middle, living in New York among the hipsters and the glamorous, I often feel torn between both worlds. Finding Dannijo has been like finding that perfect balance between sleek-chic and effortless, self-expression.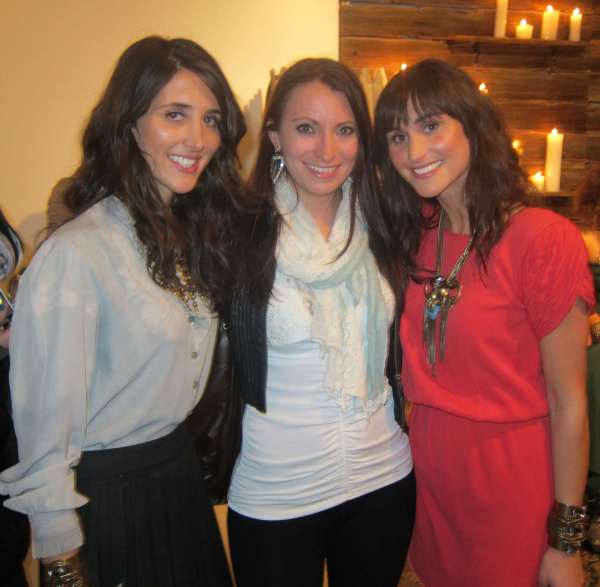 Founded by sisters Danielle and Jodie Snyder in 2008, DANNIJO jewelry is hand-made in New York and offers an eclectic range of designs. With the juxtaposition of varied mixed metals — oxidized silver, gold, and gunmetal — and the introduction of colorful elements — drusy quartz, crystals, aqua aura and pearls — DANNIJO pieces seamlessly combine indie hipster style with timeless sophistication, resulting in statement pieces that emit a polished uptown feel with a raw downtown flair.
"Danielle and I have always loved the art of fashion, and jewelry design has been a means for us to find a fulfilling creative outlet for our passion," says Jodie.
"Our personalities are different but complementary, which makes for great synergy," says Danielle. "I'm much more bohemian and rock-n-roll inspired. I've always loved Native American Indian and tribal aesthetics, whereas Jodie finds more inspiration in Old Hollywood glam, films and music of past generations, This contrast has given us a very open-minded point of view that is translated in our range of designs."
Tonight, at the DANNIJO Fall 2011 presentation, New York's most fashionable mingled amongst the backdrop of gorgeous models; dripping with the sister's hard work, exquisite craftsmanship, and hands down, the most amazing jewelry I have seen in quite some time! For this season's collection, the girls focused on rustic glamour. Inspired by two American eras, DANNIJO fuses the pastoral frontier of the Wild West with the shameless opulence of the Roaring 20s. The result is a collection of strong silhouettes and bold shapes, intertwined with delicate chains and a glittering abundance of Swarovski elements.
DANNIJO jewelry is sold at select, high-end stores and boutiques around the world including Bergdorf Goodman, Henri Bendel, Intermix, Net-a-porter, Shopbop, Harvey Nichols and Holt Renfrew. DANNIJO has been featured on The Today Show and in ELLE, T Magazine, InStyle and Glamour. In October 2009, both Danielle and Jodie were listed in Inc. Magazine's 30 under 30: Amercia's Coolest Entrepreneurs. Additionally, the line has an extensive celebrity following including Natalie Portman, Blake Lively, Sophia Bush, Beyonce Knowles, Milla Jovovich, and Katy Perry.
[nggallery id=66]