Richie Rich's show will no doubt, be one of the most talked about shows of the season – And you can go!
Last season, surprise guests to walk in the show included Ellen Degeneres, from The Ellen Show, and celebrity stylist Derek Warburton! Always the life of the party, Richie Rich is sure to entertain and rock the runway with his F/W 2011 collection!
"Villionaire", Richie Rich describes, "is Marie Antoinette reincarnated into the East Village. She is an exploration of the true New York female renegade; from 20's prohibition to 80's pure punk."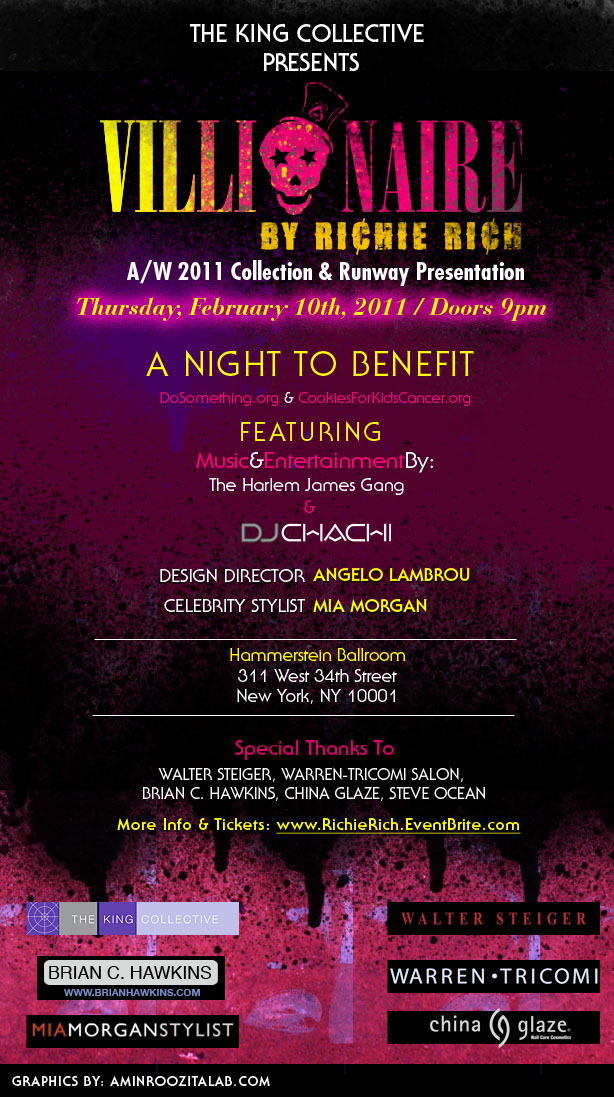 All proceeds of ticket sales will go to kids charities – Dosomething.org and CookiesForKidsCancer.org and the show will include a performance by The Harlem James Gang and a surprise guest.
"This year I'm selling tickets to the show and proceeds go to DOsomething.org as well as Cookies for Kids' Cancer, which is a charity for little kids who unfortunately have cancer. We have a good friend who passed away in the last couple days…It felt weird at first, selling tickets, but you know if you can help people it makes sense." (Richie Rich)
Villionaire By Richie Rich, February 10th at 9PM at the Hammerstein Ballroom in The Manhattan Center. Visit  richierich.eventbrite.com for tickets.