A small island kingdom in the Arabian Gulf was the starting point for the Noon by Noor Fall/Winter 2013 collection, with the natural flora and fauna of the designer's homeland playing an integral role.
In particular, inspiration was drawn from the migration patterns of visiting birds to the archipelago throughout the year. This fleeting journey reflects the transient culture of the country's population, and the Fall/Winter 2013 woman, with a strong desire to travel, this evanescent lifestyle takes her around the world.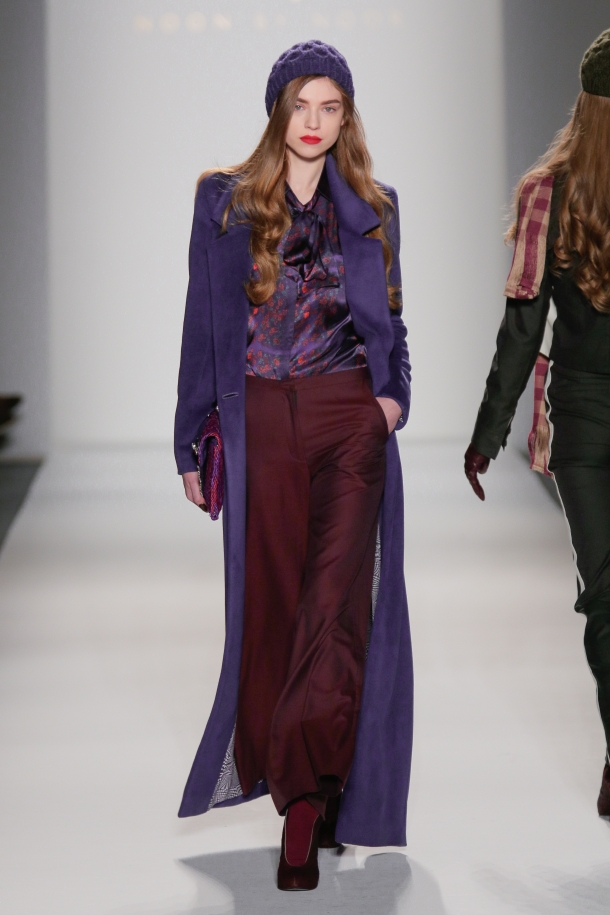 Continuing the trompe l'oeil elements from the Pre-Fall collection, the op art movement influenced by Bridget Riley and Josef Albers can be identified in more than one of the designers' prints.
This season cropped wide leg pants and voluminous skirts offset slim pantsuits and sultry dresses. Daywear is sophisticated with bow blouses worn under pinafores whilst cashmere knits are layered under wool coats and calfskin bomber jackets, fusing textures with ease. Tailored blazers, pants and shirts in striking prints exude an effortless charm. Ultra feminine gowns juxtapose enigmatic masculine silhouettes in deep shades of red and black for a refined gothic look. [Photo Gallery below]
Delicately embroidered bees on collars and handmade scarves add a touch of whimsy whilst clutches hand-crafted from local date palm leaves, lavished with crystal bugs emphasize the central inspiration. Swarovski embellishments brilliantly adorn double-faced silk and knitwear. Prints are bold in floral, check and op art, often these are combined to a dynamic modern effect. The color palette is striking in deep red and burgundy, winter green, soft grey, opulent purple, navy and black, accentuating the enigmatic and sophisticated allure of the collection.
Follow Noon By Noor:
http://www.facebook.com/NoonByNoor
Twitter: @noonbynoor
Instagram: @noonbynoor
  [nggallery id=290]