Earlier this week, I wrote about Sophomore's Chrissie Miller partnering with Kmart to solve #FashionWeekProblems and this morning, I attended a special social media brunch where I got my limited edition T-shirt and a survival kit for fashion week – thank you Kmart for hosting this event and putting together a fashion emergency kit for the upcoming shows!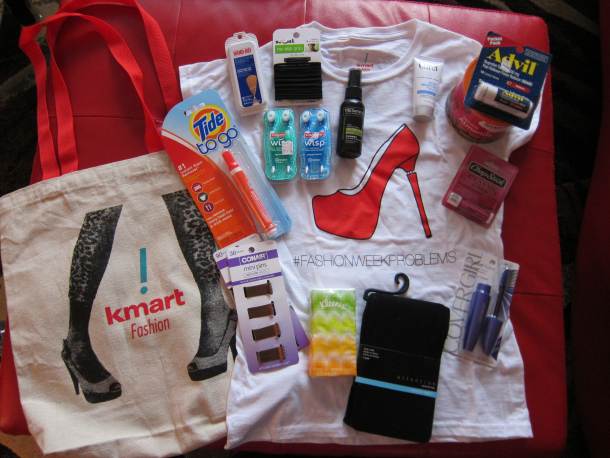 In the kit:
Black tights – perfect for staying warm and fashionable in the cold weather.
Advil – um, yes please! Large crowds and long hours is high heels, def call for this!
Bobby Pins, mascara, chapstick, travel sized hairspray, tissues, lotion, band-aids, tide stain removal stick, almonds (for energy in between shows), no-slip hair ties, mini, disposable toothbrushes, and let's not forget the super cute, limited edition T-shirt with the #FashionWeekProblems hashtag and red stiletto with a broken heel!
If previous seasons are any indication of what's to come, this survival kit will definitely come in handy!