Pamella Roland is a well traveled women with a great family, a great sense of tradition, and a great eye for detail and beauty. Each season, Pamella invites her friends, family and press to attend her highly anticipated fashion show.

For her Spring 2012 Collection, Pamella took a creative approach and had each of the models pose inside giant white frames, showcasing each design as it's own unique piece of art. Empty white frames also hung from the ceiling adding a layer of mystery.  This collection embodies elegance, femininity and a power reminiscent of the luxurious style that Pamella Roland is so well known for.  (Her last spring collection was inspired by the Mediterranean allure of the Greek Isles.)

Read More After the Jump…

For her Spring 2012 Collection, Pamella Roland drew inspiration from American Abstract Expressionist painters such as Robert Motherwell and Helen Frankenthaler. Their artwork created a new visual language on canvas and played a significant role in laying the foundation for the new movement of Abstract Expressionism in New York during the 1940s. Inspired by their abstract gestures, Roland has created a collection infused with special fabrics and bold treatments that evoke the iconic paintings of the era.

Fabrications are sleek and modern, combining perforated leathers, silk and canvas failles, brushstroke fils coupes and silk crepes with delicate hand painted and hand beaded detailing.  Neutral tones such as pale navy, moonrock, canvas, chalk pink, stone blue and white create a soft color palette with a clarity that highlights each design.

Suggestive of an artist's composition, Roland applied intricate embellishments and bold treatments to silhouettes in predominantly solid colors.  Cocktail dresses and evening gowns with full skirted shapes and grand sweeping trains are exquisitely hand-crafted in chic, form fitting shapes.  A brushstroke-inspired print developed exclusively for Pamella Roland compliments the season's assortment of evening and cocktail looks.   Elegant suiting and day-wear pieces incorporate details such as perforated leather panels and fan pleating, making a seamless transition from day into evening.

Pamella Roland channels her artistic appreciation and creativity into each and every collection, finding inspiration throughout her life and the world at large.  Roland has designed a modern collection for women who understand subtle elegance and value fine craftsmanship, while reflecting her love of travel and appreciation for quality and luxury.

[nggallery id=167]

Having debuted in the fall of 2002 on the New York runway, Pamella Roland received a warm reception from critics and buyers alike.  That positive response has grown significantly to the present, making pamella roland a label of choice among style savvy women and Hollywood's elite, including Angelina Jolie, Hilary Swank, Jennifer Garner, Halle Berry, Eva Longoria and Carrie Underwood.  Roland was inducted into the Council of Fashion Designers of America in 2010 and continues to evolve the brand with fresh and unique designs each season.  The pamella roland collection is sold at the finest department stores and specialty stores in the United States and abroad. www.PamellaRoland.com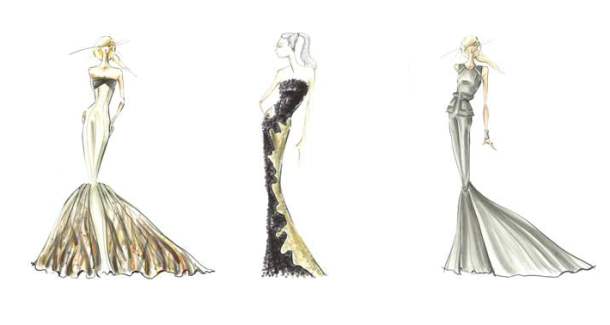 CELEBRITIES/VIPS IN ATTENDANCE:  Hillary Scott, Aisha Tyler, Tiffany Hines,  Shantel Van Santen, Nigel Barker, Beth Ostrosky Stern,  Angela Simmons, Aleska Palladino & Ramona Singer.