When I first began putting my schedule together for Mercedes-Benz Fashion Week, I thought…ok, I am going to fit as much in as possible. I thought I could manage several shows a day, red carpet coverage, backstage photos and even upload everything onto my computer, edit, write about it, etc…Well, not quite! Here I am in the American Express Media Lounge after only 2 shows – completely exhausted!!! No lie, I have been in Bryant Park at the tents since around 2 PM and my day has looked a little like the following:
1PM: Production meeting with the FNL team* (At the Kinkos across from Bryant Park – quite funny really to see the entire team setting up shop in the copy and printing area of Kinkos! Took pics…upload later*)
2PM: Head over to sign in for the Ports 1961 Runway Show
Chat with Katy Winn from Wenn Images – we joke about outfits we have worn in our past that now make us cringe in retrospect (I tell her the story if my red velvet catsuit I found sexy in high school, don't judge – in order to be fashion forward, one must take fashion risks, we both agreed*) (*Note: Katy is wearing bright – very bright blue high top sneakers – which btw not too many people can pull off* She makes it work*)
Walk around for about an hour marveling at how pretty the cast of 'The City' are in person (Which I do every time I see them!)
3PM: Show starts – seated front row next to Rocco (Thankyou Rocco)!
Lots of interesting drapery, metallic knits, chunky shoes, knee high boots, leather gloves, leather hats…big, big hair*
After the show we head backstage so Rocco can interview Tia Cibani*
4:30PM: Head over to the NYC Library for media coverage of The Red Dress Collection.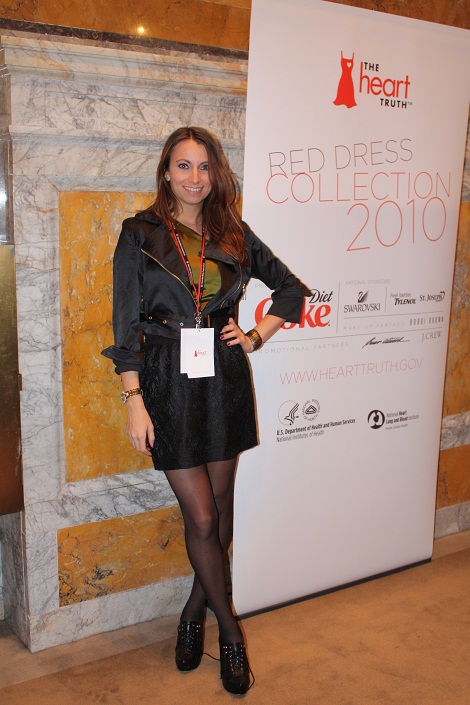 Run into Geaorge from Getty Images who helps me out by lending me a ladder for capturing photos on the red carpet
Granted Access backstage where the likes of Kim Kardashian, Bethenney Frankel, Estelle, Felicity Huffman…are getting their make-up done.
Back to the red carpet for media stills (snuck in a little video on my handheld cam as well;)
Run from the library (In 7 inch stilhettos) back to the tents to actually watch the show
Seated 2nd row behind Fern Malis (Which is really exciting to me)
Show opens to Lady Gaga's Bad Romance, Crowd goes crazy!!!
Shoes are off
Heidi in Galliano
Bethenney rocking the baby bump
9 PM: *American Express Media Lounge*
What I have learned….it is not humaly possible to cover every show at fashion week EVEN if you are only trying to cover shows at the tents – want to see a show outside of Bryant Park? Ha….joke???* 😉
11PM: Head over to SPIN lounge for the MIK CIRE by ERIK KIM after party,,,chat with Miss JAY about his crazy busy travel plan and talk with his wonderful publicist James* (P.S. James, you rock…I mean, like you really rock*!!!)
2AM: Call it an early night*;-) and head home…Don't want to be too sleepy for day 2!