Custo Barcelona has presented their new collection – 'GABONGA' – a word coined to describe something new: a collection beginning with graphic fabrics and flowing garments, and ending with more body-conscious pieces that enhance the figure; with superimposed and contrasting lengths to highlight femininity. The final product is a corporeal look, which experiments with spatial volumes.
Most of the loose-fitting looks include dresses and tunics, with free-flowing silk chiffon, nylon and silk organza. There are also skirts and shorts matched with voluminous blouses. The sleeves on the blouses include metal stud embellishments that match the graphics. They also include small zigzag elements that have been cut out individually, creating fantastic, delicate volumes.
Read more after the jump…
The body-con garments primarily include very tight graphic patchwork dresses – one of Custo Barcelona's most distinctive designs. This part of the collection also includes shorts and trousers with chain-mail embellishments, matched with cropped bomber jackets and masculine waistcoats, over semi-transparent chain-mail openwork shirts.
Lastly, the collection will feature new items such as trench coats and swimwear – all of them in typical Custo graphics. The former are made of printed nylon, while the latter are designed with small kaleidoscopic elements and patches.
The colour palette is fresh and bright; it explores new horizons. Colours range from apple green, orangey-pink, beige, nude and coral pink, to aquamarine and tropical khaki. Metal tones with shiny Lurex are also displayed; and include yellow gold, copper, gunmetal, white gold and violet.
The fabrics are translucent and free-flowing – chiffon, silk sating, ultrafine nylon and dentelle, and prints adorned with metal studs. Metallic tricot takes on a fluid and smooth appearance. The oneiric graphic design combines different kinds of patchwork to create an illusion of collage that evokes images of imperfect beauty. These kaleidoscopic patchworks mix conflicting fabrics of different weights, textures and sheen, forming a unique and genuine Custo universe.
A new dimension by Custo, inviting you to be transported, to feel and to enjoy.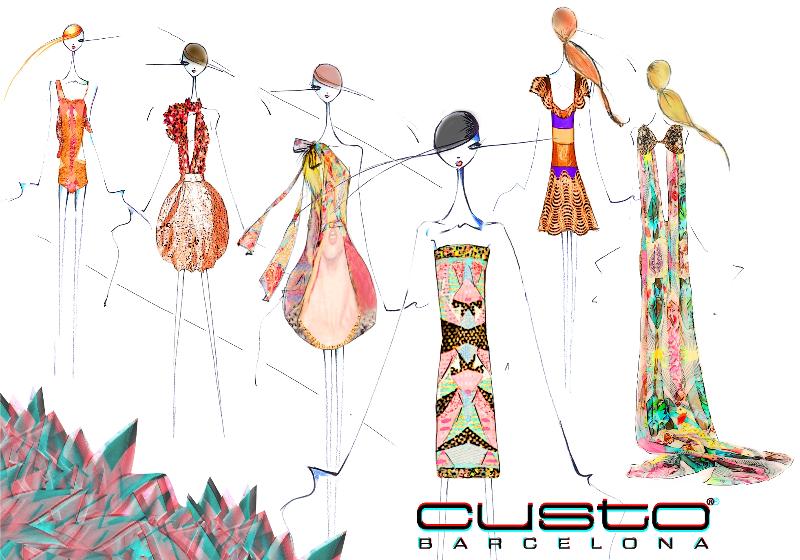 "We try to create a universe based on sensations, mixing colors, graphics and materials, exploring the smallest details to the maximum." – Custo Dalmau
The GABONGA Collection will launch at the Mercedes-Benz New York Fashion Week on September 11th at 7PM in Lincoln Center.