Overlooking the spectacular San Diego Bay, is a restaurant called Top of the Market. Launched in 1989, Top of the Market is part of it's sister property, The Fish Market, which not only offers fresh seafood daily, but also it's own menu. The difference is that while The Fish Market is a casual environment, Top of the Market adds a little bit of luxury to it's ambiance with white linens, warm teak paneling, large windows and a heated deck overlooking the water.
My aunt, who happened to be in San Diego at the same time as me for a work conference, recommended we go there for dinner and I was SO glad she did! The atmosphere was really pretty, with boats passing by in the harbor and candles on each of the tables. We chose to sit on the deck, which was enclosed at the time, and fully heated with large windows. In addition to the great atmosphere, the food was incredible as well! While my aunt ordered the crab legs, I wanted to sample some sashimi since The Market is famous for it's fresh catches.
I also ordered the Ceasar salad, one of my favorite sides to sample. We each ordered a glass of wine (I chose a California Pinot Grigio) and after dinner, I had some lavender tea. While we didn't save any room for dessert, the server certainly tempted us by walking by several times with the dessert tray for other tables. One of the options, which I will definitely save room for if I go again, was some sort of a Brûléed marshmallow cake. OMG, it looked SO delicious – aside from the massive amount of calories I saved myself from, I regret not saving room the first time  around!
This was probably the best sashimi that I have ever had – not only did it taste super fresh, but the sauce was incredible! There were little pieces of crunch that I'm not sure what they were, but added a whole lot of flavor. The sauce might be a little on the salty side for some, but for me it was perfect. As a fan of all things spicy, I enjoyed the jalapeno on top. It was a great mix!
HAMACHI SASHIMI
Micro cilantro, Serrano peppers, rice wine soy, Fleur de sel 13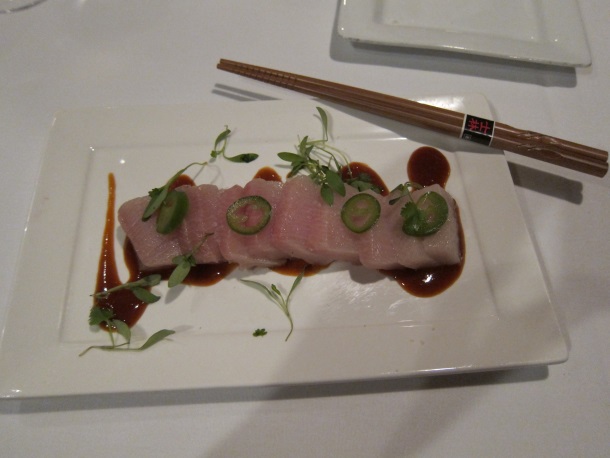 Calories aside, I LOVE when a Caesar Salad comes garnished with Parmesan crisps. The capers and fresh pepper made it perfect – almost… (I would have liked the option to add anchovies – which might be possible, I didn't ask). I know most of you are cringing at that last part, but as a  die hard Caesar salad aficionado, I like the anchovies!
WHOLE LEAF CAESAR SALAD
Parmesan frico, crispy capers, croutons 9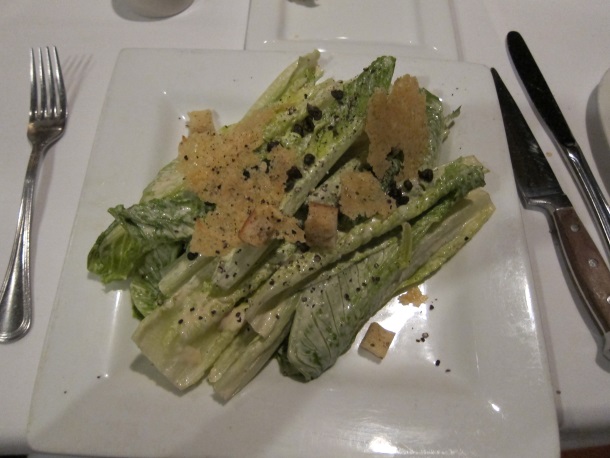 Whoa…Holy Crab Meat! These Alaskan Crab Legs were filled with huge pieces of delicious, melt-in-your mouth, crab meat! This dish was a great choice – even the asparagus and potato purée side were both pretty incredible!
ALASKAN KING CRAB LEGS
Jumbo asparagus, potato purée, drawn butter 44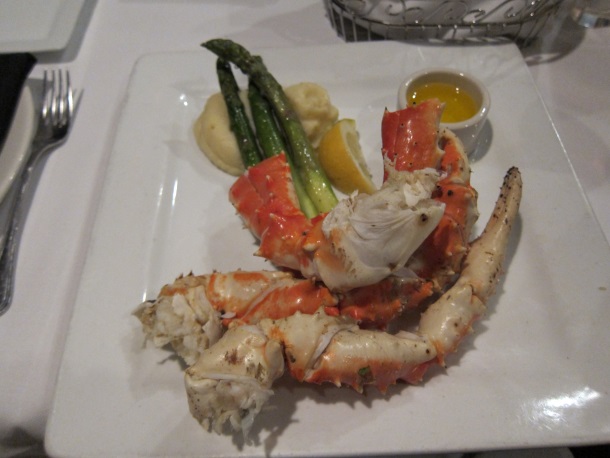 What I regret not trying (In addition to dessert):
BLUE CRAB JALAPEÑO POPPERS
Spicy dynamite mix 5
AHI TARTARE
Toasted pine nuts, English cucumber, spicy soy, avocado puree 13
GRAND BANKS SEA SCALLOPS
Orzo, edamame, zucchini & squash shoestrings, hon shimeji mushrooms, Parmesan 30