Upon arriving at Bohanan's, JC, my Aunt & Uncle, and I were escorted to the top floor via an elevator. During our ride to the top floor, Bohanan's host, Dave, was happy to recommend his favorite dishes, including the specialty of the night – a prawn the size of a small lobster! Once escorted to our table, I was delighted to see that there were rose petals decorating the linen table cloth and that our view over looked the street below, which was decorated with trees covered in white lights. The atmosphere couldn't have been better!
Once seated, we were immediately asked what we would like to drink and while one server retrieved our beverage order, another brought out a tray of meat, to thoroughly explain each cut.
After placing our order (pics below) we were given crostini toast, accompanied by a southern treat I've grown quite fond of – candied jalapenos! Traditional, warm bread with butter was also brought to the table.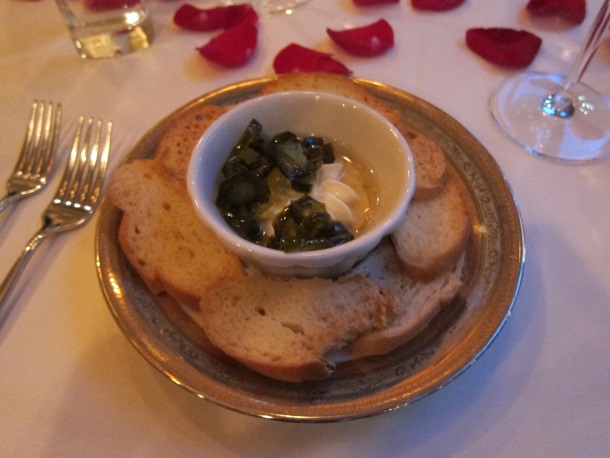 For our appetizers, we decided on the jumbo lump crab meat cocktail, which was sublime! The crab tasted so fresh and the sauces were incredible; the traditional cocktail sauce was made with fresh horseradish and the remoulade was rich and creamy and full of flavor!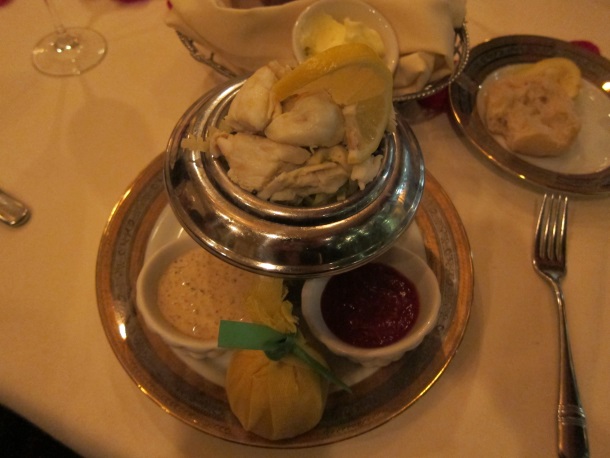 The seared prawn below was one of the evening's specials and not on the regular menu. Even split four ways, there was enough to sample and it was easy to see why our host had recommended this seafood special. Seared on the grill, there was a distinct char flavor and the meat was so tender and fresh that is melted in my mouth! There was a sauce drizzled on top, though my memory is more of the prawn's tenderness and original flavor.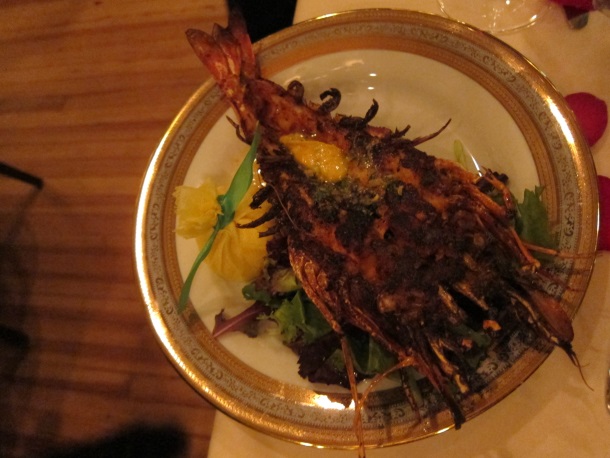 Seared Hudson Valley Foie Gras served on Pain Perdu with Vanilla Bean, Honey Poached Bosc Pears, and Sauternes. This would not have been my first choice, but Jacek wanted to sample and boy, was I glad he did! Crispy on the outside, soft in the middle, and full of a sweet meets savory flavor, this dish was an equal contestant for first place with the jumbo lump crab and seared prawn. I honestly don't think I can play favorites with any of these appetizers as they were all so good!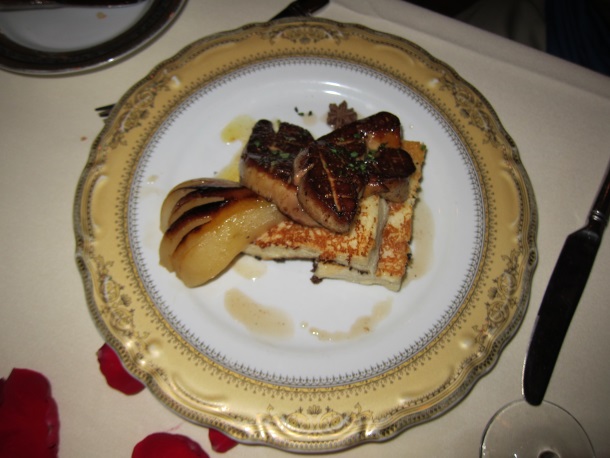 Dinner – main course.
My personal favorite – the rib eye! I'm a sucker for rib eye. In my opinion, no other cut comes close to the flavor of this delicious steak!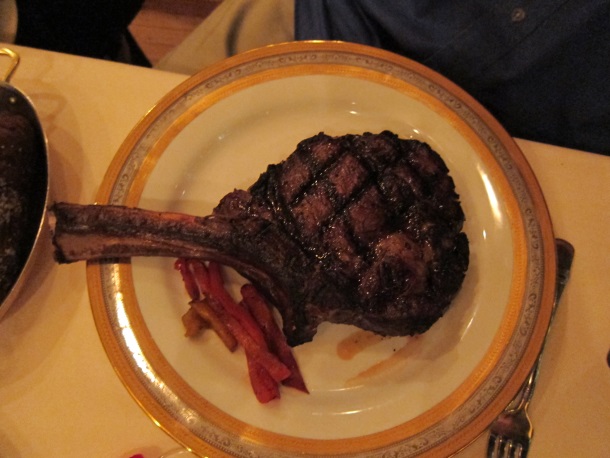 Jacek's favorite – the bone in filet mignon. While tender and juicy, and also full of flavor, my first choice still is, and most likely always will be, the rib eye!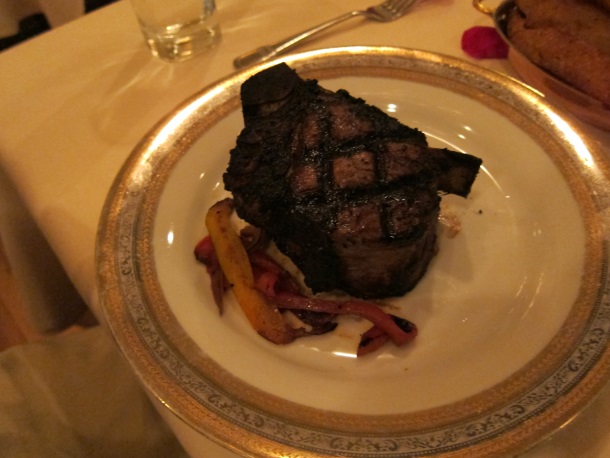 Sides:
White Truffle Oil Steak Fries – Come dice muy delicioso? I would definitely order these again!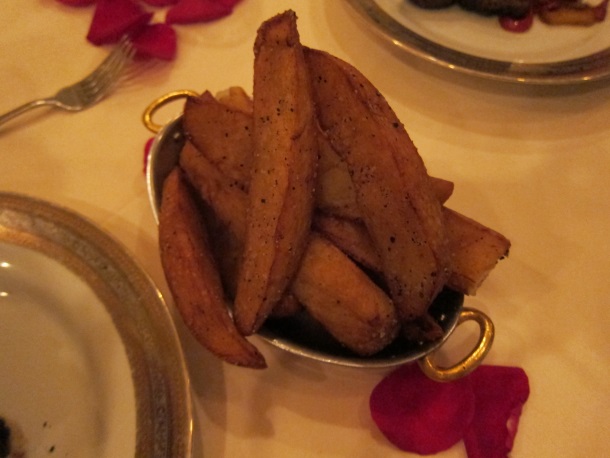 Goat cheese mashed potatoes – I think that of all the sides, these were my favorite!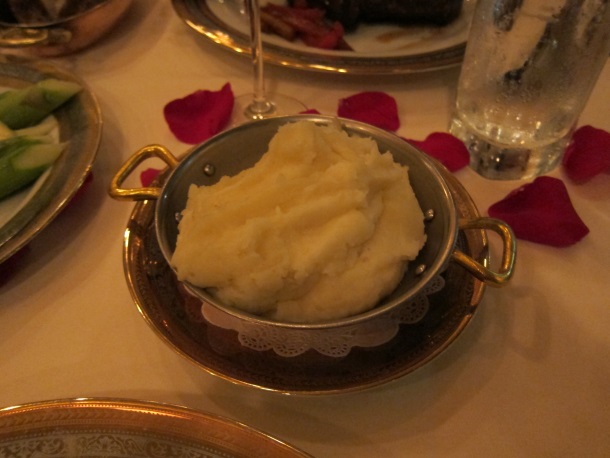 Jumbo asparagus with Hollandaise sauce – fantastic! Also seen in the photo below are the baked potato and sauteed portobello mushrooms in a Red Demi-Glace – yum!!!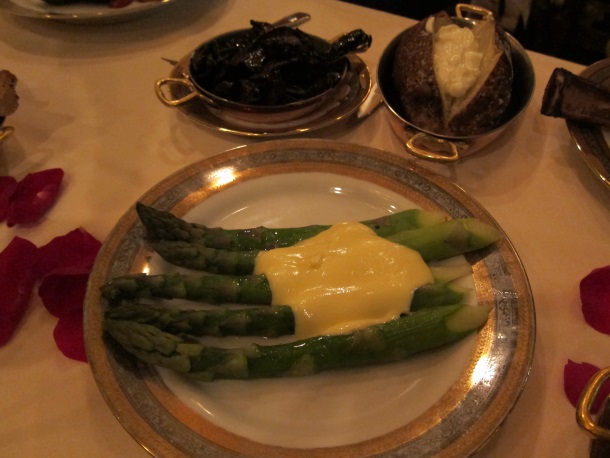 Bohanan's is ocated in downtown San Antonio a block from the River Walk. For more information, or to make reservations, please visit http://www.bohanans.com/