So far, this is the route we have driven over the past few weeks!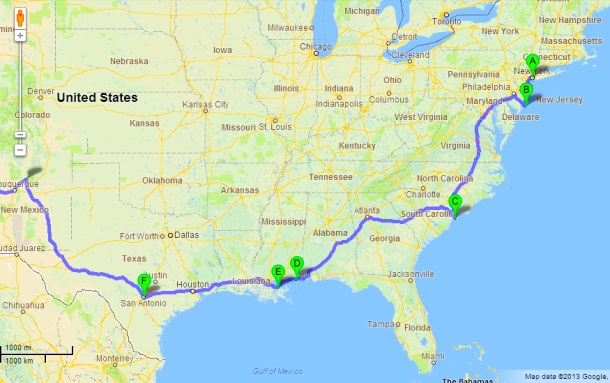 A) New York City – The City has been home for the last few years and even though I was looking forward to this amazing road trip, I was sad to leave!
B) Atlantic City, New Jersey – for a going away party!
C) Myrtle Beach, South Carolina – we are chasing warm weather and the ocean.
D) Stopover in Biloxi, Mississippi – just for the night – still chasing warm weather and beaches. Have our first warm weather, on-the-beach meal at Shaggy's (I will do a post soon)
E) New Orleans, Louisiana – some of our NY friends are flying out to meet up with us and go on a quest for the perfect po-boys and beignets!
F) San Antonio, Texas – we stopped at a friend's house on the way to San Antonio for a few home cooked meals. Then we continued on to San Antonio where we met up with my aunt & uncle and good friend M. Dinner at Bohanan's Steakhouse and lodging at Mokara, located right on the River Walk, was pretty amazing!