This past Saturday I had the wonderful opportunity of visiting the Playboy Mansion for the first time. I was attending the Masquerade Party: An Evening of Seductionv-dressed (or should I say barely dressed) in the suggested attire of lingerie and a mask.
Upon first pulling up to the mansion, I felt overwhelmed by the enormity of it's size alone. The long and winding driveway, behind the massive gates, led to a colorfully lighted stone palace that is home to one of the most revered men in the world along with some of the most beautiful women in the world.
Standing in front of the massive structure, near the fountain I had seen so many times in pictures and on TV was breath taking!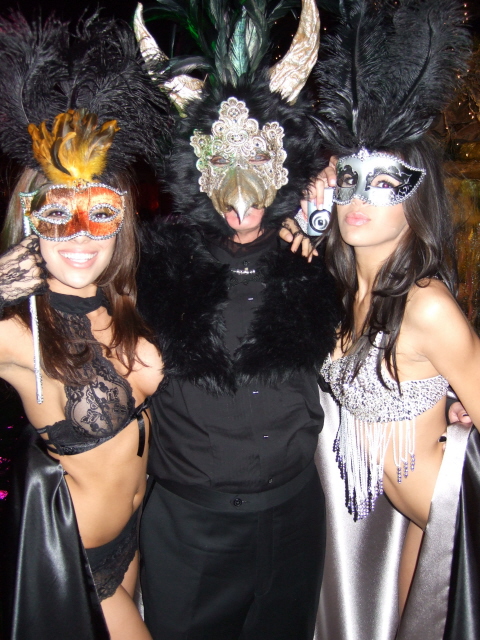 Gary La Guard, Head of Executive Protection, on the property for over eleven years, was kind enough to give me and my date a tour of  the mansion made famous by the hit reality show The Girls Next Door. We began in the game room which holds some of Hugh Hefner's beloved Playboy Pinball machines and is a popular hangout spot for the bunnies to play the old arcade games or shoot a game of pool – at least in photo shoots. Inside the arcade is the 'Blue Room' which has flooring that resembles a mattress and makes walking somewhat difficult (this is done on purpose).  The Blue Room is adorned with pillows, low lighting, and full length mirrors which create a setting very conducive for ahem…lounging? More…
The next part of the tour was my all time favorite and most anticipated. As an ex- zookeeper, I was really looking forward to seeing the animals that live on Hef's property. I know from watching the show that Hef keeps a pretty large collection of birds and primates, and  one of the caretakers let me feed the monkeys grapes,  pet one of the cockatoos and even hold one of the Hyacinth macaws!  Now it was time to get back to the party…
The party had several different areas set up which allowed access to other areas of the mansion such as the tennis courts, pool, and of course the Grotto! The Grotto is famous for being the home of many photo-shoots as well as hot spot for hanging out in it's underground, heated jacuzzi.
Hef was dressed in his usual smoking robe and remained stationed in his V.I.P. tent next to his new girlfriends: the twins(19 year old Kristina and Karissa Shannon) and Crystal Harris (who rumour has it was spotted kissing her ex-boyfriend later that night).
[nggallery id=308]