Bahama Breeze in Las Vegas is one of my favorite restaurants to go to when I want to escape the Strip.
Maybe I'm biased because I used to work there (the Lake Buena Vista location in Florida), but I love pretty much everything about this place – the Caribbean-inspired food, the laid back atmosphere, and definitely their happy hour!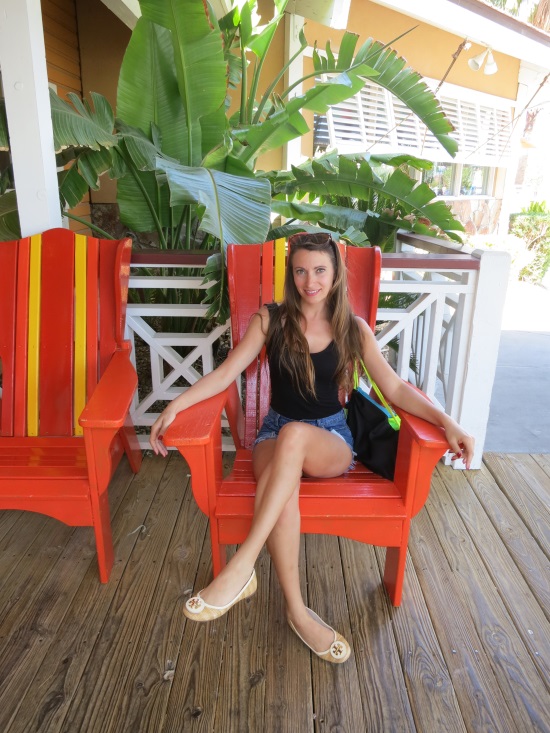 As far as happy hours go, Bahama Breeze has a really good one – basically, you can order some of their most popular drinks, like the mojito made with fresh sugar cane, along with a large selection of their appetizer menu – all for half price. The hours vary by location, but the one in Las Vegas run Monday-Friday from 4-6pm, and then also Sunday-Thursday from 9pm-close. If you're planning to visit a different location, you can check out the happy hour times on Bahama Breeze's website here.
This week, JC and I definitely made use of happy hour – twice! Below are photos of the food we ordered, along with descriptions. I don't know about you, but I always find that it's helpful to see photos of dishes before I order them…Warning: do not proceed on an empty stomach! 😉
The side salad – for $2.49, you can add this salad onto a meal and it is by far one of the best side salads you can get for your money! Mixed greens, tomatoes, cucumber ribbons and pumpkin seeds are drizzled with a tropical vinaigrette and served with a grilled pita crisp. It's light and refreshing and not drenched in dressing. If you're the type who likes to eat salad soup, then you'll definitely want to ask for additional dressing on the side when you order.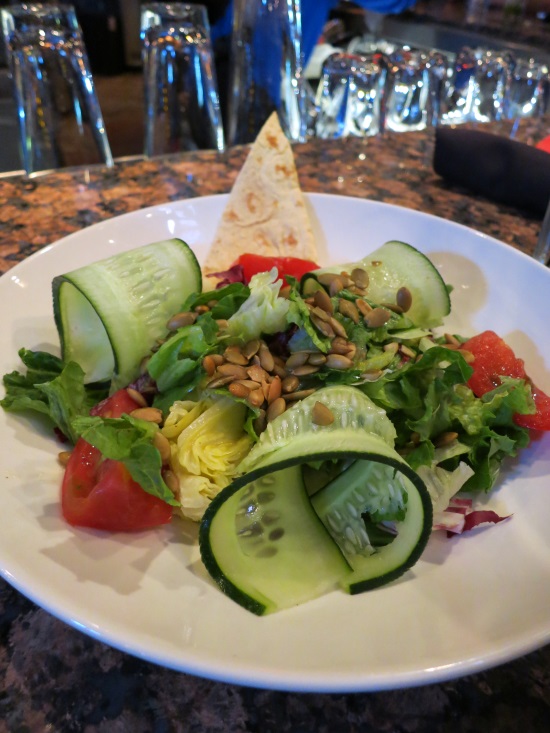 Like the house salad, the Jumbo Lump Crab Stack is cool, light and refreshing. This dish is made with premium crabmeat layered onto chilled shrimp, avocado and fresh mango – all on top of a bed of lettuce with a red pepper drizzle and two pita crisps. One word – delicious!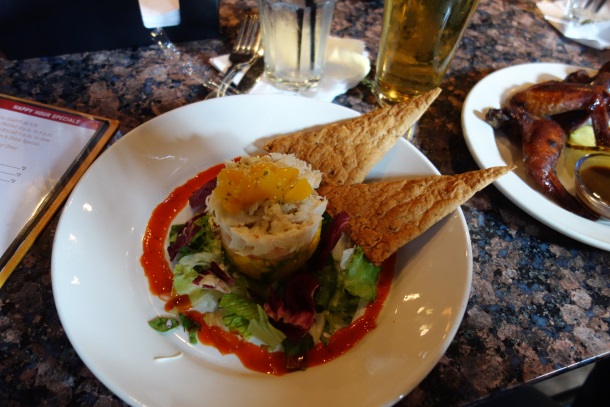 If you're a wing lover (and I am), then the Carribean jerk wings are a 'must try'! Baked, not fried, these are some of the tastiest wings I've ever had – I literally order them every time I come here…
Jamaican Jerk Wings: Day 1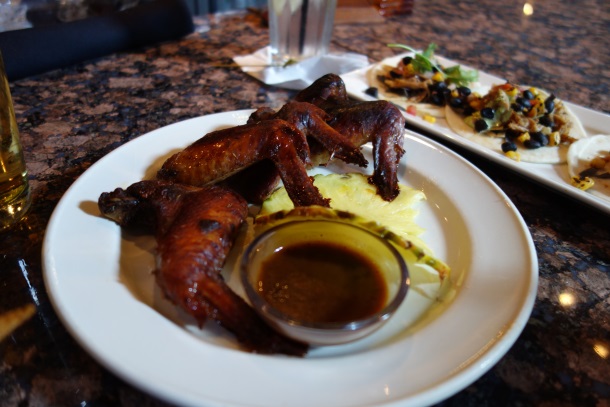 Jamaican Jerk Wings: Day 2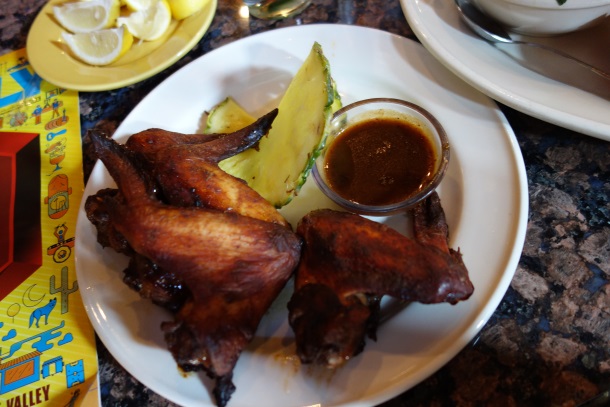 Below is one of JC's favorite appetizers – the Lobster & Shrimp Quesadilla.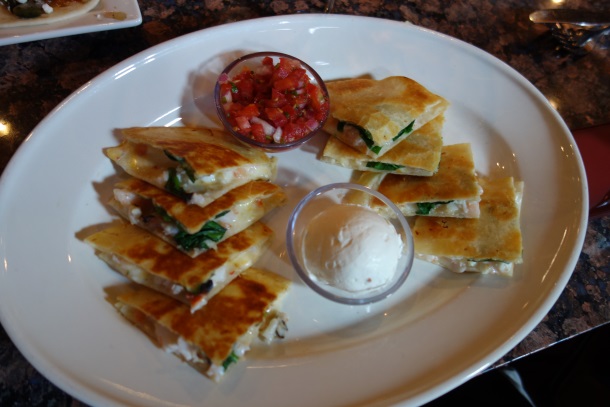 I don't remember there being street tacos on the menu when I worked at BB, but I do love tacos, so decided to give them a try. Over the course of two trips, I sampled the Ropa Vieja tacos (made with braised beef, roasted peppers and onions, and topped with cotija cheese), the Firecracker Shrimp tacos (made with pineapple chutney and topped with Sriracha mayo), and the Pork Carnitas taco (made with Slow cooked pork, cilantro-crema, black bean-corn salsa).
Of the three tacos that I tried, the Pork Carnitas were my favorite. I thought that the Ropa Vieja tacos were a little too roasted peppery tasting and that the firecracker shrimp tacos were too sweet – I also didn't like that the shrimp was fried, even though I knew it would be when I ordered the dish, I would definitely prefer grilled shrimp. Below are photos of the Ropa Vieja and the Firecracker Shrimp tacos – for some reason, I don't have a photo of the Pork Carnitas.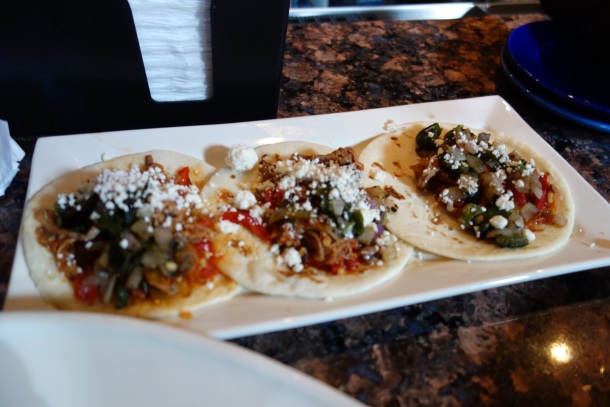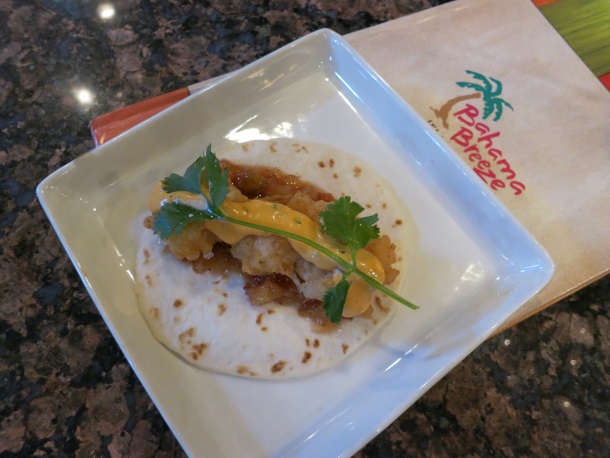 Up next is a bar food favorite – Warm spinach and artichokes blended into a creamy cheese dip! The Caribbean flare comes in with fried yucca chips, in addition to tortilla chips, for dipping. I don't normally order this appetizer when I come here because there are so many other items I love on the menu and let's face it – spinach and artichoke dip is pretty basic, but since it was happy hour…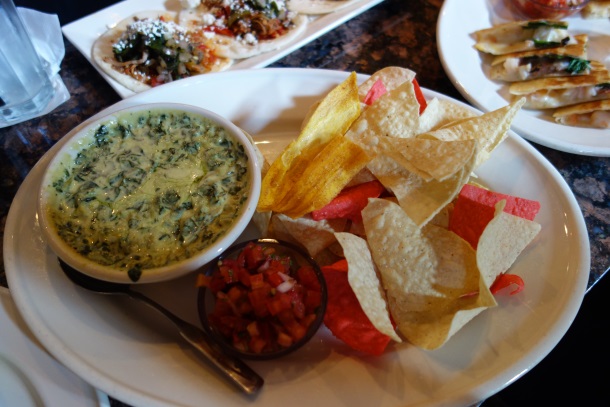 Chicken Tortilla Soup – made with fresh carrots, roasted corn and avocado in a light broth with a hint of lime – or a lot of lime if you squeeze that lime in there – so good!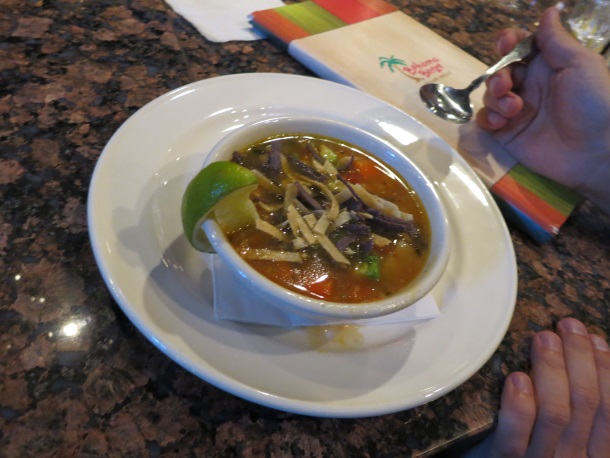 One of my favorite dishes on the entree menu – the Pan Seared Salmon Pasta.
Bowtie pasta topped with a creamy sauce and tossed with spinach, basil, tomatoes and mushrooms- #NomNomNomNom…to infinity and beyond!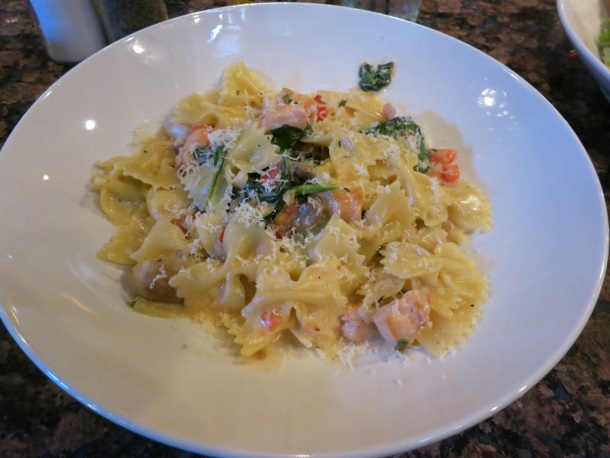 JC went a slightly healthier route and ordered the grilled chicken and tropical fruit salad. Isn't it pretty? It tasted good too… 🙂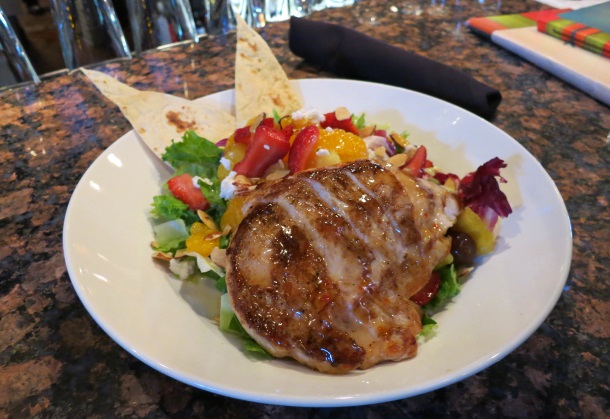 Although. there might not be beach side hammocks like they have at Sirena Restaurant in Puerto Rico, there are plenty of over sized chairs that seat two, to relax in after your meal.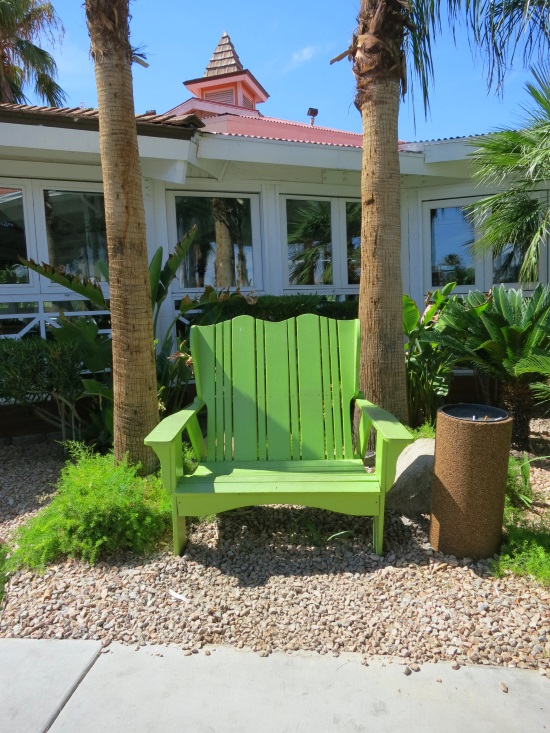 Want to see more? Check out my review of Bahama Breeze from a previous trip. Xoxo