Recipe: Poached Pears in Honey, Ginger and Cinnamon Syrup by Giada De Laurentiis
Emmy Award winning Giada De Laurentiis is a beloved celebrity chef for her down-to-earth cooking style and charming personality in the kitchen. Just last week, the Giada De Laurentiis for Target Tomato Basil Pasta Sauce won top honors from Consumer Reports magazine!
Known for her easy to follow (and scrumptious!) dishes, the Italian-born Food Network star and Le Cordon Bleu alum shares her recipe for a decadent fruit dessert: soft, poached pears in a sweet wine syrup flavored with honey, ginger, real vanilla bean and spicy cinnamon. The result? Complete bliss. See recipe below.
Poached Pears in Honey, Ginger and Cinnamon Syrup
Makes six sweet servings
What You'll Need
2 cups simple syrup, recipe follows
1 (750) ml bottle Moscato wine or other sweet dessert wine
2 cinnamon sticks
2 tablespoons honey
1 ( ¾ inch) piece of fresh ginger, peeled and finely chopped
1 vanilla bean, split lengthwise
6 small, firm, ripe Anjou or Bosc pears, peeled and cored
Vanilla ice cream or gelato
For the syrup
1 ½ cups sugar
1 ½ cups water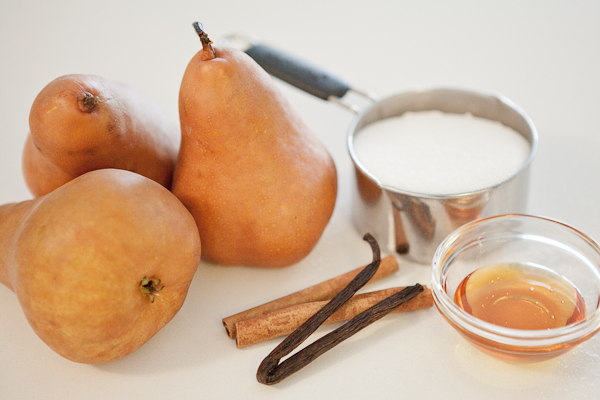 What You'll Do
STEP 1: In a saucepan large enough to hold all the pears, combine the wine, simple syrup, cinnamon sticks, honey and ginger. Scrape in the seeds from the vanilla bean and add the bean to the saucepan.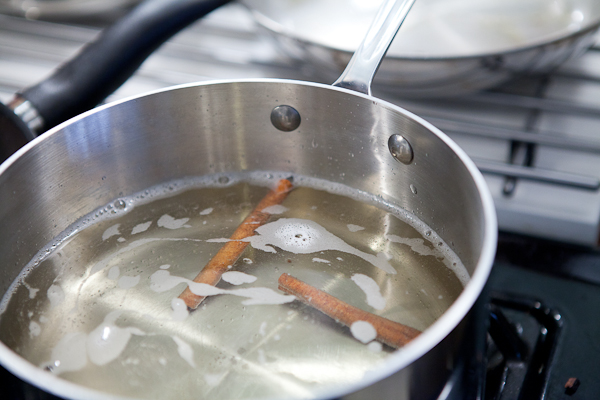 STEP 2: Bring the mixture to a simmer, stirring occasionally, until the honey has melted. Add the pears and simmer over medium-low heat for fifteen to twenty minutes, turning occasionally, until the pears are tender.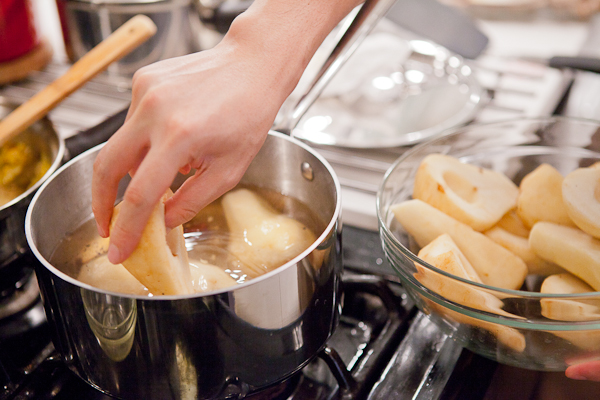 STEP 3: Remove the pears from the liquid and allow to cool. Continue to simmer the liquid until it thickens and is reduced by half, about fifteen to twenty minutes. Cool to room temperature. Remove the cinnamon sticks and vanilla bean and discard, or keep to garnish!
STEP 4: Place each pear on a small serving plate with a hefty scoop of vanilla ice cream.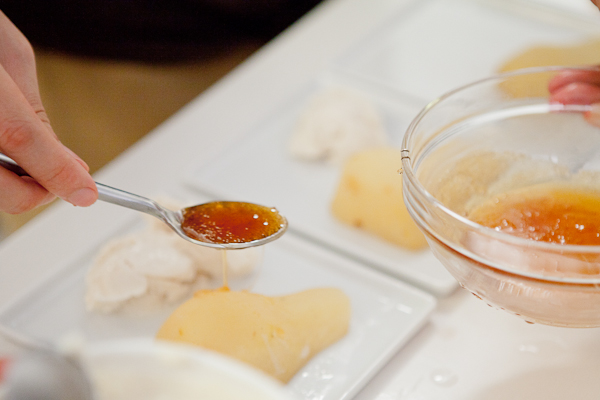 STEP 5: Drizzle on the syrup, serve immediately and devour!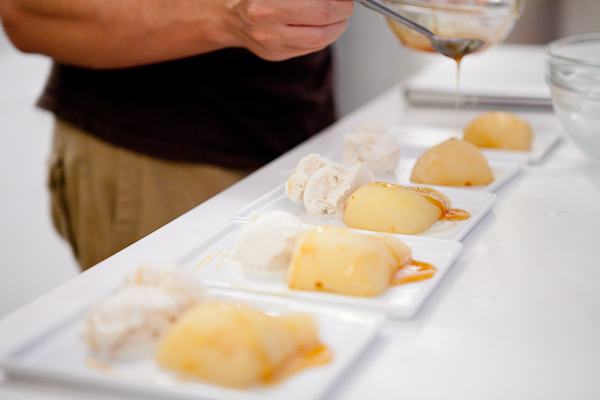 For more of Giada's delicious recipes, click here or pick up her cookbooks at Target!
Photography by Chris New