Nielsen-Massey Vanillas know their product. More than a century of producing premium pure vanilla products, they have a global reputation for quality. From its popular Madagascar Bourbon Vanilla to custom blends created for specific customer needs, Nielsen-Massey is also versatile.
Their newest creation is Madagascar Bourbon Pure Vanilla Bean Paste. This was a 2011 sofi Gold Winner for the NASFT sofi awards in the "Baked goods, baking ingredient or cereal" category.
Interesting fact: Today, vanilla beans are grown in eight global regions: Madagascar, Indonesia, Mexico, Tahiti, Costa Rica, India, Uganda and Jamaica. Each region produces vanilla beans with distinctive characteristics and attributes. Another interesting fact: Vanilla is the only fruit-bearing member of the orchid family! It was Thomas Jefferson who is credited with bringing vanilla to America after encountering it as ambassador to King Louis XVI of France. So without our esteemed founder on the U.S. $10 bill, the famous "chocolate or vanilla" question would have a different substitution!
And here are some creative vanilla-based recipe ideas that can satisfy any craving!
Salmon with Vanilla Balsamic Marinade
"What surprises many people is that vanilla can be used in more than just desserts."
What You Need:
(Serves: 8)
Vanilla Balsamic Marinade (recipe below)
1/4 cup extra-virgin olive oil
1 shallot, diced
1 & 1/2 teaspoons dried organic parsley
1 & 1/2 teaspoons dried organic basil
1/2 teaspoon dark brown sugar
1/2 teaspoon Worcestershire sauce
2 tablespoons balsamic vinegar
1 teaspoon Dijon mustard
1 teaspoon Nielsen-Massey Madagascar Bourbon Pure Vanilla Bean Paste
Salmon
8-(4 to 6 ounce) 1-inch thick Salmon fillets
Canola oil
Salt
Freshly ground pepper
For the marinade, combine the olive oil, shallot, parsley, basil, brown sugar, Worcestershire sauce, balsamic vinegar, Dijon mustard and vanilla paste into a blender container and puree. Pour evenly into two containers and set one container aside.
For the salmon, preheat the grill. Brush each fillet with canola oil and season with salt and pepper. Brush the tops of the fillets with the marinade, discarding any remaining marinade. Place the fillets marinated side down on a grill rack over direct heat. Grill for 6 to 8 minutes or until dark grill marks appear and the marinade begins to caramelize. Turn the fillets and grill for 3 to 4 minutes longer. Serve with the reserved marinade.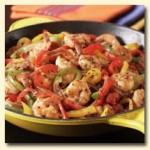 Spicy Tequila Shrimp
What You Need:
(Serves: 4 to 6)
Tequila Marinade (recipe below)
1/4 cup tequila
2 teaspoons Nielsen-Massey Pure Mexican Vanilla Extract
1 small stick cinnamon, preferably Mexican
3 tablespoons olive oil
1 teaspoon salt
1/4 teaspoon black pepper
1/4 teaspoon cayenne pepper (optional)
3 garlic cloves, minced
3 teaspoons chopped fresh thyme
3 teaspoons chopped fresh oregano
For the shrimp:
1 to 1 & 1/2 pounds medium shrimp, peeled and de-veined
2 red onions, thinly sliced
1 yellow bell pepper, thinly sliced
1 green bell pepper, thinly sliced
1 red bell pepper, thinly sliced
2 jalapeño chilies, stemmed, seeded and finely diced
1-(6-ounce) can diced tomatoes
1/4 cup cool water
1 tablespoon cornstarch
Hot cooked rice
For the marinade, combine the tequila, vanilla extract, cinnamon stick, olive oil, salt, black pepper, cayenne pepper, garlic, thyme and oregano in a sealable plastic bag.
For the shrimp, add shrimp to the marinade and seal the bag, turning to coat the shrimp. Marinate in the refrigerator for 20 to 30 minutes, turning the bag occasionally. Heat a large sauté pan over medium-high heat. Add the shrimp and marinade. Sauté until the shrimp begin to change color. Add the onions, bell peppers, the jalapeño chilies and tomatoes. Cook until the vegetables are tender-crisp and shrimp turn pink.
Combine the water and cornstarch in a small cup and mix until the cornstarch is dissolved. Cook the shrimp mixture for 3 to 4 minutes. Pour in the cornstarch mixture and cook until the mixture begins to thicken.
Nielsen-Massey's Complete Line of Pure Vanilla and Pure Flavored Extracts:
Pure Coffee Extract
Pure Chocolate Extract
Pure Almond Extract
Pure Lemon Extract
Pure Orange Extract
Pure Peppermint Extract
Orange Blossom Water
Rose Water
Madagascar Bourbon Pure Vanilla Sugar
Pure Vanilla Extract Blend
Madagascar Bourbon Pure Vanilla (liquid)
Organic Vanilla Extract
Tahitian Pure Vanilla
Mexican Pure Vanilla
Madagascar Bourbon Pure Vanilla Powder
Madagascar Bourbon Pure Vanilla Bean Paste
Whole Vanilla Beans
Where to purchase Nielsen-Massey Products:
Mail order & Internet sources:
Williams-Sonoma (online & in-store), Sur La Table, Chef's Catalogue
For full list see: http://www.nielsenmassey.com/pdf/mailorder.pdf
Nielsen-Massey Vanillas, Inc
1550 Shields Drive
Waukegan, IL 60085-8307
Telephone: 847/578-1550
800/525-PURE (7873)
Fax: 847/578-1570
Email: info@nielsenmassey.com