You may know Ingrid Hoffmann as the bubbly host of her Food Network show Simply Delicioso and Delicioso on Galavisión. But if you ask Ingrid what she does, her answer is a bit different. "My official title on my bio is 'professional eater'," she says. "I never set out to become a cook. I just set out to make my loved ones and myself delicious meals."
In celebration of Cinco de Mayo, the Latin cook shared some festive and authentic recipes with Target's writers for their online website, "A Bullseye View". Her mouth-watering menu is not only delicious, but also pays homage to the Battle of Puebla (when the Mexican army defeated French forces on May 5, 1862).
But before getting to her recipes, which include a delicious bacon guacamole, Mexican pulled pork, and a Jalapeno – Guava Margarita,  Ingrid shares some interesting facts about her early days in the kitchen and how she celebrates the holiday in her own home. Feliz Cinco de Mayo! Recipes and more on Ingrid Hoffman after the jump…
___________________________________________________________________
When did you first start cooking?
Ingrid Hoffman: I started at a very early age in my mom's kitchen, where she started a catering company from our little house. She had just come back from studying at Cordon Bleu in France, so I was always coming home to crazy quantities of food being prepared in our kitchen. I was a curious child, and they were always trying to shoo me out, but somehow they couldn't. And here I am.
Has your background influenced your cooking?
IH: Living in different countries expands your palette. I grew up in a house where we ate everything—Colombian, Mexican, Peruvian, Bolivian, Argentinian, Caribbean and Basque food. I make food from 22 Latin countries, including Spain. I do a little bit of it all.
What are some of your favorite ingredients to work with?
IH: I would say cilantro, avocado, quinoa and chiles.
How will you celebrate Cinco de Mayo?
IH: With lots of food and drinks! To me, it's a day to make a one-pot meal. I don't want to fuss.
___________________________________________________________________
Ingrid shared three easy-to-follow recipes.
It's easy to fill up on the bacon guacamole and guava-jalapeño margaritas before making it to the main course: Tinga Poblana (Mexican pulled pork), but it's worth saving a little room!
"To me, entertaining is about smart menus and recipes. Place guacamole and tortilla chips next to the pulled pork and set up a great self-serve station."
"Have all the garnishes ready for the margaritas. You can pre-make the mix and pour it into ice cube trays and freeze it, so you have a bucket of flavored ice cubes that won't water down your margaritas. The guava-jalapeño margarita is a fun twist on your typical margarita—you're really making homage to this incredible country with foods that represent it."
Bacon Guacamole: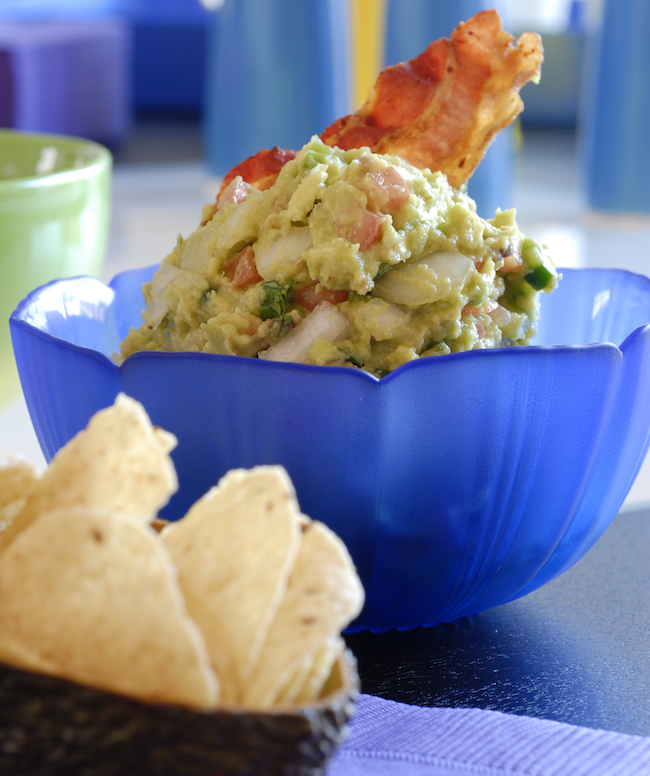 Bacon Guacamole:
Serves 6
What You'll Need:
8 to 10 bacon slices (about 1/2 pound)
3 medium Haas avocados, halved, seeded and peeled
1 tomato, halved, cored, seeded and chopped
1 small red onion, finely chopped
2 serrano chiles, finely chopped (seeded and ribbed for less heat)
3 tablespoons chopped fresh cilantro leaves
3 tablespoons fresh lime juice (from about 1 1/2 limes)
Salt
What You'll Do:
1. Heat a large skillet over medium-high heat. Add the bacon and cook until each side is brown and crisp, about 7 to 10 minutes total. Transfer the bacon to a paper towel-lined plate and let it cool completely. Chop the bacon into small bits and set aside.
2. Mash the avocados in a medium bowl until the texture is semi-smooth. Stir in the crumbled bacon.
3. Pat tomatoes dry with a paper towel and add to the avocado mixture. Gently stir in the onion, chiles, cilantro and lime juice. Taste and add salt if necessary; the bacon may add enough saltiness on its own.
Step by step: (Photos by Chris New)
Remove the pit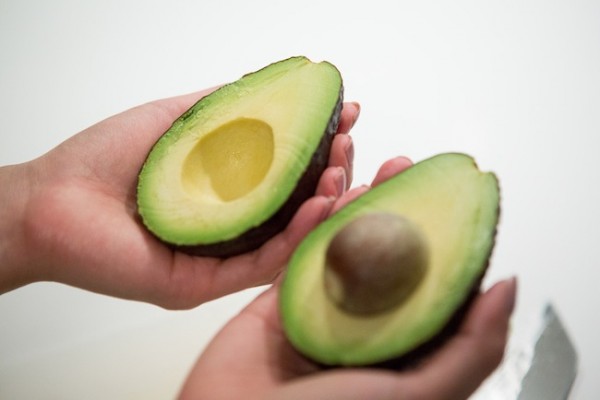 Scoop the avocado into a bowl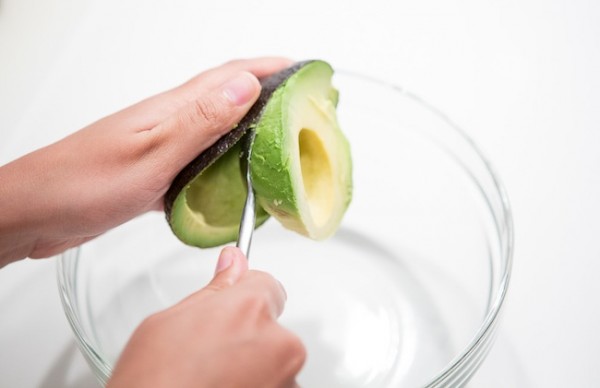 Mash the avocados in a bowl until the texture is semi-smooth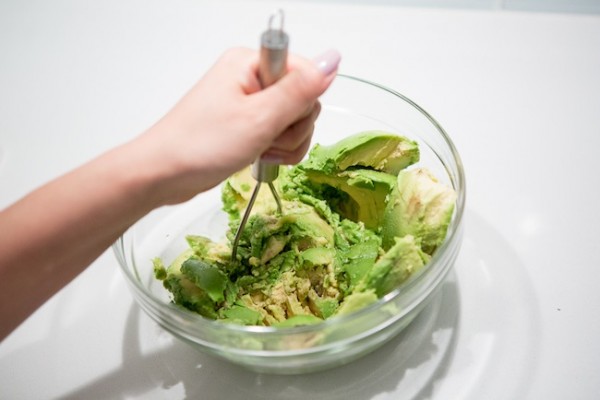 Fry the bacon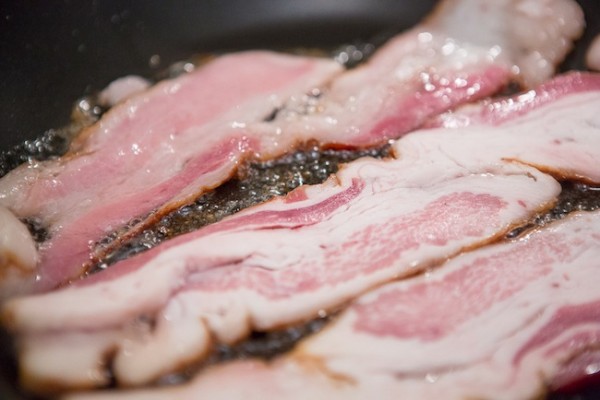 Make sure the bacon is crispy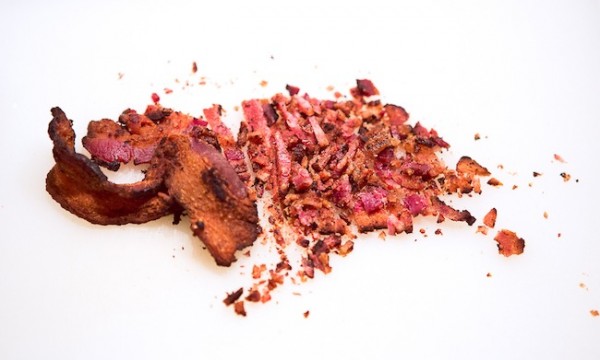 Give the bacon a rough chop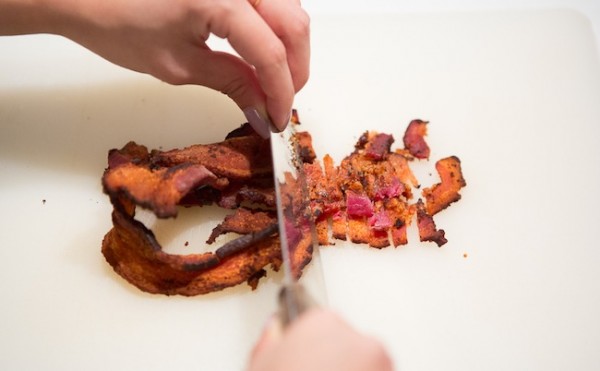 Add the bacon to the mashed avocados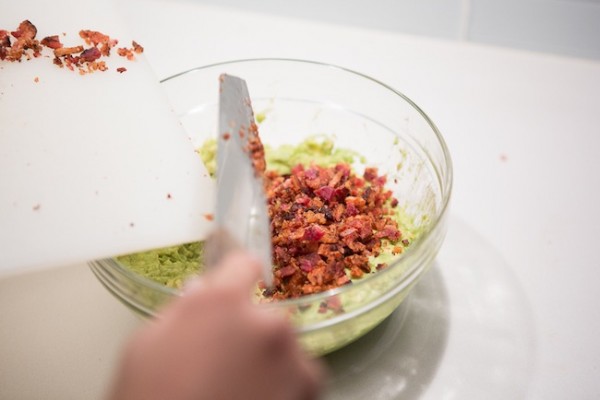 Halve the tomato and remove the core
Scoop out tomato seeds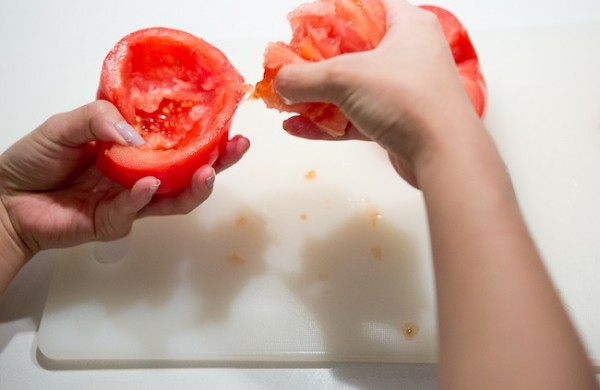 Dice the tomatoes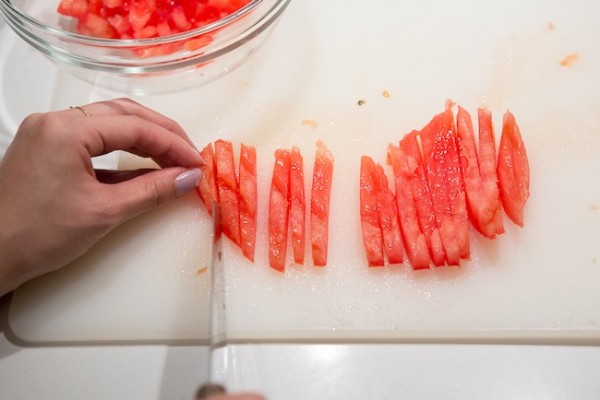 Finely dice the seeded and ribbed serrano chiles (be careful!)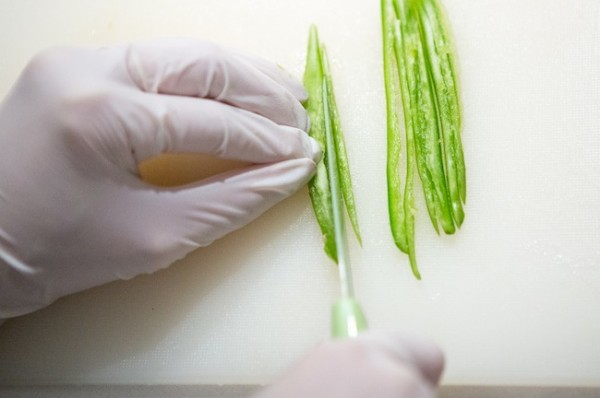 Add in the chopped ingredients to the avocado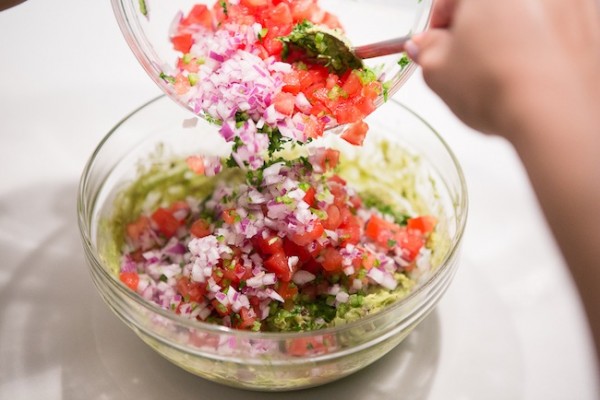 Dice the onions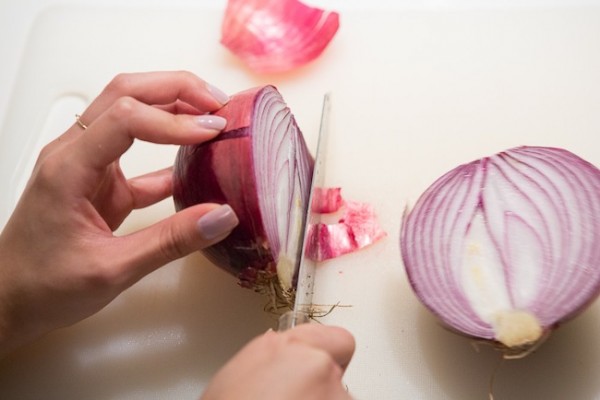 Tomatoes, onions and jalapenos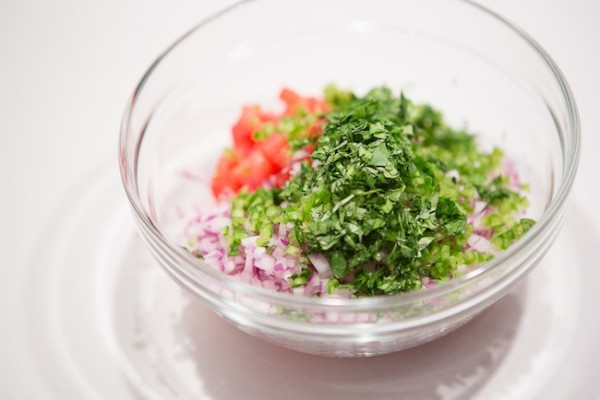 Mix to incorporate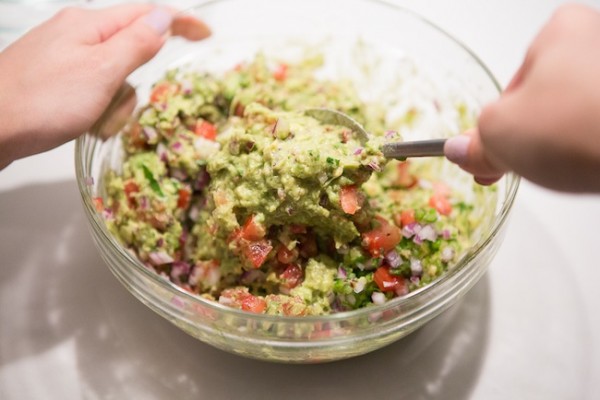 ___________________________________________________________________
Guava-Jalapeño Margaritas: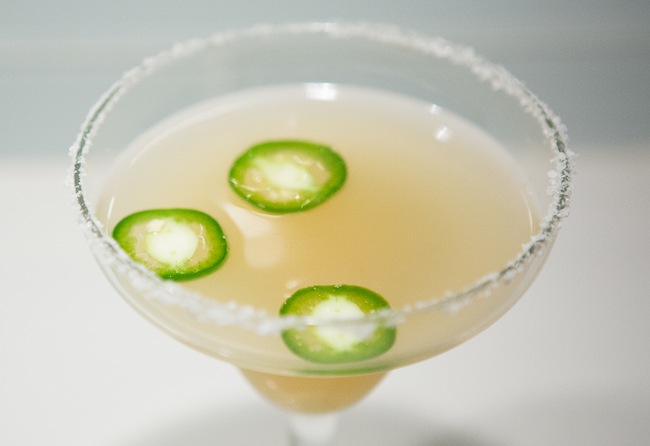 Guava-Jalapeño Margaritas
Serves 4
What You'll Need:
3 jalapeño chiles
1/2 cup plus 2 tablespoons tequila
1/2 cup plus 2 tablespoons lime juice (from about 5 limes), plus extra lime wedges for the glass rims (optional)
1/4 cup Cointreau or Grand Marnier
3 tablespoons guava juice
Coarse salt or margarita salt (optional)
What You'll Do:
1. Place 2 whole jalapeños and the tequila in a small bowl. Cover with plastic wrap and set aside for a day.
2. Pour the tequila into a pitcher or large punch bowl and add the lime juice, Cointreau, and guava juice. Stir to combine and chill in the refrigerator.
3. If you would like to have a salted rim for your margaritas, place the salt on a flat plate. Rub a lime wedge around the rim of each glass, turn it upside down on to the salt, and then twist the glass in the salt to coat the rim.
4. Thinly slice the remaining jalapeño. Serve the margarita straight up in a martini glass with some jalapeños floating in the glass or slit one side of the jalapeño ring and hang on the side of the glass.
Step by step: (Photos by Chris New)
1/2 cup plus 2 tablespoons tequila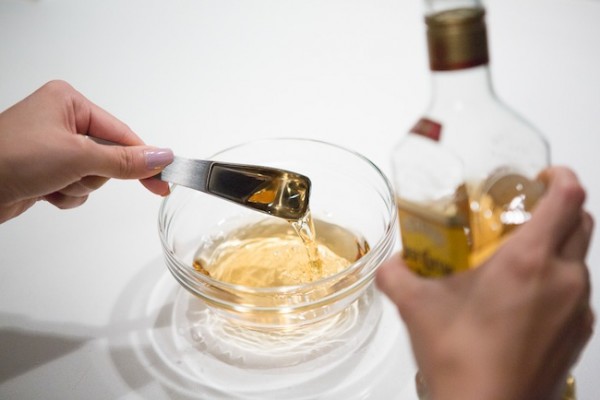 Soak the jalapenos in the tequila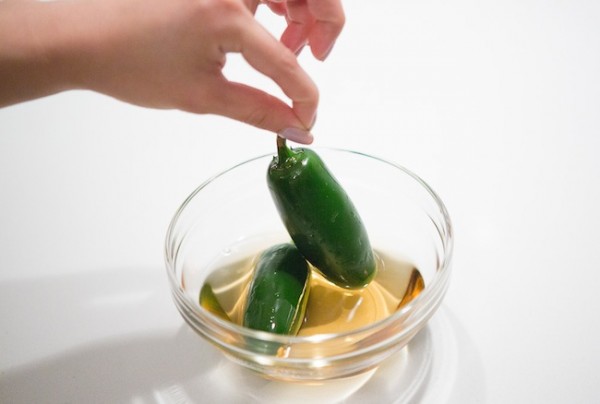 3 tablespoons guava juice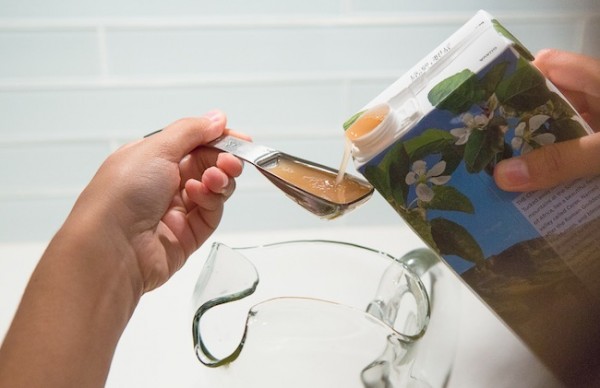 Pour tequila into a pitcher and add the lime juice, Cointreau and guava juice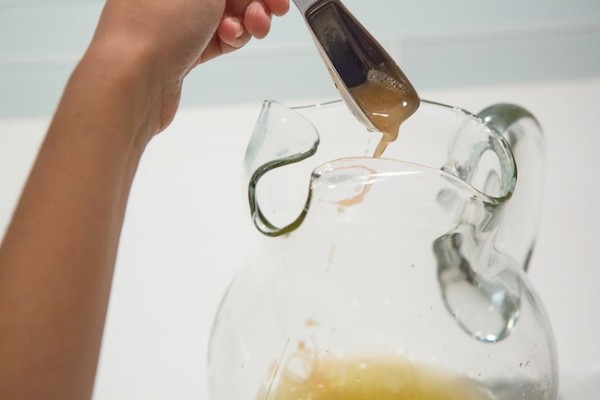 Rub a lime wedge around the rim of each glass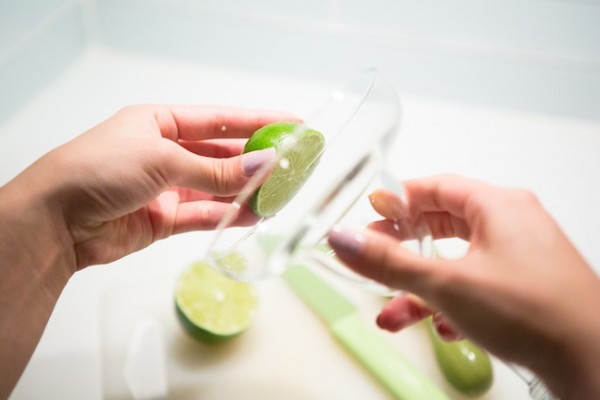 Salt to coat the rim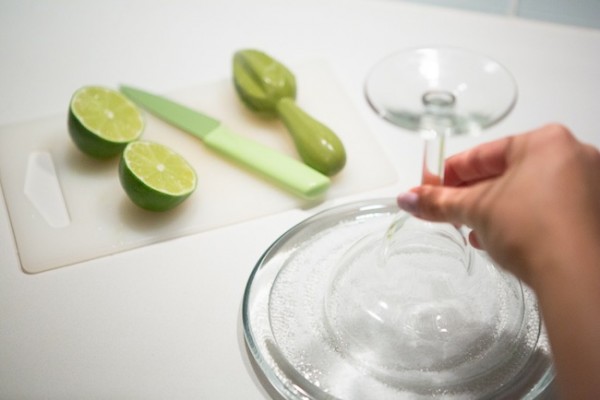 Garnish with a jalapeno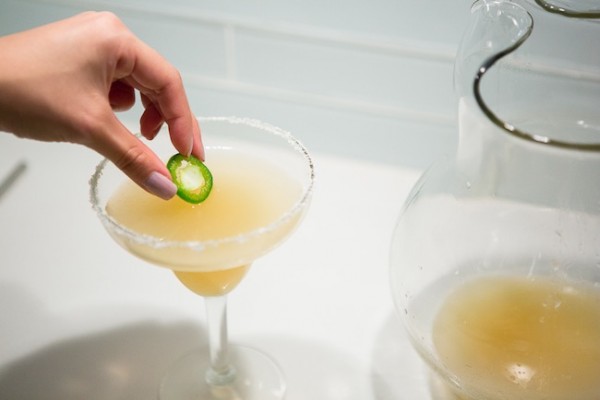 ___________________________________________________________________
 Mexican Pulled Pork (Tinga Poblana):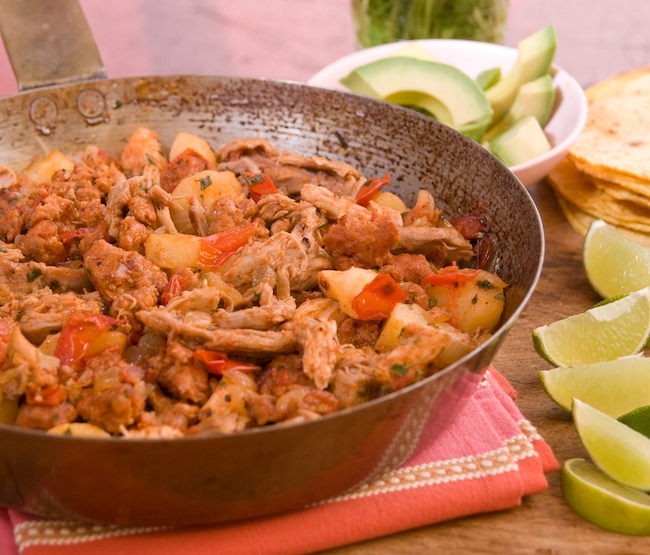 Mexican Pulled Pork (Tinga Poblana)
Serves 8
What You'll Need:
1 pound (about 3 medium) russet potatoes, peeled and diced
1 (2 to 3-pound) pork loin
1 yellow onion, chopped, plus 1/2 yellow onion left whole
2 garlic cloves, smashed
2 bay leaves
12 ounces raw chorizo, casing removed
5 small tomatoes, peeled, cored and chopped
2 canned chipotle chiles en adobo, finely chopped (seeded and ribbed for less heat)
2 tablespoons apple cider vinegar
1 teaspoon dried thyme
1/2 teaspoon dried marjoram
Salt
For serving
16 corn or flour tortillas
4 medium Haas avocados, halved, pitted, peeled and sliced
1 cup fresh cilantro leaves
Lime wedges
What You'll Do:
1. Bring a large pot of salted water to a boil. Add the potatoes and cook until tender, about 20 minutes. Drain the potatoes and set aside.
2. Place the pork in a large pot of water. Add the onion, garlic, and bay leaves and bring to a boil. Reduce the heat to low and simmer gently until the pork is cooked through, about 45 minutes. Remove the pork from the water and set it aside until it is cool enough to handle (discard the cooking liquid). Using your fingers or two forks, shred the meat into small pieces and set aside.
3. Break the chorizo into small pieces and fry it over medium-high heat in a large skillet or pot, stirring often, 8 to 10 minutes. Use a slotted spoon to transfer the chorizo to a paper towel-lined plate. Add the chopped onion to the same skillet and cook, stirring often, until soft, about 3 to 5 minutes. Add the shredded pork, potatoes, tomatoes, and chipotle chiles and cook until the tomatoes break down and release their juices, about 15 minutes. Return the cooked chorizo to the pan and stir in the vinegar, thyme, marjoram and some salt. Continue to cook over medium heat until some of the liquid has evaporated, about 5 minutes.
4. While the pork cooks, heat a medium skillet over medium-high heat. Add a tortilla and warm for 10 to 15 seconds. Flip the tortilla over and continue to warm until the tortilla is pliable and heated through, about another for 10 to 20 seconds. Place on a plate, cover with a kitchen towel, and set aside; repeat with the remaining tortillas (or simply warm the tortillas in the microwave).
5. Place pork in a serving bowl or bring it to the table in the cooking pot. Arrange the tortillas, avocado, and cilantro on a platter so guests can fill a tortilla with some of the meat and accompaniments. Pass a bowl of lime wedges around the table to squeeze over each serving.
For these great recipes and more, visit A Bullseye View.