Monday night, I headed into the City for a [yellow tail] tasting party at La Palapa Cocina. I was excited beforehand since I love Mexican food and I know that [yellow tail] makes a really great sparkling wine. I definitely wanted to see what else they had to offer for summer.
Over a delicious meal prepared by La Palapa Cocina's Barbara Sibley I got my answer. In addition to both the White and Rose Sparkling Wine, there was Moscato, Chardonnay, Shiraz, and Sweet Red Roo, which as the name implies is sweet and the perfect wine for making a Sweet Red Roo Sangria, which was also offered at the tasting.
Even though [yellow tail] is an Australian wine, named after a cousin of the kangaroo, it is extremely versatile and can be paired with pretty much any type of cuisine. Throughout dinner, I sampled each of the delicious wines offered and while I like them all, I do have a couple of favorites – the Shiraz and the the classic [yellow tail] Bubbles. The [yellow tail] Bubbles is light, crisp and refreshing while Shiraz, on the other side of the spectrum, is rich and sweet with a mix of ripe cherries, strawberry, vanilla, and spice!
I've included a full list of the tasting notes below.
For my meal, I ordered the chicken enchiladas with a mole rojo sauce – yum! It also came with a delicious side of rice and chorizo beans. As a special treat, the owner and Chef, Barbara Sibley, was there to tell us about her restaurant and menu. Born and raised in Mexico City, Barbara opened La Palapa Cocina Mexicana in 2000 and told us that the demand for authentic Mexican Cuisine in New York has grown tremendously since then and has become "more relevant". I couldn't agree more – it's definitely one of my top choices for International Cuisines!
Every Monday Night, Barbara offers guests MONDAYS UNCORKED, where you can bring your own bottle of wine and there is no corkage fee. This coincides perfectly with [yellow tail]'s Moscato Mondays!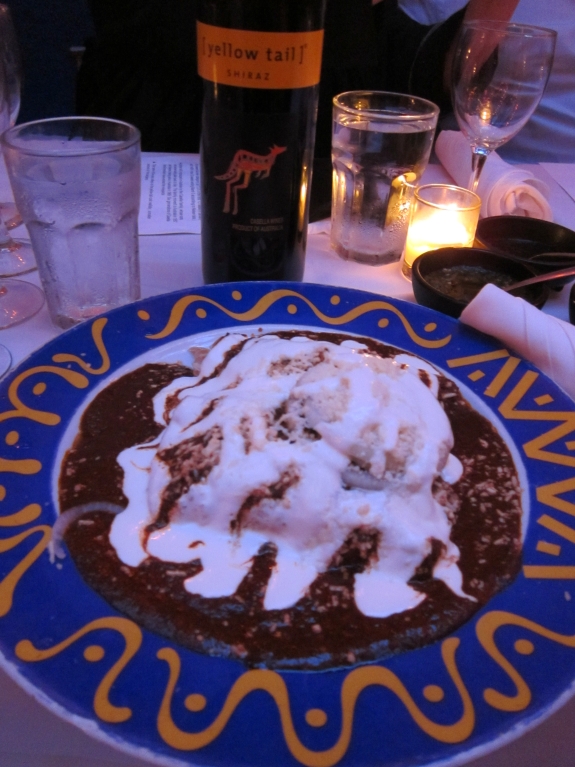 [yellow tail]tasting notes: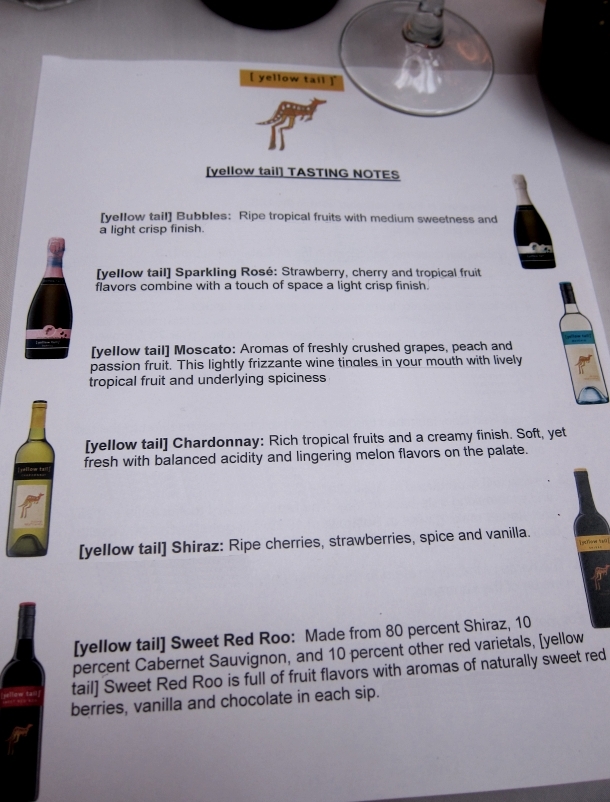 About [yellow tail]:
"People can't be bothered by all the hype and nonsense of wine. They just want to drink it." ~John Casella.
It all started in 1820, when the first Casellas planted some vines in the Italian countryside. Two things sprouted shortly thereafter: a cluster of grapes, and a family passion that would last 188 years and counting. Fast forward to 1957. Filippo and Maria Casella were keeping the business alive in Italy, when they decided to pack up and move to Australia. However far away, they couldn't escape their wine roots. Filippo began selling grapes to local wineries. Then in 1969, he decided it was time for a new generation of Casellas to put their winemaking skills to use. Following the blueprint of other Australian winemakers, Casella sourced his fruit from other growing areas throughout South Eastern Australia, creating wines with incredible freshness and character year after year. Still, almost a third of the grapes used for [yellow tail] are grown right in the Casella family's vineyards, nearly 540 acres in the Riverina region of Australia. In 1994, the Casellas built a new and improved winery, blending old world heritage with new world technology.
From humble beginnings, this family has come a long way. Today the company is run by Filippo's three sons—John, Joe and Marcello—while Filippo's grandchildren have become the sixth generation to join the family business. In 2000, John Casella joined forces with another family-run company, W.J. Deutsch & Sons, to bring the goodness of [yellow tail] to the United States. Year after year, the Casella family continues to create quality wine that's fun, flavorful, and bursting with a personality all of its own.
This event was put together by www.theconnectedtable.com