Monique Lhuillier presented a breath-taking collection of taste and elegance during her Fall 2011 Mercedes-Benz Fashion Week.
With sophisticated pleating, off-the-shoulder necklines and spectacular pops of color, Monique Lhuillier certainly presented plenty of red carpet worthy dresses and gowns! From feathers and detailed beading to flowing fabrics and ruffles, each dress that came down the runway was a fashion masterpiece full of life and exquisite detail!
Lhuillier's breakthrough came after she designed the gowns for her wedding entourage. These captured the interest of couture circles. Having had a difficult time finding her own gown, Lhuillier, a 23-year-old newlywed at the time, decided to begin sketching her own line of dresses. Her husband figured this was little more than a hobby, one that she would tire of soon enough. She even told USA WEEKEND Magazine:
"He thought I had the wedding blues and eventually I'd get over it".
One of my absolute favorite pieces from the Fall 2011 Collection is the 'Trumpet' dress which graced the runway in a leopard print.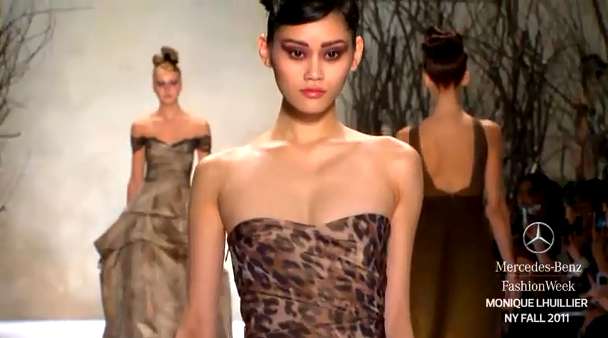 In addition to the leopard print, I love the side ruching and trumpet flare.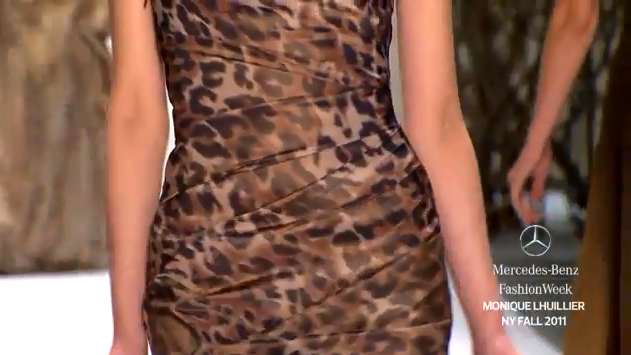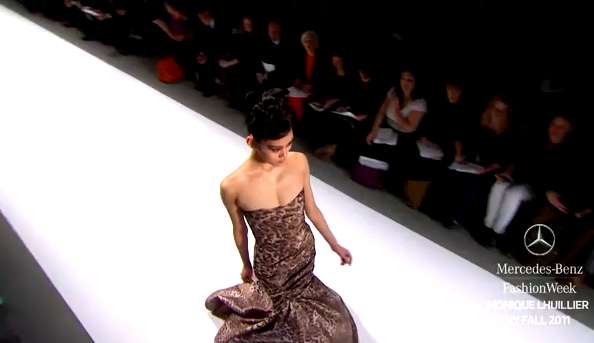 While attending the show, I was able to take this video which provides a small glimpse of the runway presentation: