It may be the middle of winter, but warm weather is on my mind!
With warm weather comes days at the beach, poolside lounging and of course swim suits!
Designer Maruska Gemelli is a swimwear designer that has a love for nature, textures, color and the harmony that exists between the ocean and the spirit of life!
Drawing on the energy of Brazilian beaches, Maruska Gemelli has translated her passion for the sea into an enchanting collection of swimwear.
Read More After The Jump…
I love this one shouldered, black top with dispensing gold. I am also really loving the stripes on the right suit (Going to be a big hit for Summer 2011).
Model and Actress, Maria Helena Vianna is ethereal in this triangle top bikini with vertical stripes! Also, this particular top is reversible so you can wear your on trend stripes or go with a basic yet sophisticated black!
This suit (on the left) is fully reversible – both the top and bottom can go from stripes to black. Notice the beautiful, braided detailing on the bottoms of the right suit – I am a HUGE fan of details such as this!
Adding some bright pops of color and some fun (yet still sophisticated) patterns, these suits are Social Vixen faves! The suit on the left has a reversible, pink, bottom for mixing and matching. The Bandeau on the right is fully padded and has a matching bottom with side detailing.
If I had to choose only 1 piece from this collection (which would be very hard to do!), it would be this Liberty Chic, Regatta dress! The lightweight, sheer fabric is a seasonal must have! The sexy dress on the right also features lightweight, sheer material with an asymmetrical design and low cut back – LOVE!
About the Designer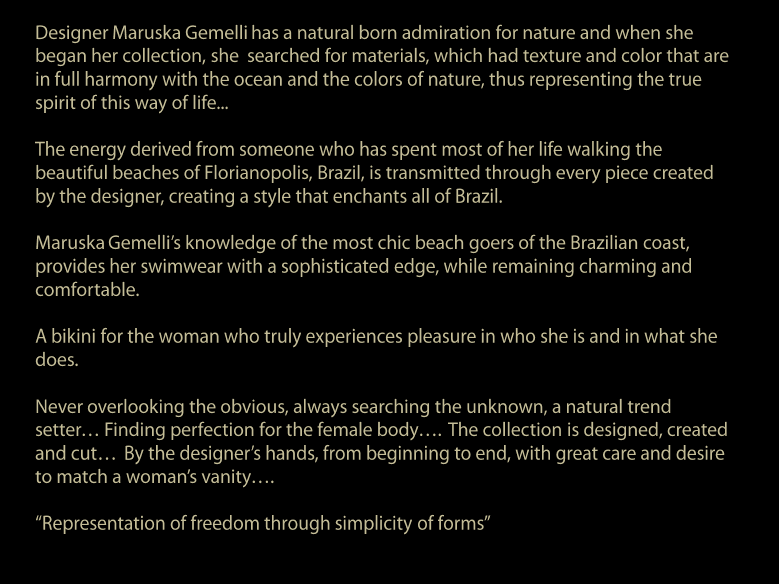 About Maria Helena Vianna