This year marked Housing Works Thrift Shop's 6th annual Design on a Dime fundraising event which kicked off with a Reception at the Metropolitan Pavilion in New York City.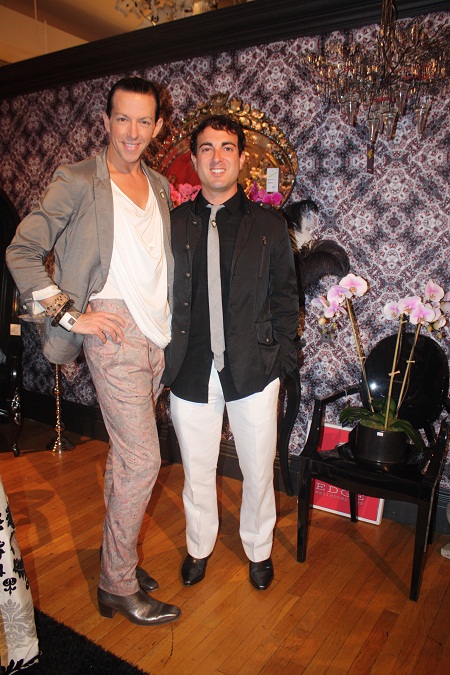 Photo Above: Derek Warburton (left), Carl Pascuzzi (right)
Thursday, 50 of the world's top interior designers came together to create unforgettable room vignettes decorated to represent what they consider is sexy and chic. They worked with new merchandise donated in order to be sold for 50 – 70% off retail pricing with the proceeds going to .
Derek Warburton was one of this year's designers. He told me his aesthetic was inspired by Carl Pascuzzi, a friend of his who makes custom made wallpaper. Carl designed the wallpaper in Derek's vignette and if you look closely, you can see that it's a kaleidoscope of diamonds and rubies.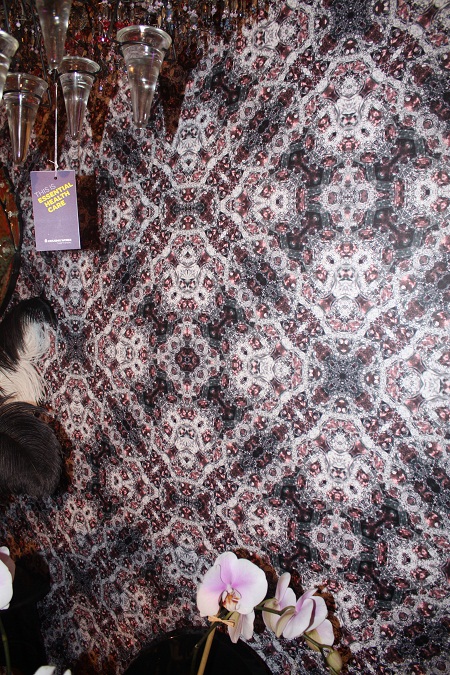 "It was Carl's fabulous wall paper, named "Rubies and Diamonds" that served as my inspiration", Derek told me at the event! "This served as a backdrop for creating the rest of the French – themed room". Derek's vignette raised over $35,000 in donations for the Jefferson Avenue Housing Program in Brooklyn after guests bid in an auction for the items.
Photo below: I take a time out with Simon and Alex, (Real Housewives of New York City).  Alex looks like she's going to punch me in the face and I can't tell I if like their outfits – Alex's-tie-dye-kimono-with-leopard-print-scarf is OK, I guess, but Simon's bow tie should have been printed to match…lol.