Twice a year, New York Fashion Week becomes a Mecca for celebrities and industry experts. This season, the place to see these highly regarded artists and professionals wasn't just the front row of the shows, but also at the It Gets Better lounge, hosted by Derek "Fabulous" Warburton. The It Gets Better Project teamed up with Derek to create an inspirational place for fashion moguls, actors, musicians, and celebrities to join together and promote the project's message of hope!
The messages delivered were full of support to America's youth who feel that there is no hope. By inviting role models to participate, youngsters struggling can see that even people that they admire at one point struggled with bullying. But, through strength and hope, they faced their darkest days and became confident and strong!
The main message of the lounge was that bullying, in any form, has to be addressed. Our country needs to apply an anti-bully culture. President Barack Obama and Secretary of State Hilary Clinton both addressed this crisis by raising awareness and participating in a PSA on behalf of the It Gets Better Project. At Derek "Fabulous" Warburton's It Gets Better Lounge, celebrities and fashion luminaries were invited to film their own PSAs and the outcome was astounding – Over 50 videos were filmed over the course of two days!
During the taping of these public service announcements, we learned some of the intimate struggles that many successful individuals faced during their youth. Lighter fluid being thrown at your new beautiful coat and being set on fire is not something that you expect to hear about editor in chief of Marie Claire's, Joanna Cole, high school experience. Nor is Judith Light telling the LGBT community that they have a rich tapestry and history that helped her to not feel like an outsider.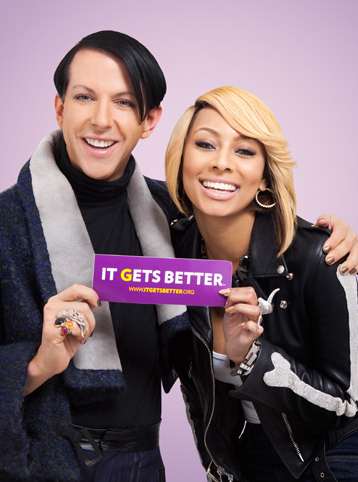 Photo Credit: Christopher Logan/ 310pix.com
Listen to the stories of hope from Alexis Bittar, Keri Hilson, and Gabrielle Union and you will see that through their darkest moments, there was a light at the end of the tunnel. (Katy Perry's 'Firework' is playing in my head as I write this).
The lounge offered a retreat where guests could let their guard down and relax. With a salon in one room (offering manicures and hair styling), a DJ in another (music by StacyStylez), and a private area to record PSAs, this lounge was no doubt, the best thing to occur during New York Fashion Week!
I am not alone in this opinion. The It Gets Better Lounge had such a wonderful turn out including actresses Judith Light and Gabrielle Union, singers Keri Hilson, Eve, Miguel, Dalal Bruchmann, and Kat DeLuna, CFDA member Fashion Designers Isaac Mizrahi, John Bartlett, Kay Unger, Mimi So and Alexis Bittar, Humanitarian and Designer Marisol Deluna, Marie Claire Editor-in-Chief Joanna Coles, Seventeen Magazine Editor-in-Chief Ann Shoket, NJ Assembly Council of Women Mary Pat Angelini, J. Alexander "Miss J", Celebrity Stylist June Ambrose, Model Cynthia Bailey, Hairstylist Ryan Nickulas (from Logo's A-List), Roxanne Jones (co-chair of GLAAD & VP of ESPN Magazine), Julia Allison of NBC's NY NonStop, Chance Spiessbach (Chance TV), Celebrity Photographers Mike Ruiz and Andrew Werner, Photographer Edward Garou, Amanda Hearst, Frank Dix (GMHC), Interior Designer Jillian Harris (The Bachlorette), Double Exposure's Indrani, Author Lauren Ruotolo, and PR Maven Kelly Cutrone!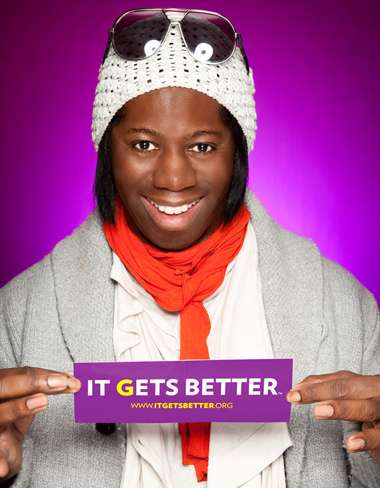 Photo Credit: Mike Ruiz/ 310pix.com
All of these individuals took time out of their busy schedule to engage in something that they are passionate about – spreading hope. Derek and the It Gets Better Project provided this opportunity and because of them, so many lives were and will be affected in a beautiful and positive way!
About the It Gets Better Project:
This project's mission is two-fold: sending a Message of Hope to support our American youth and working together to create an anti-bullying agenda for this country. It is so important to educate both parents and children about the seriousness of bullying and the impact that it can have on both the victim, and the bully's lives.
Gallery 1:
[nggallery id=87]
Gallery 2:
[nggallery id=88]