During New York's Fashion Week, the womenswear label 4 CORNERS OF A CIRCLE hit the runway for the fourth consecutive season showing their Fall 2013 Collection. The designer, Natsuko Kanno, highlights her unique expression of relaxed Japanese chic on February 7, 2013, 3:00pm at the Metropolitan Pavilion, 125 West 18th Street in Manhattan, NY.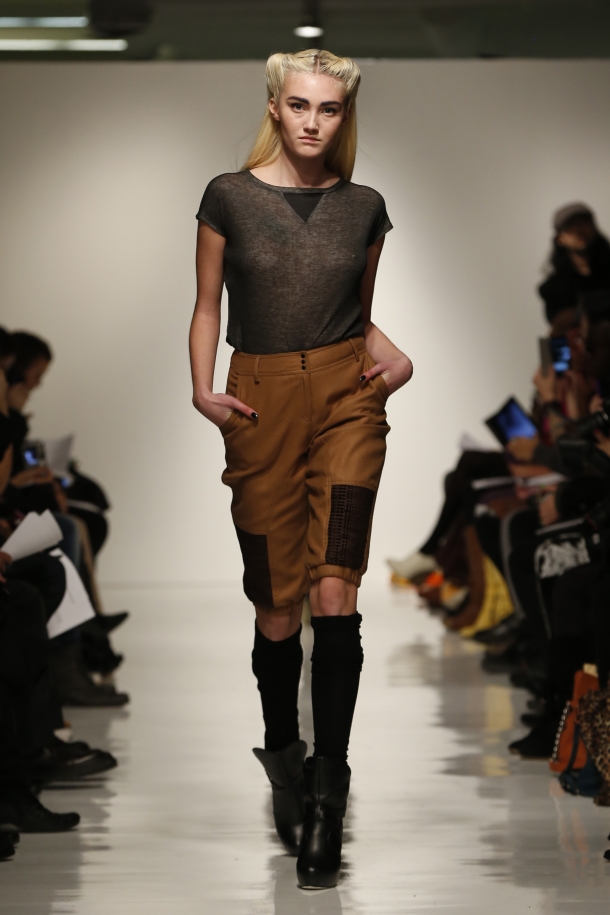 This season, Natsuko Kanno channeled strength, and looked to her Japanese roots to find inspiration from the IKUSA; translation: "battle". The intricacy of traditional Samurai design and the history of Japanese battles from the late 15th -16th centuries, deeply inspired Kanno when developing her Fall 2013 Collection. Photo gallery after the jump.
Kanno utilized her expert silk-screening techniques to design an original arrow print which is thoughtfully incorporated throughout the fall line. This print symbolizes the Samurai's weapon of choice; the arrow, over the sword. In Kanno's own philosophic terms, the IKUSA symbolizes strength. In today's world and with traditional and modern battles still raging, Kanno's message is this: one still must manage, go out into the world and fight for the life they want, not simply sit idle and bear silently with life's blows. One must find their own way, to make this world a better place.
Through design, these expressions take form as the 4 CORNERS OF A CIRCLE collection, where women are strong and sexy, worldly and confident, yet may simultaneously exude a soft side. Effortless modern femininity is evident in the structured silhouettes, rich woven textures, luxurious silks and hi-tech Japanese paper and knit fabrics. The season surrounds us with a warm color palette of blues, rich caramel and cream, shimmering silver, charcoal gray and deep burgundy.
For the "casual luxe" look, we'll see a short, double-breasted, wool Yoroi Warrior Coat, with Samurai- inspired cape shoulders in charcoal, black and herringbone, paired with a chic Wa-knit sweatshirt and a new signature "Hakama" skirt shown in teal hammered silk. Kanno's vision for modern-day understated Samurai style is seen in the form of a heavy wool charcoal caplet with rich wine colored mesh leather details. A jacket shown in Washi (Japanese paper fabric) is styled over a burgundy turtleneck with Kanno's signature gathered knee-length shorts in herringbone and mesh leather. This match up completes a look she wishes to signature this season. The Fall 2013 collection is rich with fabulous distinct jackets, press worthy knee length shorts and pants, Japanese-inspired pencil skirts, oversized knits and more.[nggallery id=283]
The 4 CORNERS OF A CIRCLE runway show set the stage for a Japanese experience through the eyes of Natsuko Kanno featuring live music and special performances. The beauty sponsors this season are Shiseido for make-up and Augment for hair. Additional sponsors are J-Callabo, the cutting-edge site of Japanese artistic collaborations, Wa Knit, a Knit Factory Guild in Wakayama, Japan specializing in high quality, innovative fabrics, and Washi no Nuno, who creates specialized fabrics made by Washi, a traditional Japanese paper. For more information on the collection, kindly visit www.vvvv-o.com .