This is the route we have driven since leaving San Antonio, Texas!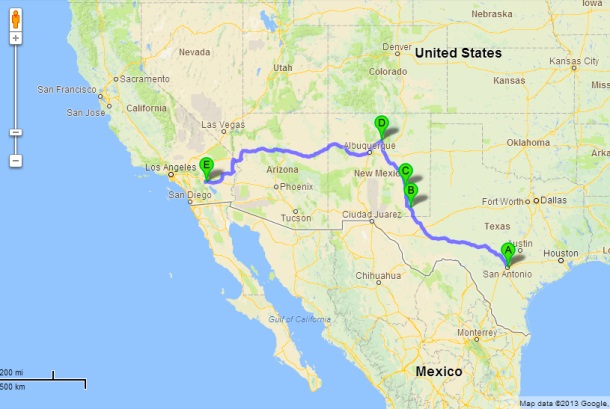 A) San Antonio, Texas – this was such a great stop. I loved seeing my friend M and of course, my aunt & uncle who came out to celebrate our birthdays with us!
B) Carlsbad Caverns, New Mexico – what an incredible day spent hiking into the caverns!
C) Roswell, New Mexico – we had fun exploring all the alien themed shops, but this was no more than a day trip.
D) Santa Fe, New Mexico – had a ridiculously relaxing night at La Posada de Santa Fe! We started with dinner at Fuego, then took a dip in the outdoor Jacuzzi before watching Game of Thrones in our room by a wood burning fireplace with a bottle of Champagne!
E) Coachella, California -on our way to L.A. we decided to stop by and check out the music festival!