We've made our way from Northern California to Oregon and so far, we are enjoying ourselves despite the overcast skies.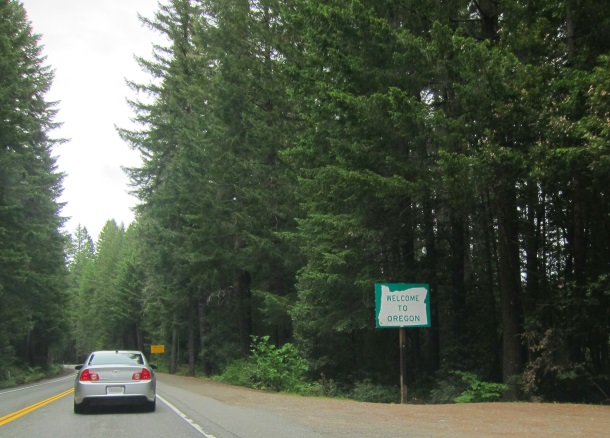 Making the most of our time, we stopped by the Acropolis – a strip club err…steakhouse? Yes, a steakhouse – we stopped by Acropolis Steakhouse for some of the greasiest, but tastiest steak I've ever had for 10 bucks (included a trip to the salad bar).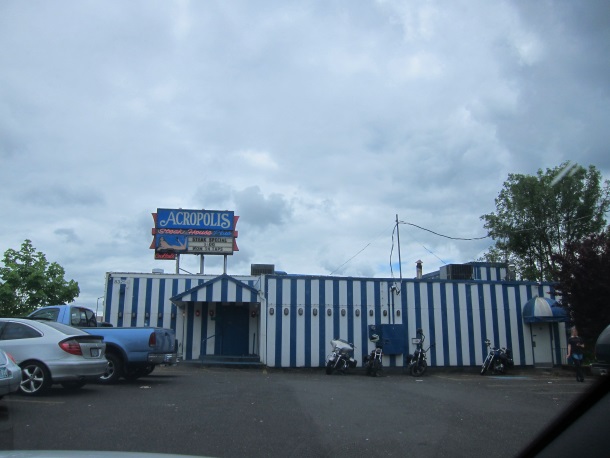 After Acropolis, JC and I were on a quest to sample some of the unique donuts made at Voodoo Doughnut like the Bacon Maple Bar or the Mexican Hot Chocolate (dusted with Cayenne Pepper). We put the address in our GPS and 15 minutes later we drove by a line that wrapped around the donut shop! Yowsers!
We decided to check out a different location a little further away – same thing – though what was even more surprising is that it had started to downpour and it didn't appear as though anyone was going to give up their spot in line in exchange for a dry location. Now I was curious and so I decided to grab an umbrella and join the madness. But first I needed to use a restroom. After fighting my way though the line into the donut shop, I was told that they don't have public restrooms! I took a second to check out the donuts on display and saw that they were way smaller and less appealing in person than they sounded on the website. And – there were flies in the glass case storing the donuts!!! I left, found a bathroom, and didn't look back.