Even though I've been semi-living in Puerto Rico for the past couple of years, I've only recently begun exploring El Yunque National Rainforest. I'm kicking myself for not getting started sooner, because there is definitely a lot of ground to cover! Although I'm new to these hiking trails, I've learned a few helpful tidbits, which I can share. At the bottom of this article, there are some links to websites that go into more detail.
If you're planning to visit El Yunque (which you should totally do if you're going to be in Puerto Rico), then your first stop should be the El Portal Visitor's Center. Here you can get fun facts about the rain forest, grab a quick coffee or bite to eat, and/or shop for souvenirs. There is a nice sized gift shop in the visitor's center, and sometimes local artisans set up tables with their crafts for sale on the second floor next to the cafe.
The parking for the visitor center will be different than where you go to explore the rain forest, so be prepared to get back in your car after stopping here. As you walk from your car to the building, make sure to stop and check out the rainbow eucalyptus trees in the parking lot – the bark is literally colored like a rainbow!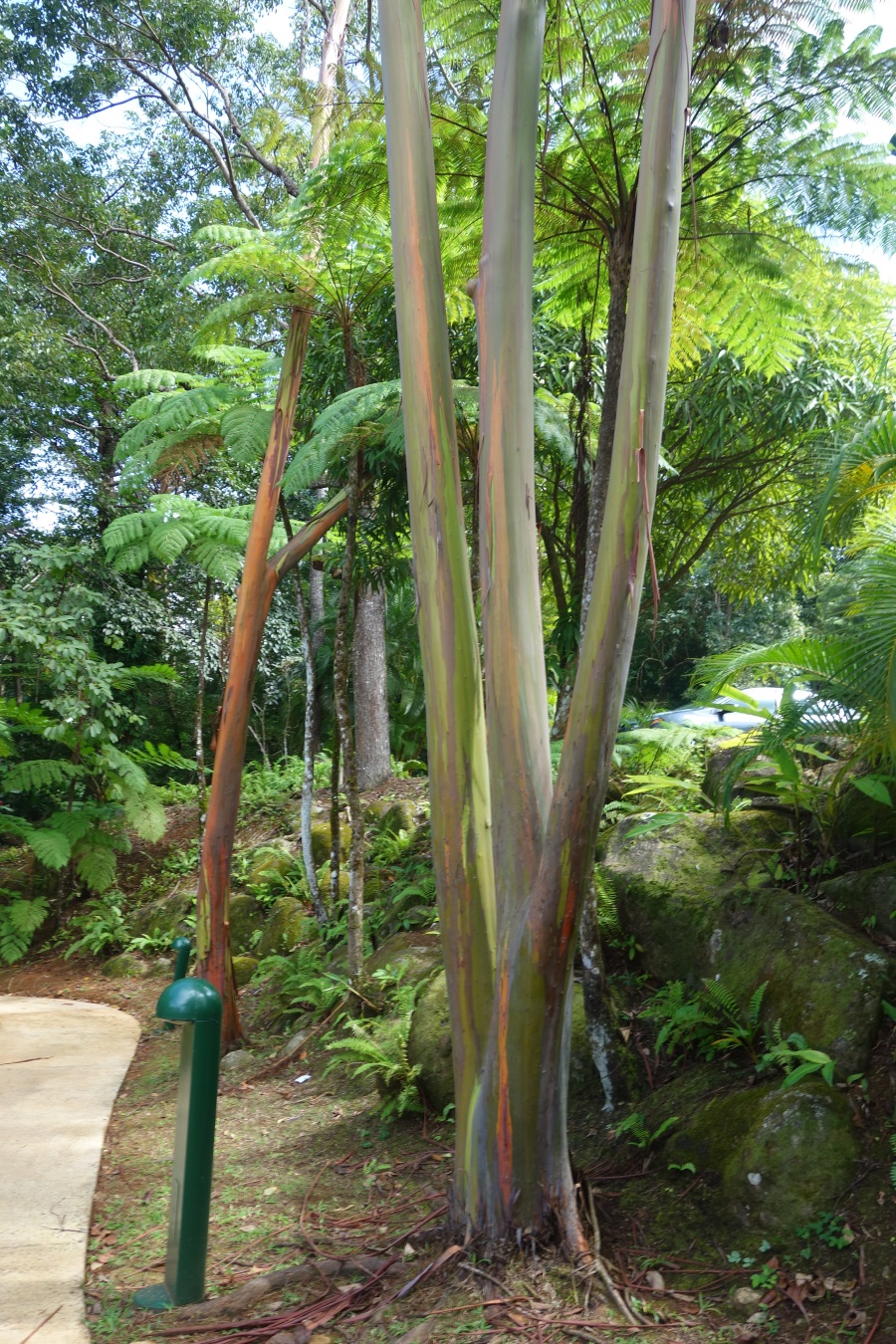 After leaving the visitor's center, you will make your way up a narrow, winding road that leads you into El Yunque National Forest. At this point, you're driving under a lush canopy of green leaves and there are waterfalls that flow down the sides of the road, underneath it, and down the other side. If you leave your windows down, you can hear the steady sound of water flowing, as well as frogs and birds chirping.
Along the drive, you'll pass a few road side stands selling fresh coconut water, chicken skewers, straight off of the grill, and various snacks and souvenirs. There are several scenic viewing areas, as well as places to park along the different trail heads.
La Coco Falls is an 85 foot waterfall that is right by the side of the road and is a good place to stop and take some photos without having to walk far from your car.
I'd also recommend stopping at Yokahu Tower and taking the stairs up to the lookout. Up at the top of the tower, you get an amazing view of the rain forest, the mountains, and depending on how heavy the cloud cover is, you might even be able to see the city and coastline in the distance. Be sure to look for green parrots in the canopy!
Hiking: So far, I've only hiked a few trails, but two of them led to La Mina Waterfall. The first trail I hiked was Arboles Grandes, or the Big Tree Trail. As the name implies, one of the highlights of this trail is that there are a few 200-300 year old trees still standing along the walkway. Having withstood time better than most of the forest, they are much larger than the surrounding trees. You can tell these trees apart by their sheer size, but there are also signs to help point them out. The path is paved and slightly elevated to help keep your feet dry in a downpour, but it is narrow at some points, and on a busy day, you might have to wait to go around other hikers, or step off the paved trail to let them pass. Also, be prepared to take on stairs. It's nothing you won't be able to handle if you're in decent shape, but it can be exhausting if you're out of shape. Each trail was about 90 minutes, hiking in and out.
Another trail that I've hiked is called La Mina Trail and also ends at La Mina Waterfall. Rather than guide you through old wood trees, this trail brings you down a path that closely follows a stream.
It is the same stream that eventually turns into La Mina waterfall, but along the way there are lots of smaller waterfalls that are also very pretty.
In my opinion, this is definitely the more scenic of the two hikes. It is also slightly more strenuous, with a more drastic decline/incline than Big Tree.
La Mina Falls: Both the Big Tree and La Mina Trails end at La Mina Falls…
Fauna in El Yunque: Big leaves, crazy roots, giant fiddle heads, and wet moss…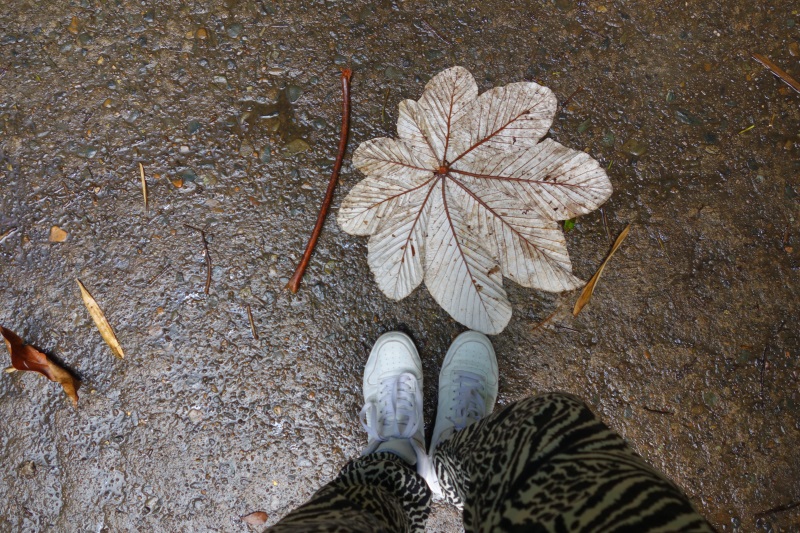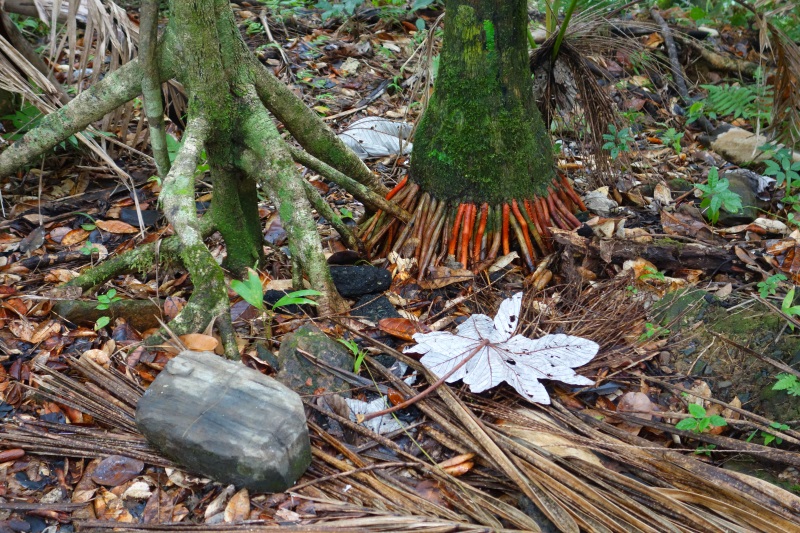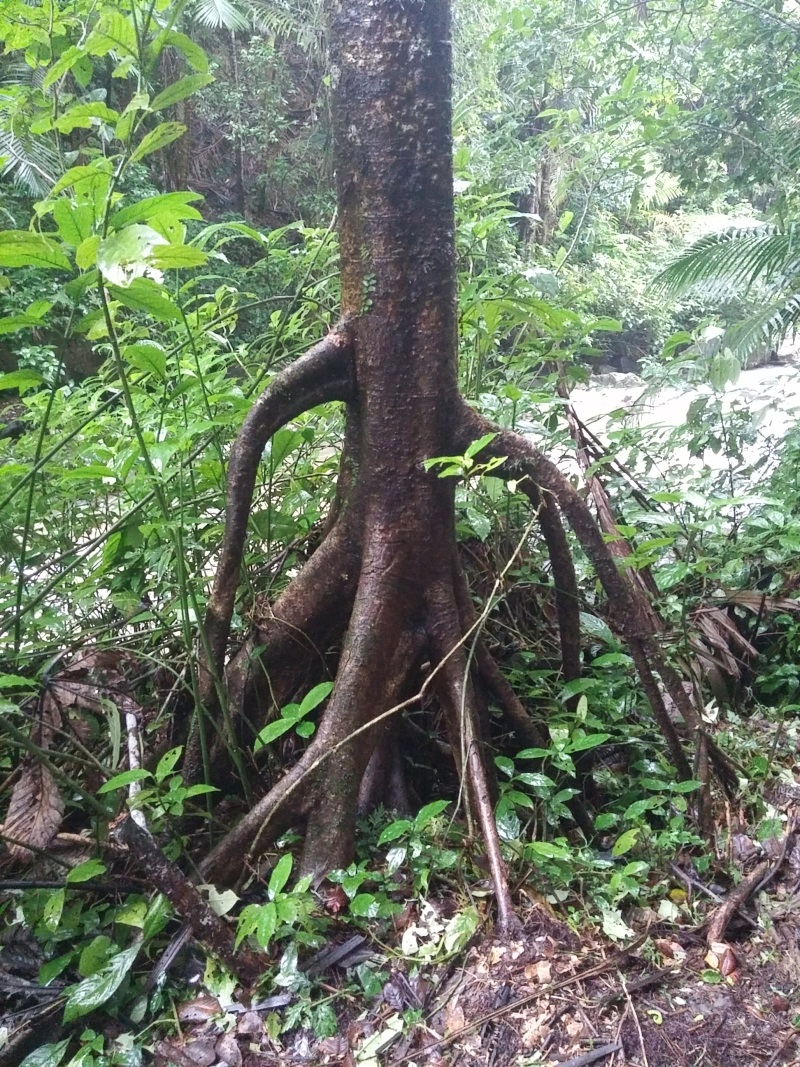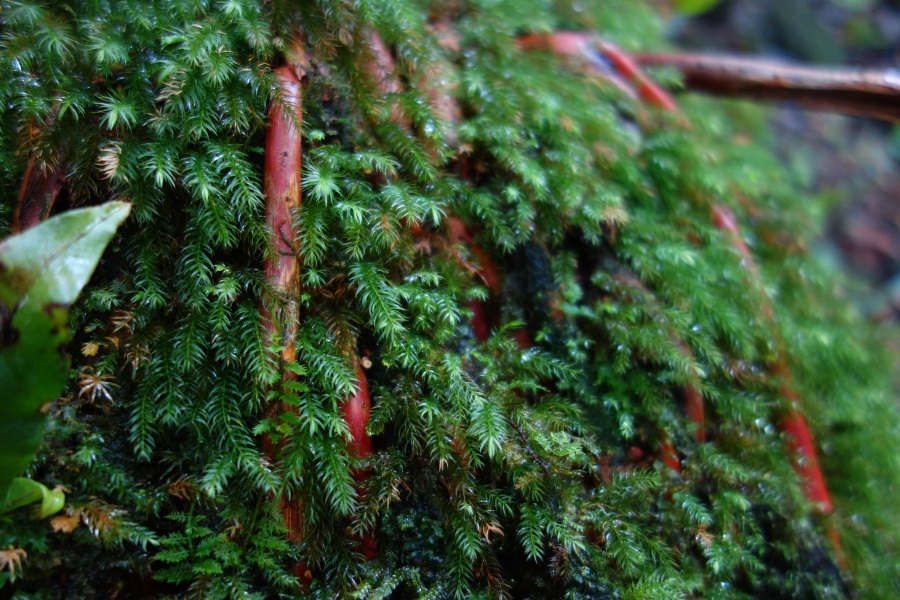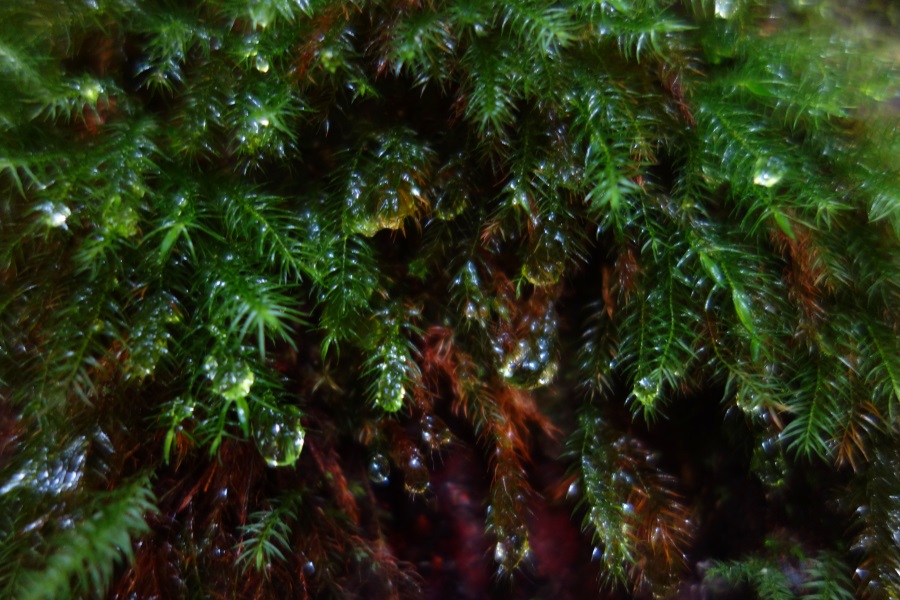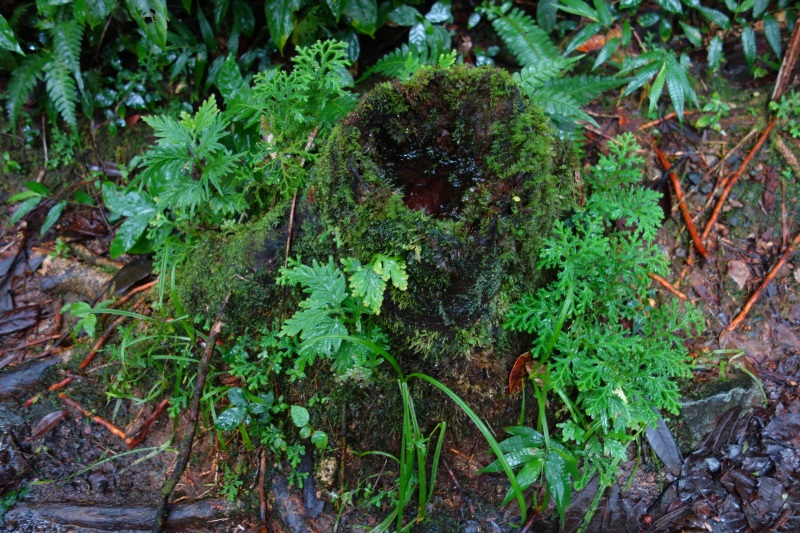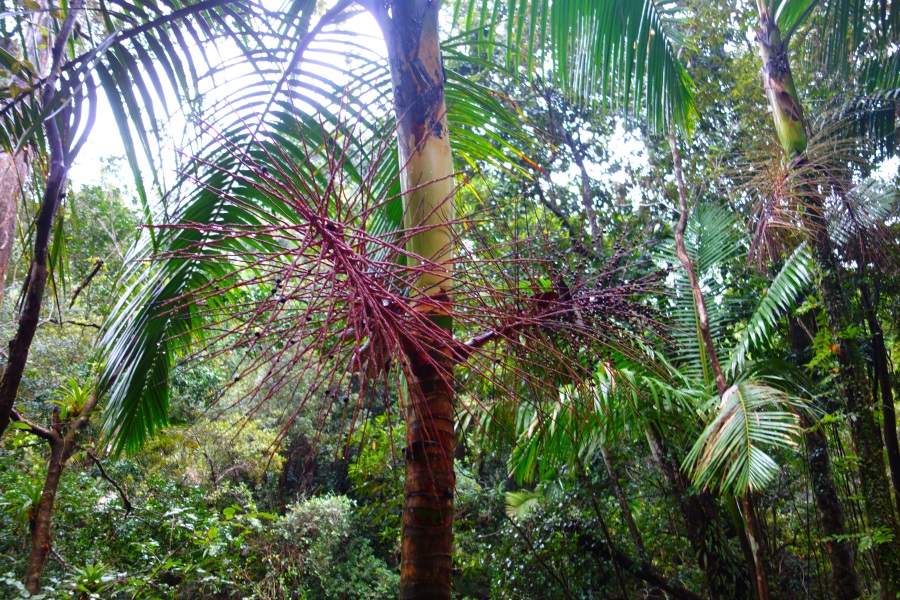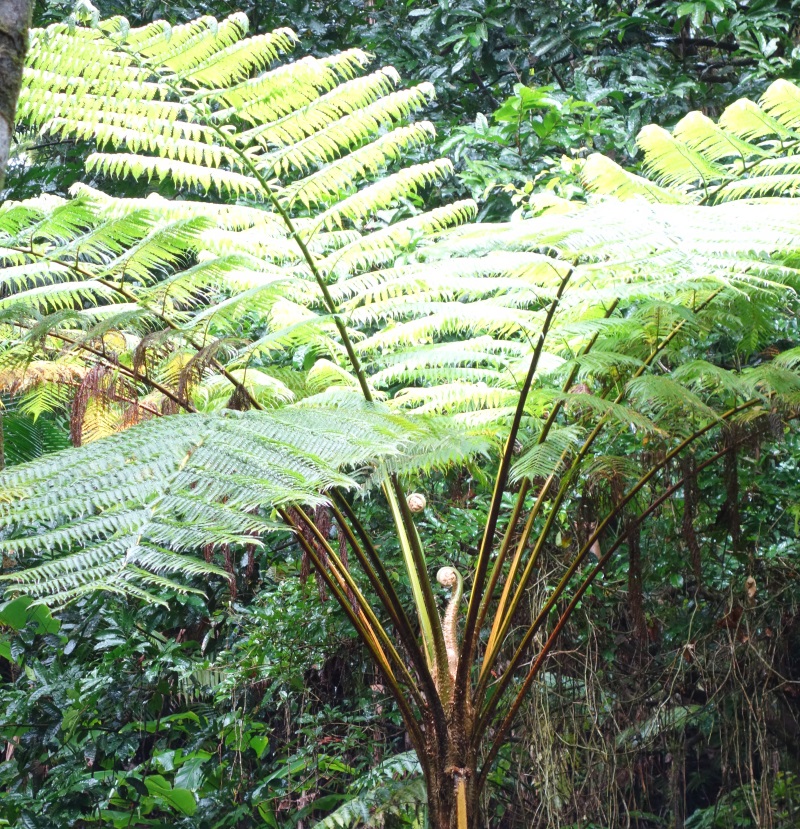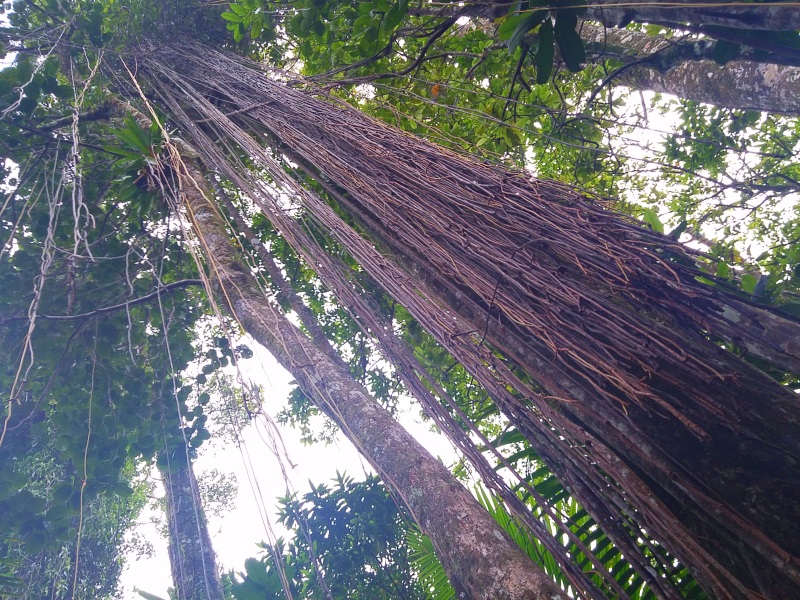 Helpful Tips: As one would assume, it rains often in the rain forest and so a light poncho might make your hike a little more comfortable should you get caught in a downpour. They are for sale at various stations throughout the park for less than $10. Keep in mind, it's hot; and so you don't want to wear a heavy raincoat.
I also prefer wearing sneakers, but I have seen quite a few people hiking in sandals, or even flip – flops! I would think that would be super uncomfortable and maybe even slippery in wet conditions! If you want to go swimming in the waterfall, which a lot of people do, then maybe wear your swimsuit underneath your clothing and bring a backpack with a towel and a pair of water shoes to keep your feet safe from sharp rocks. Some people say they're not going to go in the water, but then can't resist once they get there. On our last hike, we saw a lady jump in wearing jeans and a tee – shirt! Can you imagine hiking all the way back to your car in heavy, wet jeans? No thanks!
Although I didn't experience any problems with bugs during the few times that I hiked, I do recommend you bring a small container of bug spray, just in case.
Don't forget to pack plenty of water!
Other really good websites on El Yunque:
http://www.puertoricodaytrips.com/el-yunque-overview/ (Detailed driving instructions; a literal play by play on what to expect driving to the forest. At the bottom of this link's article, there is a complete list of the hikes found in the park and a information about each of them.)
El Yunque National Forest (Official Website)
http://www.rainforestinn.com/margaritas/ (I've never stayed here, but how awesome does this bed and breakfast look?)