So you're going to Brazil, how awesome is that? Going to attend the World Cup? Even better!
Now you just need to know how to party in Brazil without looking like a total tourist. Thankfully, this book has got you covered. With a heavy focus on soccer, aka futebol, Party Brazil Phrasebook 2104 will help you prep for your trip and then make sure you have the best time possible once you're there!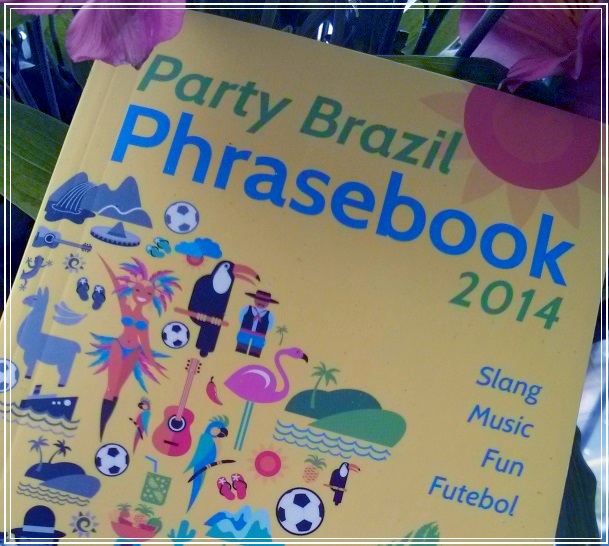 Within these pages, you'll find pretty much everything you need to know to get your point across in Portuguese with helpful tips and phrases geared specifically towards the World Cup, and also the party scene that goes along with the (wild) ride. The first four chapters are dedicated to futebol and then from there on in, the book takes a pleasurable turn into party mode.
You'll learn how to ask where the best night life is, flirt with that hottie you spied across the bar, eleven different ways to describe someone who's intoxicated – broken down by "what kind of drunk they are", and how to sleep off your hangover the next day at the beach.
………………………………………………………….
Additional topics include how to get your message across when eating out at restaurants or food stands, shopping at the mall or local markets, surfing at the beach (yes!), and plenty of other useful, or perhaps not-so-useful, notes like how to ask where you can buy some marijuana.
There are also enough sexual phrases and terminology to make a grown man blush (chapter 6, wink, wink)!
Let's just say that the authors are not afraid to be risque and consequently provide plenty of  phrases useful for anyone looking to have a good time or maybe even 'hook up' on their trip.
Overall, Party Brazil Phrasebook 2104  is a pretty entertaining read and for only 12 bucks, it's definitely worth the purchase. Plus, even though it's jam packed with information, it's pretty lightweight and small enough to pack without taking up much room in your suitcase.
Note: I was sent a copy of this book to read and review, but all opinions are my own.  Xoxo