Wow, what a night last Saturday night turned out to be! For starters, I got to attend my very first boxing match ever, thanks to Jonathan, from the Courtyard by Mariott in Isla Verde, who gave me and JC two VIP tickets to the Danny Garcia-Mauricio Herrera fight. (Jonathan if you happen to be reading this – thanks again, you totally rock!)
Then, on top of getting to go to the fight, (as if that weren't awesome enough on its own), we were also invited to a buffet dinner at the hotel beforehand, where we got to meet up with a great group of folks who were also going to the fight, including Félix Verdejo Sánchez, Puerto Rico's biggest up-and-coming boxer  – that's him in the pic below.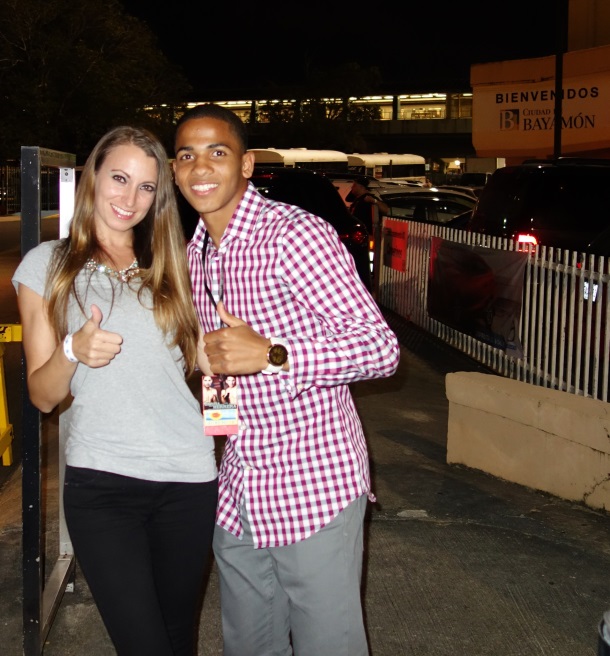 You should check out his professional boxing record too, it's pretty amazing! I don't really know that much about boxing, but it looks a little something like this: win, win, win, win, win, win, win, win, win…
After dinner we all got on a chartered bus and headed to the sports arena in Bayamón, (enjoying some cocktails on the way). Walking in, my first sight was from behind the bleachers and the way the light was shining through looked so cool! Then, when I saw the stadium and ring, and felt the energy in the room, my mind was completely blown – what an amazing experience!
The fight was great too –  Garcia and Herrera ended up fighting 12 rounds before Danny Garcia, the crowd favorite, was named the winner and boy did the crowd go wild when that happened! Garcia's parents are from Bayamón and so it was a bit of a homecoming for him, (although he was actually born in Pennsylvania).
Throughout the night, it was super fun to see all the love that Félix was getting from his fans. One of the (many) things so great about Puerto Rico is how important community is to everyone. You can genuinely feel a warmth from people coming up to him and wishing him luck and success. I mean, people's faces lit up when they saw him and he was happy to reciprocate the love by shaking their hands, taking photos, and giving – what seems to be his signature move – a thumbs up.
Although I had the best time, I will say this: I completely misjudged how ladies dress for a night out at a boxing match. Thinking it would be super casual (no idea why I thought that), I wore jeans and a t-shirt, with black boots. To be fair, there was a pretty wide range of attire, so I wasn't completely out of place (like say if I showed up to a wedding at the Ritz wearing pajamas), but the majority of folks, especially the women, definitely dressed up.
After this experience, I think I might be totally addicted to boxing. I started watching the Rocky movies and now I really want to see a boxing match in either Las Vegas or at Madison Square Garden – or better yet, both! [note: add to bucket list]
Below are some pics from the night…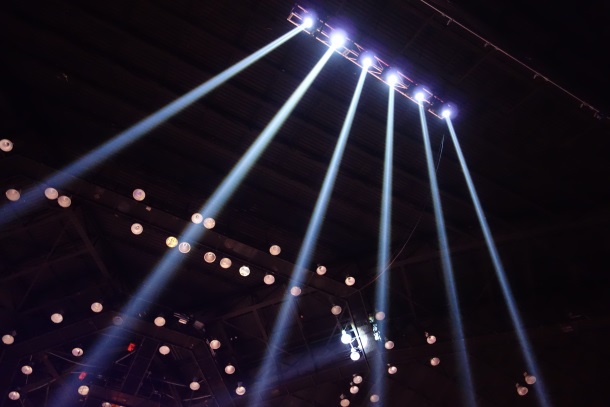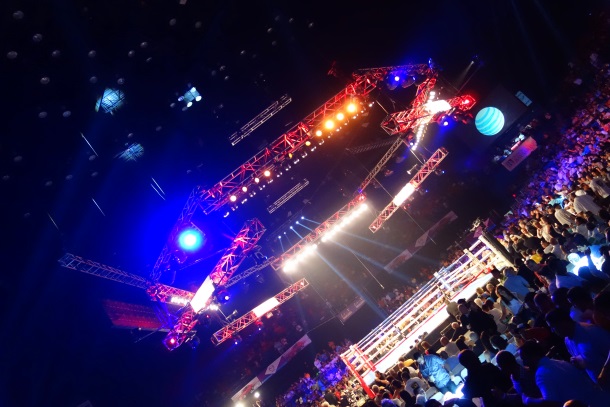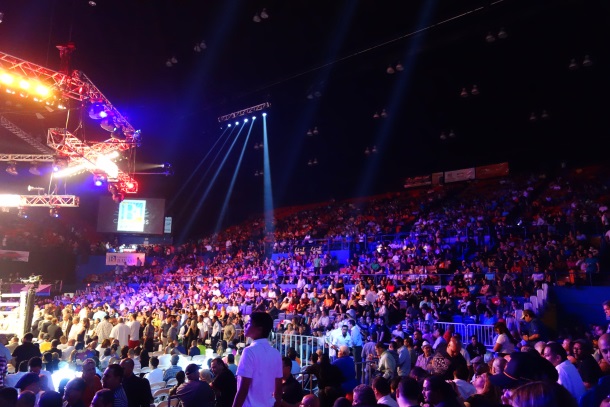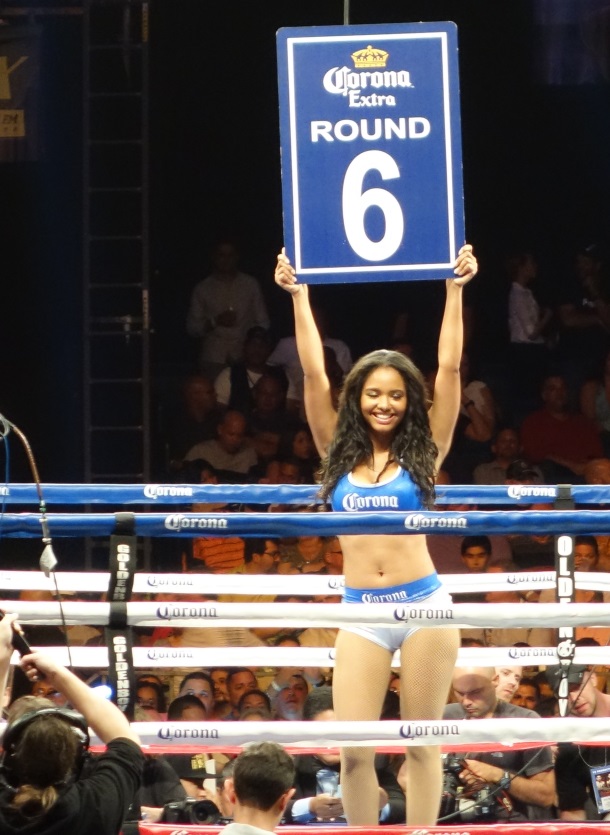 Aw, wanna hug it out?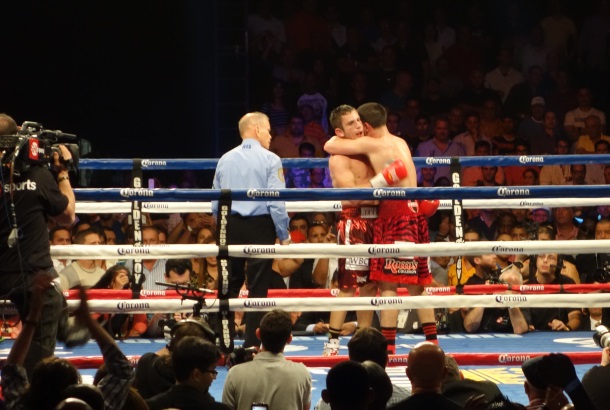 I think Garcia might have taken the punch here. The look on the referee's face is all like deng, that looks like it hurt!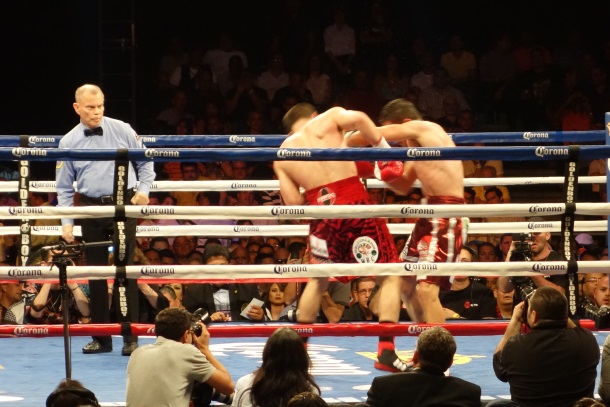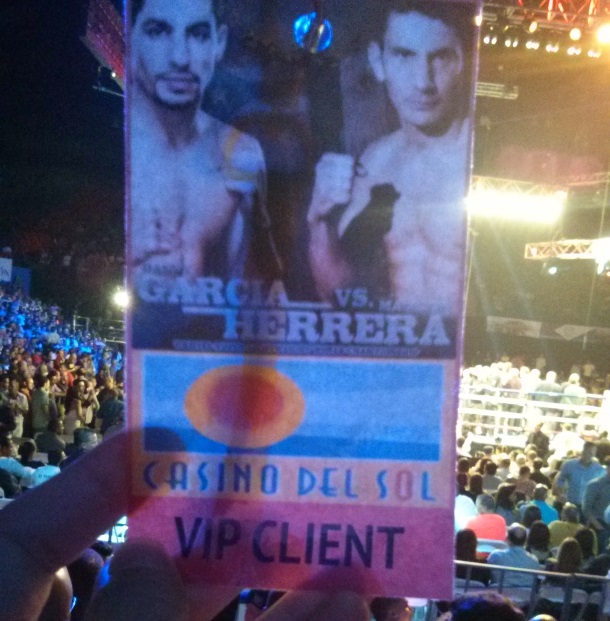 Fans wanting to talk to Félix and get his photo –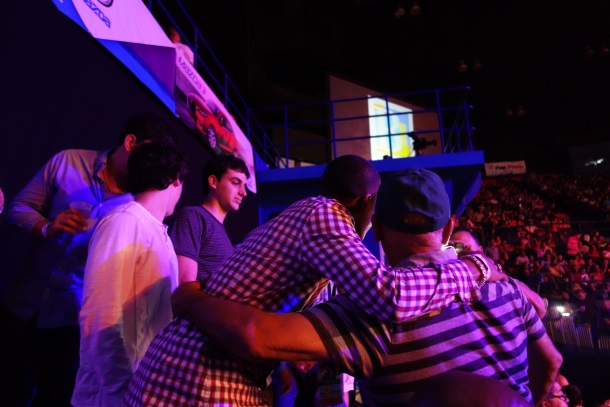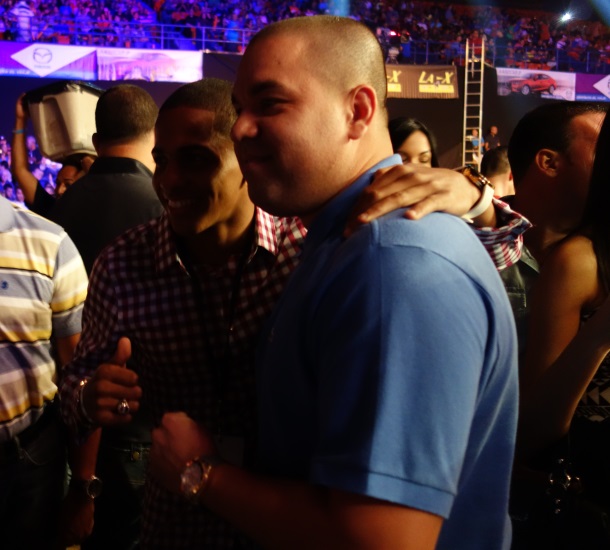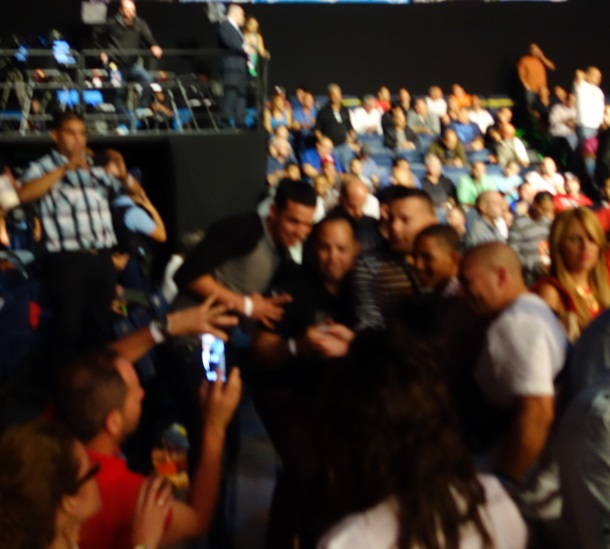 A great group shot!