I reviewed Party Brazil Phrasebook a few months ago, but wanted to do another post since the 2014 World Cup is coming up and this little book really is the perfect addition to the games!
As far as pocket guides go, this one is fun because it not only offer plenty of interesting facts about Brazil and the history of soccer there, but additionally the authors are not afraid to approach risque topics that will have you "cheering, dancing, drinking and celebrating with the diehard fans of the game".
Plus, it's super lightweight and fits easily into a bag – see the pic below, it's smaller than a coconut!
Whether you're watching the games at a sports-bar, hosting a viewing party, or heading to Brazil with your friends, Party Brazil Phrasebook will help take your experience to the next level.
The first four chapters are dedicated to trivia facts about Brazil and futebol and then from there on in, the book takes a pleasurable turn into party mode with fun, up-to-date, party slang and tips to help you enjoy the world's biggest party!
So what else is inside?
………………………………………………………….
You'll learn lots of useful, or perhaps not-so-useful, notes like: how to flirt with that hottie you spied across the bar… in Portugese, eleven different ways to describe someone who's intoxicated – broken down by "what kind of drunk they are", and enough Brazilian, sexual phrases and terminology to make a grown man blush (chapter 6, wink, wink)!
Convinced?
You can order here: 
Party Brazil Phrasebook 2104 on Amazon or Amazon Kindle
Party Brazil Phrasebook 2104 onthe NOOK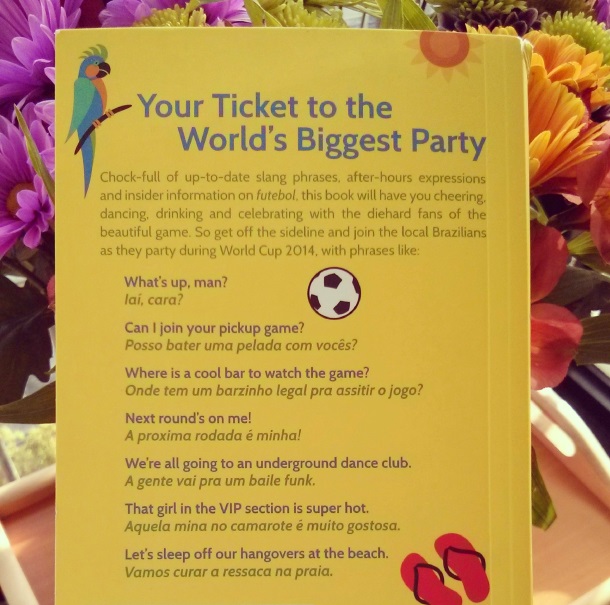 Note: I was sent a copy of this book to read and review. Opinions and photos are mine.