Twins, To-Tam & To-Nya Sachika, have successfully displayed their SACHIKA collections on the runway for 4 seasons at New York Fashion Week and have recently expanded to the West Coast, where they presented their Spring Summer 2014 "Fearlessly Sensual" collection during Los Angeles Fashion Week. In addition to showing at LAFW, all materials were sourced and made locally in Los Angeles.
SACHIKA's "Fearlessly Sensual" collection presents clothing for the fashion fearless, who like to command, have fun, and express their playful side. With touches of S&M and a hint of dominatrix, the line is a balance between effortless wearable and statement making, pieces, a balance that SACHIKA is known for.
For spring 2014, TUXX by SACHIKA, the newest label for men, revamps fashion essentials for the confidant man who can handle the "Fearlessly Sensual" dominant SACHIKA woman.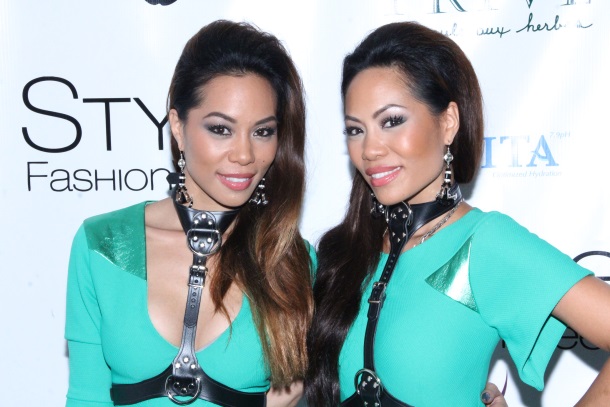 The twins' creative sensibilities, outgoing personalities, and love for a dramatic entrance  have earned them a reputation for pushing fashion to the limits with daring ensembles that show off a woman's curves and add a whole lot of sexy.
They have a long list of celebrity friends who not only come out to their shows to lend their support, but also walk in their shows, modeling SACHIKA designs on the runway. I attended SACHIKA's Spring Summer 2011 runway show, and I'll never forget when ICE T sat down in front of me with his entourage. I was wondering where Coco was, but my question was soon answered when a confident Coco stormed the runway. Then the even bigger surprise came when Coco turned around revealing…well, you can read that post here.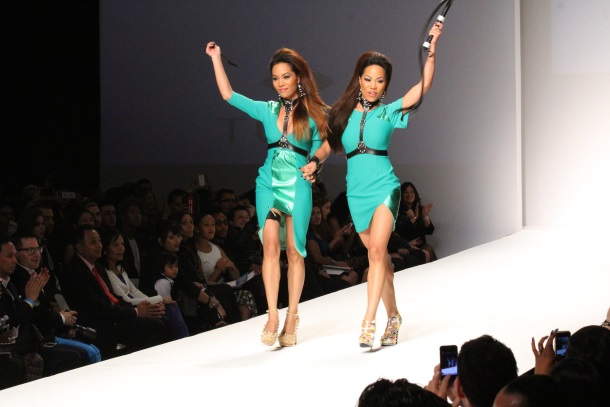 SACHIKA has earned a secure place among the stars as it proudly celebrates and embraces all body types. The brand is known to fabricate beautiful dresses that complement the female body. OF course, no SACHIKA runway show is complete without a performance and season's past have included entertainment by Kat Deluna, who performed her single "Dancing Tonight" (video here), a swan inspired performance by New York City Ballet dancers Kimberly Gianelli and Kendahl Ferguson (video here), and a creative video "The Awakening of a Swan" inspired by Darren Aronofsky's film Black Swan & Kanye West's film "Runaway".
For their LA runway show, SACHIKA's introduction of the show opened with a big bang, featuring two cat-women gracefully appearing on stage, dancing and bending their bodies for the crowd. Monique Ziering and Vanessa Nichole are the artists behind the captivating performance that was sultry and sensual.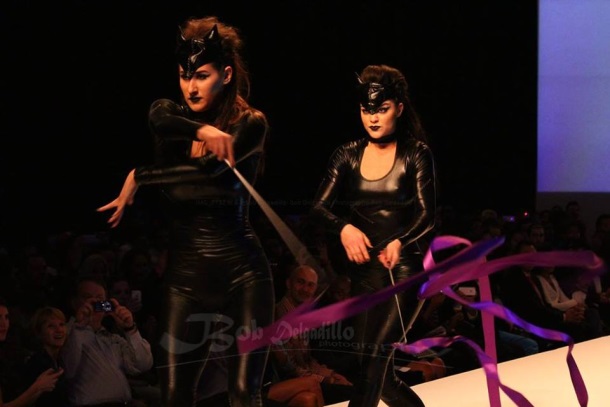 Images embedded in this post were taken by photographer Bob Delgadillo.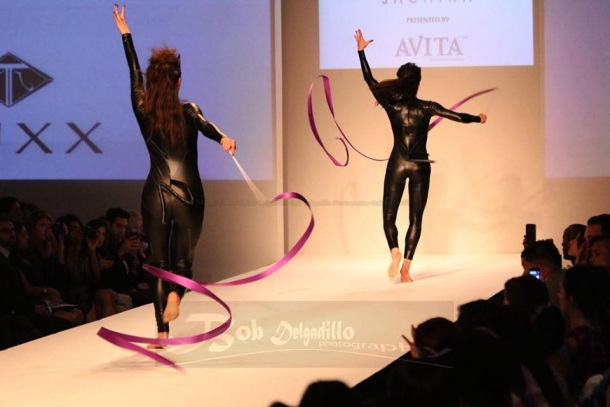 SACHIKA has been featured in publications such as VOGUE, Forbes, Elle Magazine, The Fader, Arise magazine, Teen Vogue, Daily News NY Times, LA Times, BusinessWeek, Fashion Week Daily, Style.com, Elle.com, Reuters, Life&Style. SACHIKA has also been featured on E! Entertainment, BRAVO, Fox News, Channel 11, Channel 7, TVOne, BET, Vh1, NBC, etc.
Women's Collection:
[nggallery id=377]
Men's Collection:
[nggallery id=378]