The Nautica Spring 2013 Collection for their menswear was presented on the rooftop of the iconic Empire Hotel featuring complimentary beverages, a great music set, and plenty of (very) good looking male models. The outdoor space was fitting for the nautical theme and the weather cooperated with gorgeous, bright blue skies and warm weather.  The contrasting white clouds, and sail like tents,  provided the perfect palette for a collection inspired by the vibrant colors of the open seas. Despite the obvious city atmosphere, this show conjured up images of lounging on a yacht, sailing off the coast of somewhere remote and luxurious.

Underwater prints and patterns are infused into this collection working their way into shorts and tailoring details. Performance fabrications have become an essential part of Nautica's signature style with crisp, clean lines creating updated classics. Nautica has certainly achieved their goal of creating a fresh look for Spring, on or off the boat!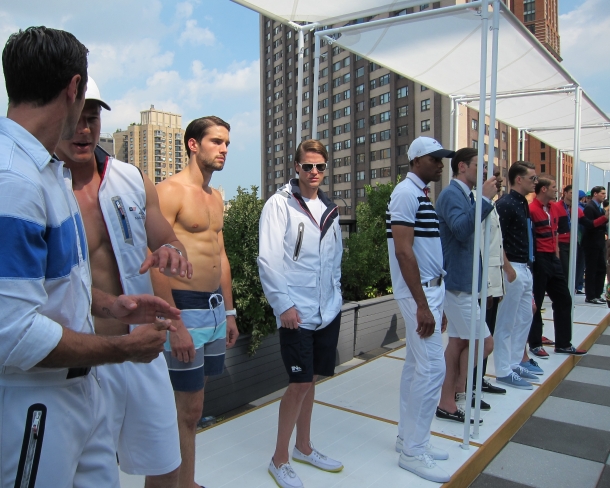 Make-up by Clarissa Luna, Hair by Liz Nevin, and styled by Matthew Edelstein. Full photo gallery below.
[nggallery id=235]
About NAUTICA:  Nautica, a modern American classic, offers quality, design and value while capturing the essence of an active, adventurous and spirited lifestyle. Founded in 1983, Nautica has evolved from a collection of men's outerwear to a leading global lifestyle brand with products ranging from men's, women's and children's apparel and accessories to a complete home collection. Now part of VF Corporation, a leader in branded quality apparel, Nautica has become one of the most important American lifestyle brands throughout the world.
Nautica took its name from the Latin word "Nauticus" for ship. Since one of mankind's first accomplishments in exploring the world was to take to the seas, a spinnaker logo was designed as a symbol of adventure, action and classicism.
Today the world of Nautica represents both a rediscovery and reinterpretation of what Americans have always wanted to wear. Nautica is currently available in more than 64 countries with more than 170 Nautica branded stores worldwide.