Christian Audigier presented his 'Street Fame' collection during L.A'.s Mercedes Benz Fashion Week,. Under his direction, Ed Hardy has become an overnight success. In 2004 Audigier gained licensing from Don Ed Hardy and transformed his tattoo inspired designs into an international label. Celebrities like Britney Spears, Madonna, and Miley Cyrus can't get enough. The line has evolved from a simple truckers cap to an entire collection of couture street fashion.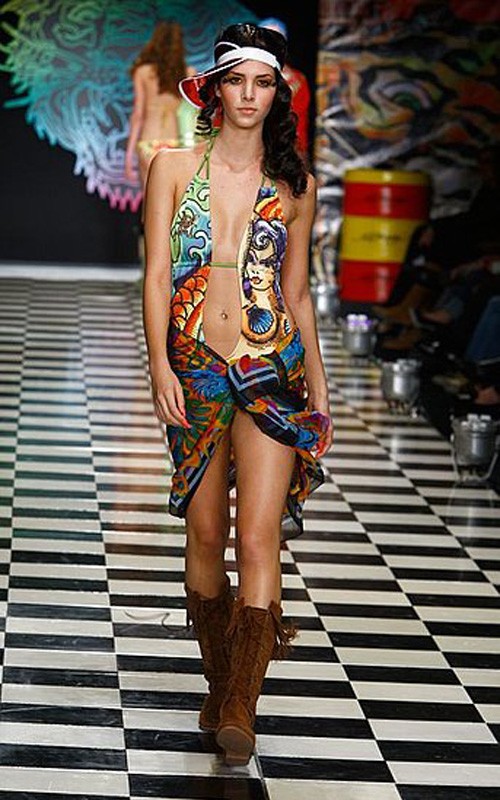 Prior to showcasing his spring 09 line, Audigier said, "the Ed Hardy collection brings forward a very exciting time in fashion history. I have taken the best elements of funky flair, outrageous accessories, and flamboyant colors, and created the freshest styles and designs. What you see today is a giant step forward in fashion, and a must have for everyone this spring!"
The runway was filled with the memories of yesterday and the hope for tomorrow. Inspired by music, fame, art, and color, Audigier unveiled a vivacious collection definitive of American street culture. The models rocked these graffiti clad ensembles with attitude and style. Signature, but updated tee shirts, swimwear, skivvies, and trucker caps lined the runway plastered with skulls, dragons, and hearts. Kanye West's famed sunglasses and transparent plastic visors were on every model. The guys wore ties and the chicks, scarves Embellished dark denim mixed with loud blazer-esque hoodies and mini dresses took the line to a new level. Audigier is not known as the "king of denim" for nothing!
This French born entrepreneurial master has captured the essence of California cool mixed with his own vision and created a cult like phenomenon. He is truly living the American dream and gaining notoriety across the world.