For her Spring 2012 Bridal Collection, Anne explored the essence of New York. (Love)!

"New York represents the convergence of styles, tastes, cultures and ethnicity. It is the epitome of modern, classic, Bohemia and glamour. This collection is iconic New York".

So many designers are inspired by travel and so it's so wonderful to see Anne be inspired by the great city that we live in – New York!

Incorporating her love of simplicity, Anne Bowen fuses overt glamour in a pared down silhouette creating an ease to her designs. Her passion for mid-century modern is seen in the Tribeca group where chic, modern vertical and horizontal lines are explored with satin chiffon and mikado.

She brings a sophistication to the use of crochet and beading in her Woodstock group by working with delicate fabrics like Cashmere. I think that using the art of crochet in such a fabulous way is refreshing and yet timeless. I can see this bride wearing flowers in her hair and having an ethereal essence as she walks down the aisle.

The ultimate in classic is seen in the Sutton Place and Park Avenue groups where Swarovski crystals are draped and pleated to envelop the body creating luxurious silhouettes and detailing. I see this bride as modern and very confident!

This photo of me, Anne Bowen, Anne's cute little dog – Aston Martin, and Abigail Breslin was taken last season at Anne Bowen's 'Oneness' Presentation. Abigail is a blogger for a wonderful site called Wanderlust. You can see more of Anne Bowen's work on her website: AnneBowen.com

Park Avenue: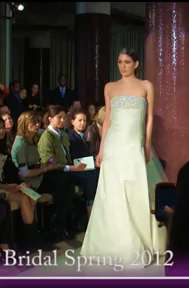 Harry Winston – Light Ivory silk mikado with a crystal bodice and low back gown. (This season and next, it's all about the low back).
Argetnt – White silk organza with silver leaf on silk organza and tulle gown.
Mortimer – White cotton and satin dress with a mesh organza train.
Metropolitan – Light Ivory silk mikado gown with Swarovski black diamond crystal bodice and tulle train.
Woodstock: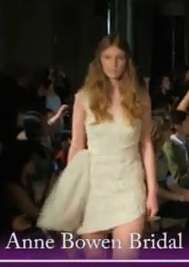 Peace – Ivory net crochet and crystal sequin, beaded gown.
Janis – Ivory Cashmere and silk, knit lace gown.
Generation – Ivory satin chiffon corded, asymetrical dress.
Wild Flowers – White lace gown with tulle and organza flowers.
Tribeca: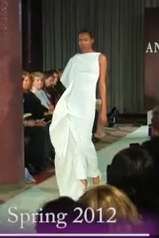 De Niro – White viscose boat neck column gown with satin organza side detail.
Hudson – Light Ivory silk mikado hexagon skirt with white sequin bodice.
Triangle Below Canal – White viscose, long sleeve gown with abstract lace insert.
Sutton Place: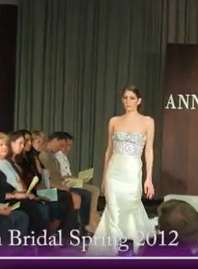 Astor – Ivory silk crepe back satin drape bodice.
The Morgan – White iradescent sequin dress.
Rockefeller – Light Ivory silk mikado sculpture cystal bodice gown with organza train.