A side by side glance at the Executive and Studio headphones by beats.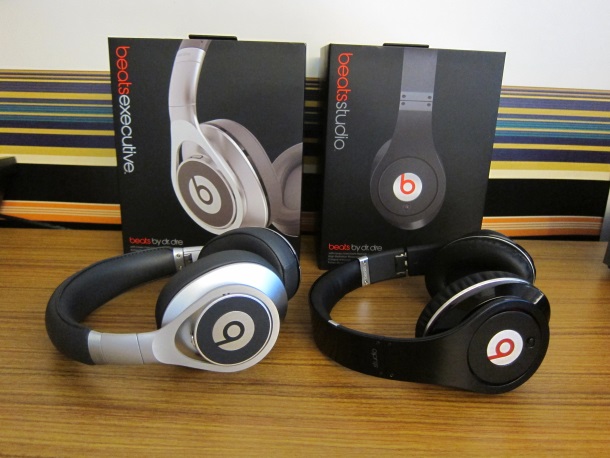 Both are over the ear models that deliver incredible bass and feature active noise cancellation. I first tried the studios which are made of a hard but light weight plastic. I loved the sound and comfort factor, but the sound leaked so bad that I felt like I had to keep the volume on low in public spaces. The executives are made with a heavier metal but consequently feel more durable. They still leak some sound, but less than the studios. Another bonus to the executives is that they fold up into a flatter space which makes packing them easier.
One feature that I really like and is featured on both the executives and the studios is the button located on the right ear than when pushed mutes the volume. This makes stopping to have a quick conversation super convenient since you don't have to take your headphones off! One feature that both headphones have that I don't like is that they need additional battery power to run and so you will need to keep an extra set on hand, just in case. There is an on/off switch that so far, I've been really good at shutting off, but will drain the battery if left on.
The studios take up a lot more room than the fold-able executive headphones as seen by the boxes in the pic below – executive on the left/studio on the right.